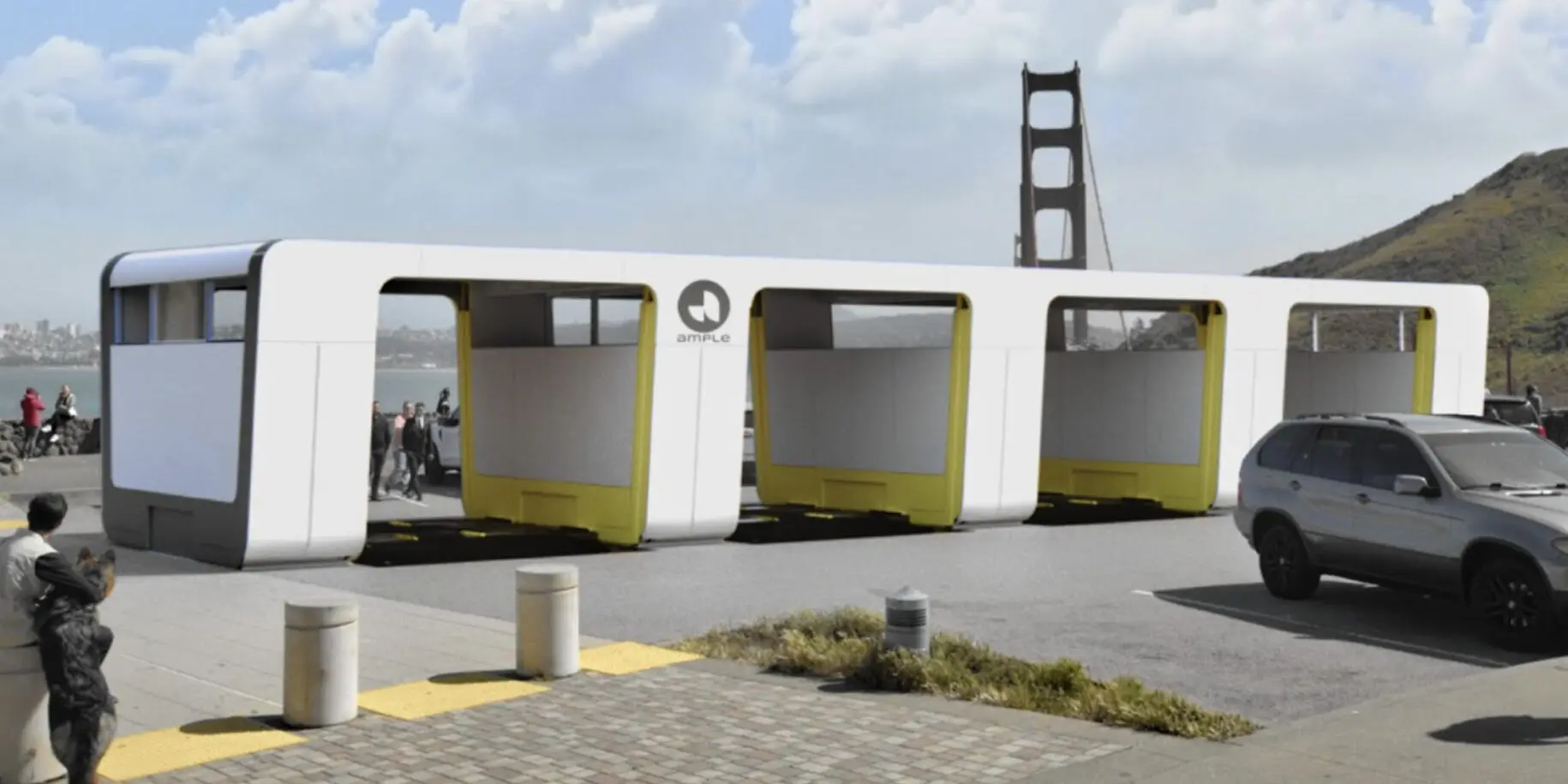 People contemplating buying an electric car want an answer to two questions — how far will it go on a single charge and how long does it take to charge? Saving the planet is all well and good, but if it means spending more time recharging a battery than filling a gas tank, some people aren't interested. We can argue until we are blue in the face about the lower operating costs or the absence of tailpipe emissions from driving an electric car. Many people don't want to hear it. Ample says the answer to those concerns is battery swapping.
On its website, the company says its mission is "to accelerate the transition to electric mobility by offering an energy delivery solution that is as fast, as convenient, and as cheap as gas while being powered by 100% renewable energy. We are a team of technologists, designers, and environmental enthusiasts who believe that this problem is among one of the most critical challenges of our time."
About Ample
Battery swapping for electric cars has never been popular in the United States. Tesla experimented with it in 2014 and even got a patent for battery swapping technology back in 2017, but it never caught on. Yet in China, the idea is very popular. Nio now has over 1320 swap stations in operation in that country and is bringing the technology to Norway. It says its latest stations can perform more than 320 swaps a day. Not to be outdone, CATL has now decided to jump into the battery swap game itself.
At first blush, the idea of swapping batteries seems fraught with technical challenges. Battery packs come in many shapes and sizes. There also are a myriad of high-voltage wires and cooling lines to be disconnected and reconnected. It's one thing to swap batteries in cars from one manufacturer, but doing it for cars from multiple manufacturers seems like a daunting task.
Ample's Next-Gen Battery Swap Stations
Ample has attracted significant new investments that have allowed it to develop its second-generation swap stations, which it says required thousands of swaps and more than a million electric miles driven behind the scenes to make possible. It has partnered with Uber and other ride-hailing services to perfect the technology.
In addition, Ample has worked with last-mile delivery companies in order to understand the impact of battery swapping on their use cases. Those fleet operators complained that their drivers could spend as much as 12 hours a week charging their vehicles. Cities also complain there is a lack of reliable EV charging for city dwellers who don't have access to garages and the option of overnight charging.
Ample says its second-generation battery swapping stations are designed to address all that and then some. "By design, we've invented our system to facilitate a lateral move from gas to be just as fast, as simple, and as cheap, all while being a completely green solution. As we scale and bring more EVs to more drivers, streamlining and simplifying the experience becomes crucial, especially when we support not only consumers but also fleets. So far, the EV experience has asked too much of drivers, with serious friction points and compromises that will not only hinder but be a deterrent to mass adoption."
Ample says its new swap station design allows it cut swap times in half — from 10 minutes to 5 minutes. It is also able to service the needs of both small passenger cars and large delivery trucks. The streamlined drive-through design is more user friendly and safer. A whole platform raises with the car to allow passengers to enter and exit the car while a swap is in progress.
In addition, the new stations can be deployed more quickly. They need only 3 days to install, which could potentially allow the company to set up enough battery swapping stations to serve an entire metropolitan area in just a few weeks. The stations are delivered to a job site in pre-built sections which are then assembled into a finished swap facility. Deploying a station requires no digging, and swap stations can be easily added to a location so that multiple vehicles can swap simultaneously.
The Ample battery swapping stations are more robust, making them suitable for use in different cities with different climates. The stations have been field tested to withstand extreme temperatures and weather conditions. At the same time, Ample has continued to pursue innovations for its shoebox-sized modular batteries, making them safer and smarter, with the ability to be integrated into any modern EV. Along with the station, every component can be remotely monitored and controlled to ensure proper and efficient functioning.
"We're incredibly excited about this new chapter in our mission to make EVs accessible to all and we invite more car makers, fleets, and cities to join us in the quest to electrify," the company said in a blog post.
The Advantages of Battery Swapping
Battery swapping is really taking off for electric bicycles and scooters. Gogoro is leading the way toward swappable batteries for electric scooters, while Honda is also providing battery swap stations for its electric motorcycle customers. Honda has joined with Yamaha, Piaggio, and KTM to develop universal batteries that will fit the two-wheeled electric vehicles from all four manufacturers.
There are many potential benefits to battery swapping. First, drivers can always have a fully charged battery available at the nearest swap station. Second, drivers enjoy a choice that allows them to select the battery that fits their needs. If they only commute a few miles a day, they might make do with a 30 kWh battery for less money. If they are taking the family on vacation, they can opt for a 100 kWh battery to make their travels easier.
Third, swapped in batteries are always the latest technology. There are no concerns about buying a car that has a last-generation battery permanently installed. Fourth, there are no battery degradation or warranty concerns, both of which are high on the list of things potential EV buyers worry about. Fifth, drivers may find it cheaper to buy an EV and lease the battery separately, which could make EVs affordable for more people.
Will the Ample battery swapping system attract enough drivers to become successful? In the US, for passenger cars, perhaps not. But in other markets and for commercial vehicles, it very well might.