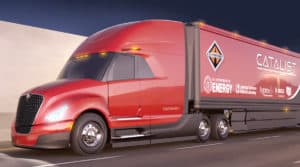 The Department of Energy's SuperTruck project is producing technological changes, including to auxiliary power units, and these changes will be working their way into standard truck manufacturing, according to industry experts.
Dean Oppermann, chief engineer of advanced vehicle technologies for Navistar International Corp., spoke about some of the results of the work done on his company's SuperTruck I concept. "When working on the design for SuperTruck I, we decided that the best approach for providing APU capability for the truck was to go with higher voltage," Oppermann said. The benefit of higher voltage is that wire and component sizes can be reduced and the higher power increases both efficiency and system capacity, he said.
A separate APU was not needed with SuperTruck I because the design included a fully electric HVAC system, Oppermann said. "To support this philosophy, a 48-volt electric bus needed to be added to the system. This design requires not only more batteries, but also a 48-volt alternator-motor generator."
The 48-volt motor generator is designed to capture energy whenever the vehicle is braking. "This is the same method used by hybrid cars," he said. "The battery pack is getting charged for free whenever you're slowing the vehicle down. It's energy recovery."
The SuperTruck project began in 2010 with funding to support efforts to increase heavy-duty truck efficiency by 50%. The focus for the SuperTruck II initiative is "to develop and demonstrate cost-effective technologies that more than double the freight efficiency of Class 8 trucks," according to DOE.
The work being done on SuperTruck II projects is in development.
In addition to Navistar, companies participating in SuperTruck II include Cummins Inc., Daimler Trucks North America, Volvo Trucks and Paccar Inc.
The SuperTruck I work done by Volvo featured an advanced battery paired with a predictive energy management system, said Pascal Amar, principal investigator for Volvo's SuperTruck project. "Our SuperTruck I demonstrator allowed us to power hotel loads using recaptured kinetic energy," he said. "Our SuperTruck project team will expand this concept to further integrate hotel loads with other auxiliaries on the SuperTruck II demonstrator."
Energy recovery capabilities coupled with lithium-ion technology make it possible to charge the batteries very quickly, Oppermann said. "The batteries can house enough energy so that a driver can run the air conditioner for 10 hours without idling the engine."
One advantage of this design is that the SuperTruck can have an air conditioner compressor that is powered by the batteries, so it no longer needs to be powered by a belt connected to the engine motor. "By removing the compressor from the engine, you improve fuel efficiency, because the engine no longer has to devote part of its energy output to running the compressor," Oppermann said.
The air conditioner cools the cabin under normal driving conditions and it cools the sleeper during long breaks. "This eliminates the need for any sort of HVAC aftermarket system, because you have one common system with controls for each zone of the tractor's interior," he said.
Oppermann thinks that the industry may see 48-volt systems become the standard by 2020 or 2021. "Lithium batteries are becoming less expensive, more power dense, more packageable and more durable," he said.
Sean Connell, technical director of advanced concepts and electrified products at Bergstrom, also expects the rapid advances in battery technology to have an impact on the design of APUs.
"Technology is constantly changing, so things will look a lot different in the years ahead," he said. "As more battery power increases, more options will become available. As the greenhouse gas initiatives continue pushing forward, you'll see more and more innovation in the electrified space. I would expect electric APUs to become more widely used."
Meanwhile, Justin Yee, manager for vehicle concepts and vehicle principle investigator for SuperTruck II at Daimler Trucks North America, said, "We are still in simulation mode, and are currently determining the methodologies we plan to use for SuperTruck II."