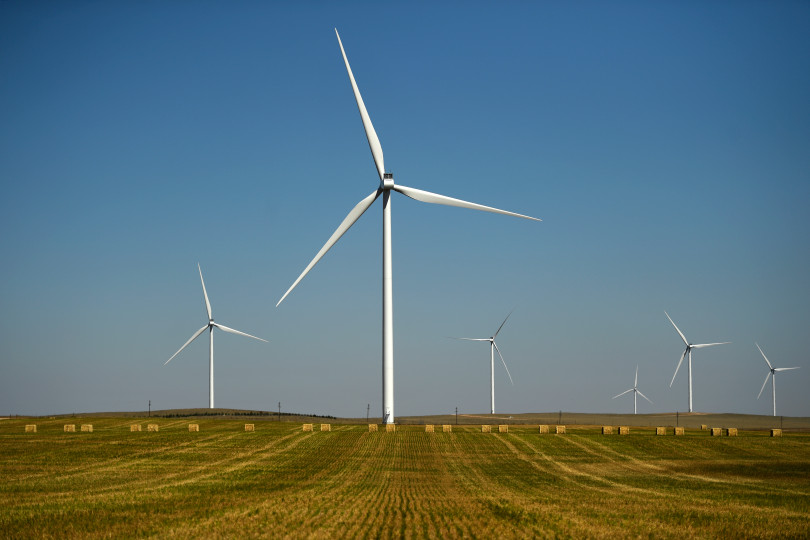 With a plan to get the majority of its power from renewable energy by 2026, Xcel Energy Colorado on Tuesday celebrated the completion of one of the projects that will help realize that goal — a 300-turbine wind farm that sprawls across five counties on the Eastern Plains.
The 600-megawatt Rush Creek Wind Project covers nearly 100,000 acres in five counties: Lincoln, Arapahoe, Elbert, Kit Carson and Cheyenne. It is the largest wind farm in the state and the first large-scale wind farm owned and operated by the utility. Rush Creek was built with all made-in-Colorado turbines, produced in Vestas plants in Brighton, Pueblo and Windsor.
"It's a billion-dollar investment. It's a huge investment for us," said Kent Larson, Xcel Energy's executive vice president. "There's enough wind in these wind turbines that it will serve over 300,000 homes."
Larson, speaking at a site near Limon and to a crowd of Xcel Energy employees, state and local elected officials, construction workers and area residents, said the electricity generated by Rush Creek will cost three cents per kilowatt hour, which should save customers money. He said the wind-fueled power will also eliminate about 1 million tons of carbon dioxide annually that would otherwise be produced.
The local benefits are huge, too, Larson said. Landowners and the counties will reap $180 million in lease payments and property taxes during the project's 25-year life.
Elbert County has already benefited financially, according to two county commissioners at the event, held in a building near a power substation and amid the towering turbines. Commissioner Grant Thayer said the county received $4.2 million in permit and impact fees from the project. He said the county will put the one-time windfall into a rainy-day account.
The Rush Creek project builds on Elbert County's goal of attracting more renewable energy projects. Commissioner Chris Richardson said one company plans to build a solar farm in the county and a wind-energy company has installed towers to test the area's wind.
And, importantly, said Thayer, ranchers are getting paid to lease their land for the turbines.
"It's going to allow many of the multi-generation ranchers in this part of the county to survive," Thayer said.
In August, Xcel Energy got the go-ahead from the Colorado Public Utilities Commission to pursue its Colorado Energy Plan. The company, Colorado's largest electric utility, says the plan will cut carbon dioxide emissions by nearly 60 percent, increase its renewable energy sources to 55 percent of its mix by 2026 and save customers about $213 million.
Xcel Energy is among the nation's leading utilities in terms of adding to its renewable energy portfolio, said Tom Darin, Western state policy director for the American Wind Energy Association.
The company is responding to growing consumer demand for cleaner and cheaper energy, he said.
"We're not really seeing much federal leadership on energy strategy," Darin said. "The specifics are coming from the states."
Larson of Xcel Energy said the utility, which operates in eight Western and Midwestern states, plans to have 10,000 megawatts of wind-generated power by 2021. The company currently has 6,674 megawatts of wind power across its system. That doesn't include Rush Creek.
The new wind farm has been generating some electricity the past several months and will begin commercial operations Oct. 31. Construction began in early April 2017. The last turbine was installed early this month. There were about 350 workers at peak construction.