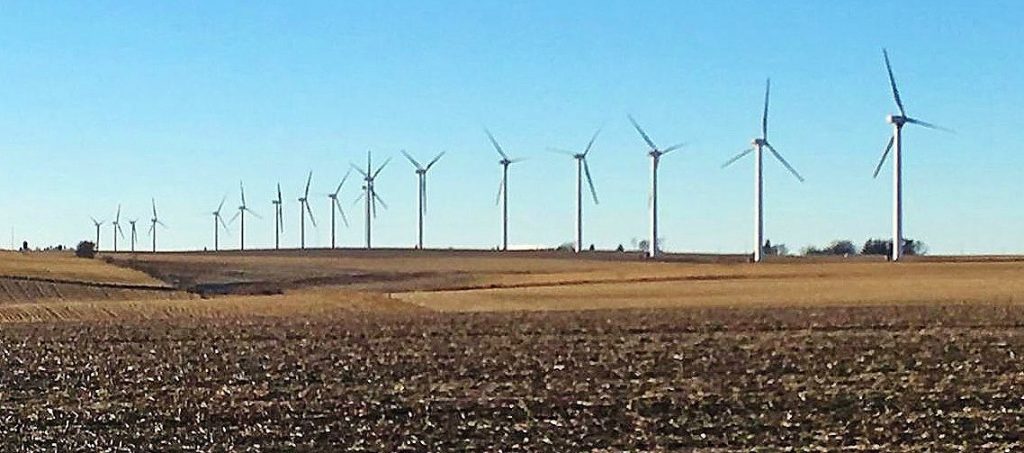 After a nearly decade-long battle, a western Wisconsin town has declared victory over a proposed wind farm, though the developer insists the beleaguered project is not dead.
If built, it would be only the second new Wisconsin wind farm in eight years, a period when regulatory uncertainty and other factors drove most wind developers out of the state.
The St. Croix County town of Forest's board of supervisors last month unanimously authorized a news release stating "it is more likely than not, that it has won in its efforts against the controversial proposed wind farm permit."
Town Chairman Jamie Junker said the board "believes the project will likely never be built" because of noise restrictions adopted by the state Public Service Commission in a 2016 order the town spent the past three years fighting.
Leeward Renewable Energy, which purchased the rights to the 44-turbine Highland Wind Farm in 2017, declined to answer questions, but through a public relations firm provided a statement saying the Texas-based company "is continuing development" of the project.
"We will provide additional updates when they become available," the statement said.
As for why the town is now declaring victory, Junker said, "because they aren't putting a shovel in the ground."
"The litigation has stopped," he said. "And we thought they'd be building."
Wisconsin trails neighbors
In the past year, Wisconsin has experienced a boom in solar energy development. There are six projects in development with a combined capacity of nearly 950 megawatts, and on Thursday Alliant Energy committed to adding a gigawatt (1,000 megawatts) over the next four years.
Wind is another story.
Wisconsin has only a fifth the wind capacity of Minnesota and less than a sixth of Illinois. Iowa has 12 times as much. Only one utility-scale wind farm has been added since 2011: the 98-megawatt Quilt Block Wind Farm in Lafayette County.
In that same time frame, Minnesota has seen nine projects come online with nearly 890 megawatts of capacity and another 200-megawatt project slated for completion in December. Iowa has added 49 wind farms with 11 more approved or under construction that will provide a combined potential output of more than 5,500 megawatts by the end of next year.
A simpler time?
First proposed in 2008, the Highland Wind Farm is a vestige of a time before regulatory uncertainty drove wind developers from Wisconsin, said Michael Vickerman, policy director for the advocacy group Renew Wisconsin.
Back in 2010, the Public Service Commission drafted new rules for the siting and permitting of wind turbines. A response to efforts by some local governments to bar wind farms, the rule set statewide standards that were intended to make development easier and more predictable.
But the following year, a legislative committee suspended the rule just as it was about to take effect. Then newly-elected Gov. Scott Walker and GOP majorities in the Legislature introduced bills aimed at repealing the rule and creating onerous setback requirements.
Neither bill passed, but the message was clear, Vickerman said: "When it comes to wind power, we're not open for business."
Meanwhile, neighboring states were "rolling out the red carpet, saying please come here," said Chris Kunkle, government and regulatory affairs manager for Apex Clean Energy, which developed a wind farm for Alliant Energy in northwest Iowa and has projects in Illinois, Indiana, Michigan, Minnesota and South Dakota.
"Every state except Wisconsin," Kunkle notes.
There were other factors at play: After investing heavily in new coal-fired plants, Wisconsin utilities were flush with generation capacity, and Wisconsin's winds just aren't as strong as those to the west. When Wisconsin utilities did invest in wind, it was in neighboring states.
A welcome mat
Things have begun to change, though.PauseCurrent Time0:00/Duration Time0:00Stream TypeLIVELoaded: 0%Progress: 0%0:00Fullscreen00:00Mute
Taller towers and longer blades have made turbines more efficient, making wind development feasible in areas that might not have been profitable 10 years ago. The state's largest utilities have committed to slashing greenhouse gas emissions, with two pledging carbon-free electricity by 2050.
And Wisconsin's new governor, Democrat Tony Evers, has set ambitious clean energy targets.
In the past year, two wind farms in southwest Wisconsin have received permits, and there's a 99-megawatt project under development in Marathon County. Just last week, RWE Renewables revealed it is eyeing a $200 million project near Eau Claire.
"I would say the future's brighter than it has been," Kunkle said.
'Every day is a victory'
The town of Forest has been fighting the Highland Wind Farm for most of the last decade, spending more than $500,000 — more than the annual town budget — to challenge approval of the $250 million project, which Junker fears will be a health hazard.
Town residents cite the experience of Brown County residents who say a wind farm there has made them sick. Scientific studies have not established a causal link between wind turbines and illness.
Junker thought they had won in 2013, when the Public Service Commission denied approval of the 102.5-megawatt project on the grounds that it would exceed the nighttime noise limit of 45 decibels for 20 to 45 residences that were not leasing land to the developers.
But after the developer appealed, the PSC granted a permit with two conditions: the wind farm would need to comply with noise guidelines 95 percent of the time and meet a lower noise limit for six residences whose occupants were sensitive to sound.
The town sued, and a circuit court judge determined there wasn't enough evidence to support either condition and sent the case back to the PSC, which in 2016 issued a new permit requiring Highland to comply with noise limits all of the time and removing the lower noise limit for those sensitive residents.
The town then asked the court to review the decision, arguing regulators erred by allowing Highland to meet the noise requirements by limiting power output, and filed a second motion asking that the PSC be held in contempt of court for not holding a hearing on the two issues.
The circuit court denied the town's motion and dismissed the case, and that decision was later upheld by a higher court.
In June, the state Supreme Court declined to hear the town's appeal, effectively ending the court battle.
In a progress report filed Monday with state regulators, Leeward said it is "targeting 2021" for start of construction, which it says is contingent on cost estimates for hooking up to the grid and the company's ability to find a buyer for its power.
On Aug. 22, St. Croix County granted Leeward a conditional use permit to build a substation, replacing a 2012 permit that had expired. According to the permit application, Leeward plans to begin construction in the spring of 2021 but said the project could be delayed until 2023.
The permit gives the company four years to begin construction.
Junker said if Leeward does decide to build, the town is not ready to give up, though he declined to outline a strategy.
"We can't. People in town are so against it," he said. "The town has a lot of powers that haven't been tested by the PSC. That's all I can say."
Vickerman said claims of Highland's demise "appear to be greatly exaggerated." But he cautioned the years of delay may have achieved the intended outcome, especially with federal tax credits ending this year.
"Every day is a victory for the town of Forest," Vickerman said. "They haven't sealed their victory; but delay often has the same effect as victory."