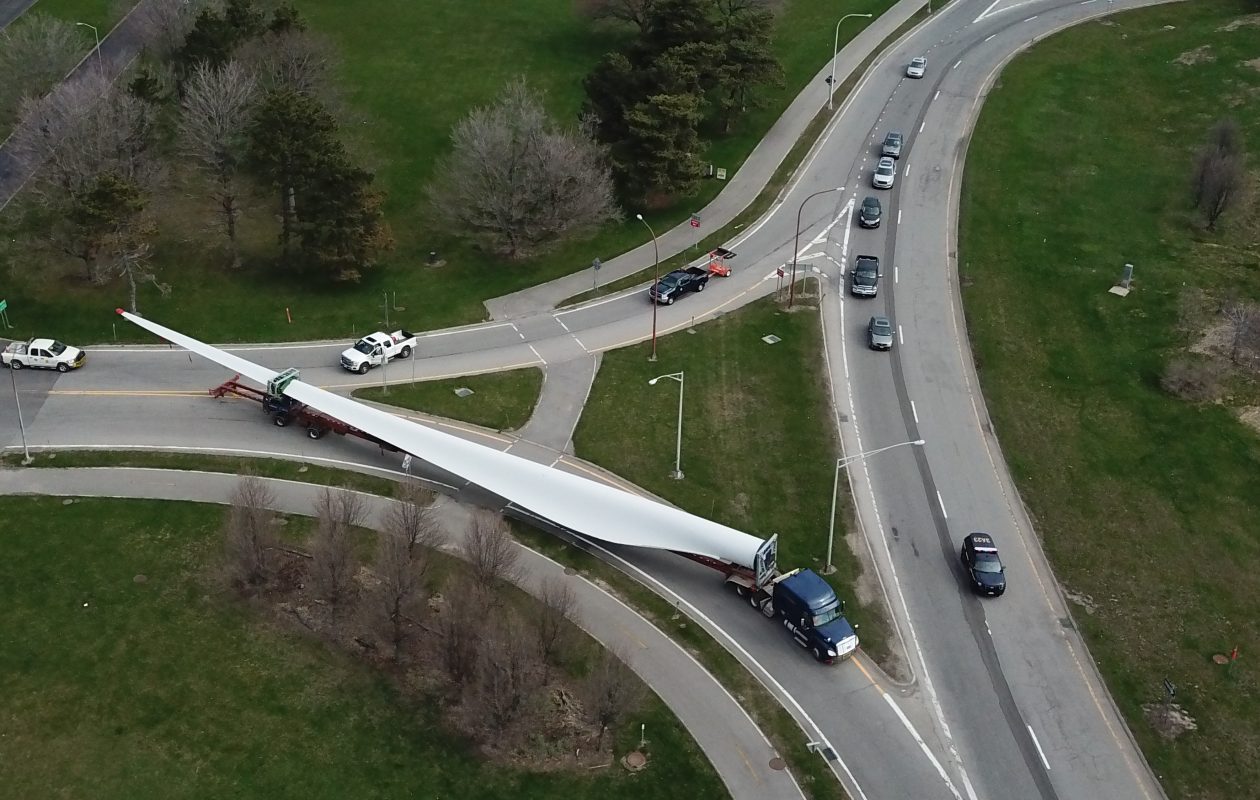 Blade by blade, section by section of tower housings and foundations, the pieces that will make up 36 giant wind turbines in Chautauqua County are lumbering down county and state highways, a U.S. highway and an interstate, from Hamburg to Arkwright.
Each convoy takes from five to seven hours to reach its destination, depending on weather and road conditions. The convoys travel about 30 mph, sometimes up to 50 mph, said New York State Trooper James J. O'Callaghan.
But instead of a direct shot down Route 20 or the Thruway, these transports are taking a circuitous route because of the size of the parts. That makes the 35-mile trip more than 100 miles long.
Some of the loads are 200 feet long, others weigh thousands of pounds. There are turning radius issues at some intersections and problems fitting under and over some bridges. Some roads and bridges can't take the weight, said O'Callaghan. State Police are accompanying all but the smaller loads, he said.
The transports, four each day, began about three weeks ago and are to continue through June 12.
State Police are temporarily stopping traffic for the convoys, which take place between 9 a.m. and 3 p.m. In Erie County, the transports travel from Route 5 to Milestrip Road (Route 179), McKinley Parkway, Boston State Road (Route 391) and Route 219. They continue on Route 219 into Cattaraugus County to Route 242, Route 394 and Interstate 86 into Chautauqua County. There they travel north on Route 60 to Route 20 and Route 39.
The wind turbines are being built on private parcels as part of the Summit Wind Farm in Arkwright. Construction is to be completed by the end of this year, according to Blair Matocha, a spokeswoman for EDP Renewables of North America, which is building the farm.
The turbines were made by Vestas, a global corporation headquartered in Denmark, with a wind turbine manufacturing facility in Colorado. They were shipped to Erie County for temporary storage until their transport to Chautauqua County.
The 78.4 megawatt project is to produce enough energy to power more than 35,000 homes, according to EDP Renewables. It will connect to the grid in the Town of Pomfret.
EDP Renewables North America and its subsidiaries develop, construct, own and operate wind farms and solar parks throughout the continent. The $133 million project will create four permanent jobs and 80 full-time equivalent jobs during construction, according to the company.