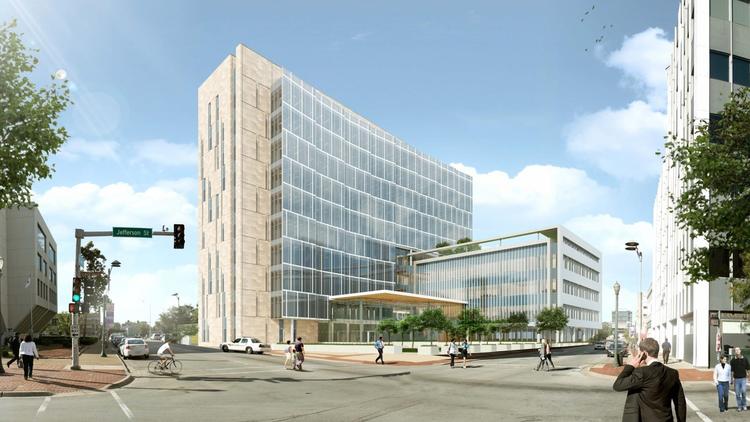 The Will County courthouse being built in downtown Joliet will eventually contain solar panels, officials said.
Samantha Bluemer, energy and conservation specialist with the Will County land use department, said depending on financial incentives, county officials could see a return on their investment in eight to 25 years.
The solar panels would generate 86.5 kilowatts of power, enough to provide 7 to 8 percent of the building's electricity, she said.
It was previously estimated to cost an additional $250,000 to make the 10-story courthouse "solar-ready," and it was reported at Tuesday's Capital Improvements Committee meeting that it is expected to cost $160,000 for additional structural steel and electrical work, or $90,000 less than estimated.
The steel was an added $45,000, and at the next meeting the committee will approve change orders for electrical work.
The county has yet to seek bids on the actual cost of the solar panels, and committee members discussed whether it would be more beneficial to install the system now or wait for newer technology in the future.
Bluemer said waiting would not be beneficial, since the state's incentive program will not last. She also did not expect the technology to change significantly in the near future.
Project architect Jason Dwyer, of Wight and Company architect, said it's better to install the solar facility during construction rather than after it is built.
But it has to be at a price "that makes sense," committee chairman Ray Tuminello, R-New Lenox, said after the meeting.
He said the majority of members want to move forward with the solar panels now but he said it is "extremely important" to prepare the building first.
While solar panels are guaranteed to produce energy for about 25 years, Bluemer said they continue to produce power for 40-plus years, but the efficiency is diminished after 25 years.
Board speaker Jim Moustis, R-Frankfort Township, said officials always considered solar power as an option, depending on how the $205 million courthouse project was going.
"It is not just about getting a return on our investment. Part of that return is the statement it makes about Will County – that we are progressive," he said, adding that he supports moving forward with the solar panels now.
The construction project currently on budget and on schedule to be completed by September 2020, officials said.
Meanwhile, the county is planning to award bids Oct. 30 for its new Health Department facility on Ella Avenue. Construction, budgeted for $25 million, is scheduled to begin in November and be completed in two years.
Officials said they will host a "meet and greet" Sept. 27 with neighborhood residents to inform them of the project.
Project Manager Nicole McElroy, of Leopardo Construction, said since the new building is being constructed on the same site as the current one, they will need 400 temporary parking spaces during construction.