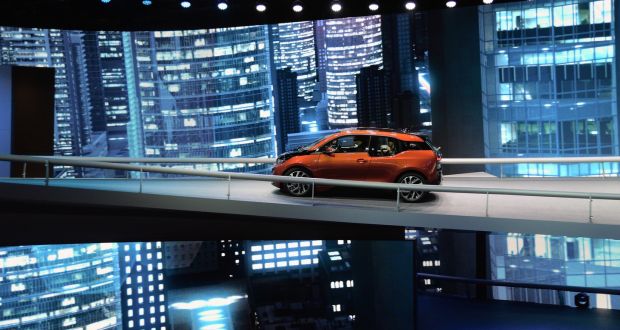 The Congo. September 1961. Irish soldiers in Jadotville are attacked by separatist Katangan forces led by Belgian mercenaries. Jadotville is a copper-mining town in Katanga, a province in south-east Congo that is rich in minerals. The events in Jadotville feature in a popular film on Netflix starring Jamie Doran as Irish commander Pat Quinlan.
Mineral wealth drove the Katangan conflict. Katanga is back in the news. The copper mines again are involved. Car company execs are hearing "Katanga" and fretting about the Democratic Republic of Congo (DRC). The reason: it mines most of the world's cobalt – a sought-after ingredient for electric vehicles (EVs).
Odds are you own Congo cobalt, since each smartphone batteries contains 10 to 20 grams. Electric cars are hungrier for it, packing between six and 15 kilos. Car makers depend on big DRC mines for the metal – not ideal given its predilection for corruption, political instability and war.
About two-thirds of the global mine supplies of cobalt are concentrated in just one country, which is a worry anyway, says Jack Bedder, a market analyst at the consultancy Roskill. But the concern is greater when this country is as unstable as the DRC. Plus there are concerns around child miners and illegal mining for DRC cobalt.
How did the world's switch to electric vehicles get hitched to this risky country? It is partly a matter of geology. Cobalt is concentrated in the Congo, where it is a by-product of nickel and copper mines. There are few new cobalt mines elsewhere that can compete with the volume of those in the DRC, explains Bedder, so the country will remain at the centre of cobalt supply.
Meanwhile, electric cars are gaining ground, with about one million EV sales predicted in China this year, as the country bets on them as an industrial strategy and for better air quality. Not all Li ion batteries need cobalt, but most do, which explains why cobalt's price has shot up from about $25,000 per tonne to $90,000 per tonne in two years. This matters for electric cars, because up to half their cost is made up of the battery and ingredients account for 50 to 80 per cent of the battery itself. The higher the cost of cobalt, the more you will pay for an electric car.
Right now, lithium and the cobalt are pretty much irreplaceable. The workings of the Li ion battery help explain why. When your phone battery needs to be recharged, most lithium ions sit inside graphite in the battery. "Graphite is a layered material and you can store a lot of lithium in it," says battery chemist Prof Colm O'Dwyer of University College Cork. The lithium ions can exist easily.
When you juice up a phone battery, lithium ions zip to the other side of the battery, which houses the higher voltage material. "Lithium is light and can diffuse quickly," says O'Dwyer. There it slots into a layered material made with cobalt. The high voltage is due to the energy needed to get the lithium in there, which can be compared to pushing a ball up a steep slope. The lithium flows quickly downhill to the lower voltage graphite when your battery is turned on.
Stable battery
Unlike other metals, cobalt atoms do not sneak back into gaps left by the lithium ions, because they are energetically satisfied. This makes for a stable battery during charge and recharge. "You need a certain amount of cobalt because it is so good at retaining this layered structure," says battery chemist Prof Gerbrand Ceder of University of California, Berkeley. This allows the lithium flow back and forth.
The cobalt atom is also small, which helps boost the amount of energy you can pack into a small space. Indeed, a mix of lithium and cobalt oxide packs the most power, making this the recipe for smartphones. Electric car batteries, however, cannot afford to be so rich in cobalt, and mix it with nickel and manganese (or aluminium) for different flavours of lithium ion battery. The most popular recipe started off with one cup of nickel, one cup manganese and one cup cobalt (NMC 111, for short).
Huge research efforts have gone into reducing cobalt, while increasing nickel, though this is a challenge from a safety point of view. "People are trying to push that limit hard to get to 8 or 10 per cent cobalt," Ceder explains. But battery experts expect demand for Congo cobalt to continue to rise.
It took more than three decades for Li ion batteries to challenge the internal combustion engine on performance and cost, having been pioneered by Prof John B Goodenough at the University of Oxford in the '80s and commercialised by Sony in the '90s. Li ion batteries are predicted to be with us for at least another 10.
The Congo threw up surprises for the Irish Army in the 1960s. It could yet throw a spanner in the works of electric cars, because of cobalt. If car companies cannot get enough of it – or pay too high a price – the competitiveness of the electric car could stall.