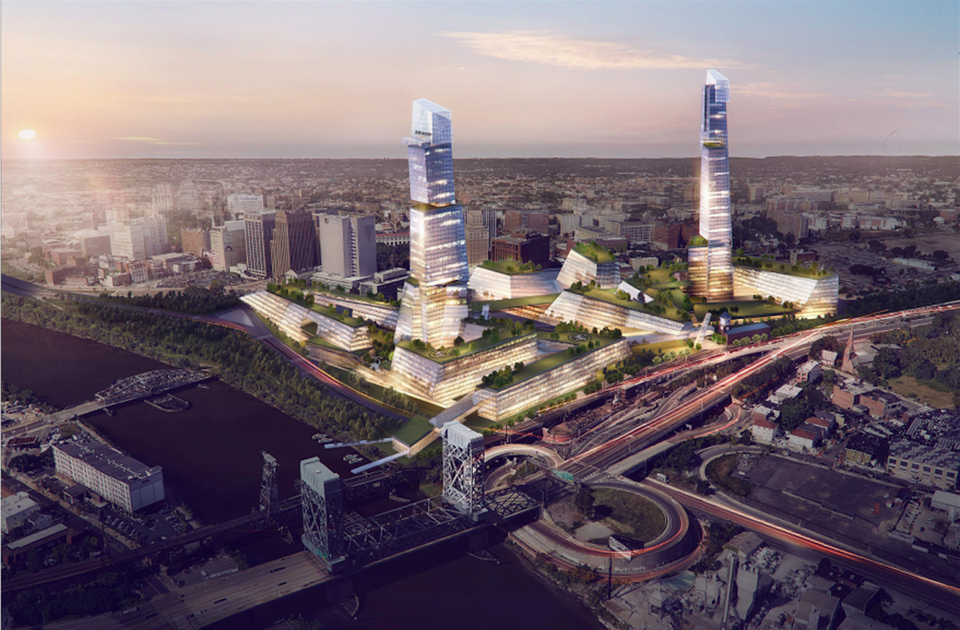 The Bezos has spoken. Amazon's HQ2 is officially a split-decision between Long Island City in Queens, New York, and Crystal City in Arlington, Virginia—the predictable epicenters of finance, commerce and government. The official news leaves 236 other cities feeling extremely disappointed (or even used) like they were part of some bizarre, overhyped Seinfeld finale. But what split-decision isn't disappointing? "This was a con, not a contest," L2 founder and CEO Scott Galloway told MSNBC.
Many believe Amazon missed a golden opportunity to revitalize or transform a financially distressed city or region. Galloway claims this option was never an Amazon priority, suggesting all three of the company's headquarters (Seattle, New York City, Arlington) will be within 6.7 miles of CEO Jeff Bezos' three homes (talk about convenience!).
As already thriving districts, Long Island City and Crystal City didn't wait for Amazon to launch their renaissance. They were rewarded for their booming condo development, available housing, commercial viability and high-tech worker supply. While Amazon takes the criticism like an uppercut to the chin, there's still a chance for some redemption if it builds HQ2-3 responsibly.
What type of Amazonian headquarters will occupy these metro New York and D.C. spaces? The braintrust at Fifth Avenue North Partners (FAN) and Heller Manus Architects (HM), developers of energy-independent communities, have a bold idea Bezos might want to sincerely consider for the HQ2-3 locations.
These firms behind semifinalist Newark, New Jersey's HQ2 proposal encourage Amazon to be do-gooders for the local community, economy and environment by building a 100% energy independent, off-grid corporate campus with market-rate and subsidized housing, retail, airport-style automated walkways, walkable ADA-compliant green roofs, recreational parks, amenities, and convenient ferry terminals. While not quite The Jetsons, the futuristic idea would be an environmentally-responsible, power-outage-proof complex that lasts self-sufficiently well into the 22nd century.
"It has long been the FAN/HM alliance's belief that the most exciting company in the world would say 'yes' only to design that echoes Amazon's innovative and audacious behavior and goals," says Joel Levin, a senior partner at Fifth Avenue North Partners.
Originally designed as an Amazon complex for Newark, the FAN/HM concept (as currently configured) features two asymmetric towers—a 60-story structure and a 55-story building connected by sky bridges. Rising as high as 900 feet and 850 feet respectively, the "sky piercing giants" will connect with pedestrian-friendly, green-roofed low-rise and mid-rise horizontal structures that minimize runoff and don't radiate heat into the environs.
The low carbon footprint campus is designed to be totally energy independent—self-powered by solar devices, wind, geothermal and hydrothermal heat pumps, underwater turbines and high-capacity energy storage banks. Windows would yield 25 acres (1 million square feet) of Building-Integrated Photovoltaic (BIPV) technology, serving as vertically-integrated invisible solar panels that supplement the green roof panels.
"If off-grid buildings can be built, why not build that way?," says Levin. "Incrementally higher construction costs have a manageable payback period through savings realized by not paying a power company. The publicity value for Amazon as well as for [the two cities] would be enormous and continuing. You can't tell me that Amazon is publicity-shy, so this should be a real attraction."
FAN/Heller Manus' contemporary HQ2 concept presents what it calls a symbolic design of Amazon's achievements and aspirations firmly anchored in community values. The concept can be executed anywhere and adapted to any size plot—leaving extra space for future expansion and transportation needs. Spanning up to 45 acres, the proposed Leed Platinum-certified complex can be scaled from 50,000 square feet up to 6 million square feet for interior office space, apartments, hotel and residences.
Levin, a self-described environmentalist and capitalist-with-a-conscience, says Amazon Crystal City would likely be built on a smaller footprint whereas Amazon Long Island City (which he calls "the new Gold Coast") could work best north or southeast of Silvercup Studios along the East River or (less ideally) inland above Sunnyside Yard in Queens as a tabla rasa similar to Hudson Yards in Manhattan.
"Our concept is adaptable," says Jeffrey Heller, president and founder of Heller Manus Architects, whose portfolio includes three of San Francisco's tallest structures and a 16-square-mile new city in China—all built to the firm's minimum LEED Platinum requirement. "What we proposed for Newark can be modified to fit any shape property. It can be taller, smaller, single-tower, double-tower, or whatever is appropriate for the community."
The integrated corporate community would be linked to all public transportation, and includes compact water ferries, a rapid-airport helipad, electric vehicle charging stations, and hidden below-ground garages for cars and bicycles—reducing above-ground vehicle traffic.
"We like people and we respect their right to mental and physical health and happiness," says Levin. "Long ago, we figured out that it's in Amazon's best interest to be a good corporate citizen. Being a good neighbor equals good policy, good karma, and good public relations—and therefore also, good business."
Good karma is the magic public relations elixir after Amazon's controversial decision, which was guaranteed some backlash. This amenity-rich campus concept is designed with urban citizens in mind—a hotel, sky gardens, balconies, parks, bicycle paths, a riverbank amphitheater, walkable landscaped green roofs, wheelchair and scooter accessibility, and those glass-enclosed, climate-controlled people-mover sidewalks beautified by retractable, curved clamshell roofs of clear glass. The proposal also includes "resilient" construction to resist weather events, earthquakes and climate change.
"Energy independence and corporate responsibility can be built in any American or foreign city to any scale…and should be," says Jim Bardia, founder of Fifth Avenue North Partners, who holds a pending U.S. patent for constructing self-sustaining, non-polluting buildings on elevated structures. "Why continue to impact the electrical grid when it's feasible to construct self-powered buildings?"
Translation—go big and go green Amazon. And remember the Northeast Blackout of 2003 which affected 55 million people in eight U.S. states and Canada. Another calamity could create a helluva Amazon Prime backlog.
But above all, HQ2-3 must be powered through good corporate conscience. Consider the citizenry, the sociological impact, and the potential collateral damage of not building responsibly. Many question your contest decision, so leave no doubt about your execution. After all Mr. Bezos, HQ2-3 is only miles from your own Amazonian homes.