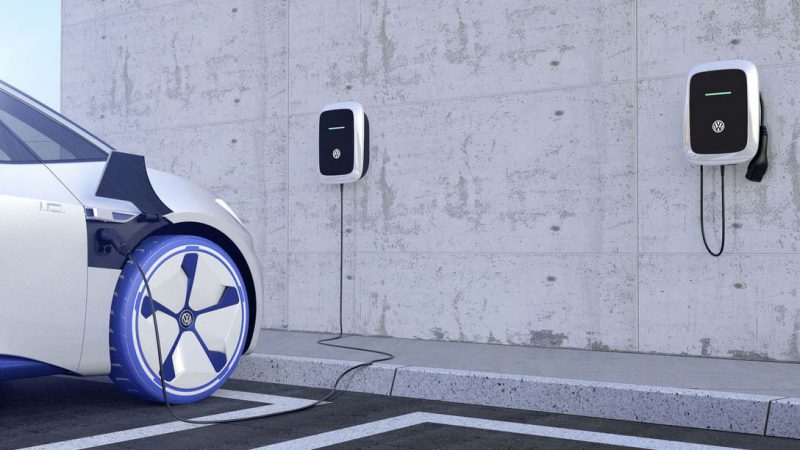 German carmaker Volkswagen is making plans to expand its mobility offerings to include electric car charging and renewable energy systems, according to Philipp von Hagen, a board member of Porsche SE which owns the VW, Porsche an Audi brands.
Speaking at the Bloomberg New Energy Finance Summit in San Francisco on Tuesday morning (Australian time), von Hagen said it makes sense for a future mobility strategy that includes not only selling electric cars, but also supplying the energy to fuel them.
In pursuing that strategy, VW has launched a new subsidiary, Elli Group GmbH, which will make household renewable energy systems and EV charging systems, it announced earlier this month.
In doing so, it will compete with Tesla in being able to offer both EVs and stationary energy in a grid that is transitioning to embrace both technologies.
As von Hagen points out, electric cars are just part of a larger energy ecosystem. "When it comes to electric mobility, you need to think about energy management," von Hagen says.
"Vehicles become a storage facility for energy on the one side, and the whole electrification game when we talk about CO2 emissions, only really makes sense with sustainable energies, and that is often renewable energy sources such as wind which you need to store at some point.
"When you put the two together in a smart grid, suddenly you become actually, an integral part of the energy ecosystem as well, with electric cars and therefore you need an energy management system," he said, adding, "and you can definitely become an energy supplier."
"Why should be this be the realm only of the electricity companies?"
Von Hagen says that VW will offer, via Elli, a package for its electric vehicle companies.
"People won't only purchase a car," he says.
"They will purchase mobility…and as part of that you also need to offer the fuel.
"This is the purpose of Elli….that's part of the package you have to offer to your customers," he said.
The launch of Elli comes only weeks before the announcement by Electrify America on Monday (US time) to install Tesla battery storage systems at over 100 electric vehicle charging stations.
The charging infrastructure company owned by Volkswagen wants to reduce electricity charges that utility providers charge at times of peak demand, and Tesla's Powerpacks – the very same that are installed at South Australia's "big battery" – offer a very real solution for this.
Electrify America currently have a network of 300 EV charging stations across 42 US states, as well as 180 metro stations, and plans to have 484 stations in all by the end of 2019.
Now, 100 of those will feature Tesla battery storage packs, enabling Electrify America to reduce running costs (and no doubt help fund its expansion).
A 210kW battery system with 350kWh of capacity will be installed at each of the 100 sites, with the option to expand if required thanks to the Powerpack's modular design.
"Our stations are offering some of the most technologically advanced charging that is available," said Electrify America chief Giovanni Palazzo in a statement.
"With our chargers offering high power levels, it makes sense for us to use batteries at our most high demand stations for peak shaving to operate more efficiently.
"Tesla's Powerpack system is a natural fit given their global expertise in both battery storage development and EV charging."