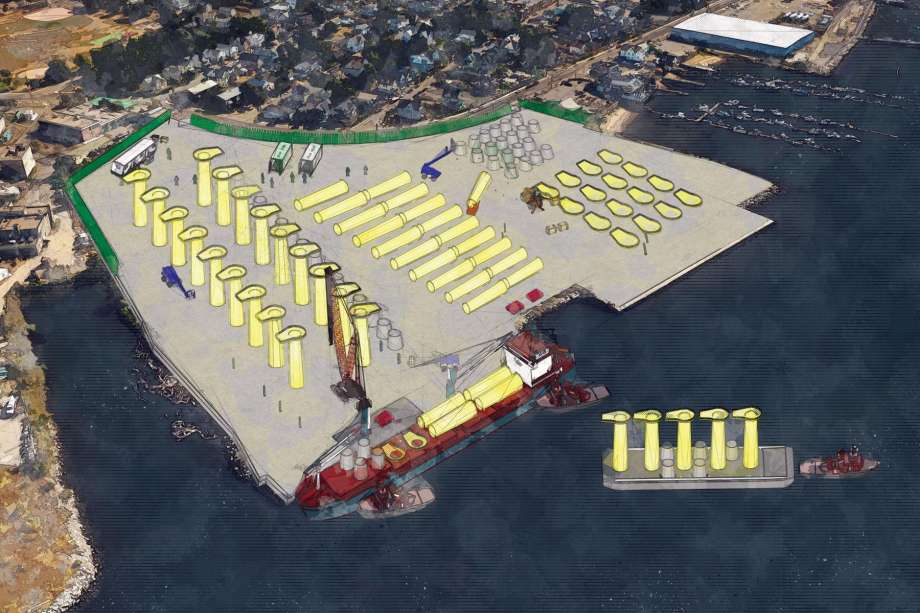 Now that offshore wind developers Vineyard Wind have won over state officials, the details on jobs and expenses is the next big question.
Connecticut's Department of Energy and Environmental Protection announced Thursday that the bid from the Massachusetts-based company has been selected to advance to contract negotiations with the state's electric distribution companies to provide 804 megawatts of offshore wind through its Park City Wind Project.
The company has said it wants to use Bridgeport's harbor as part of its staging area and promised the project would bring jobs to the city.
"Today's announcement takes Connecticut one step closer to being the epicenter of the new offshore wind industry, with thriving ports in both Bridgeport and New London," said Lars Pedersen, CEO of Vineyard Wind, in a press release.
The Park City Wind project will now enter into negotiations with the state's two electric utilities, The United Illuminating Company and Eversource Energy, for a contract with a 20-year term. The negotiated contracts will be subject to review and approval by the Public Utilities Regulatory Authority.
Vineyard Wind beat out two other bidders vying for the same contract from the state, which had a standing order for up to 2,000 megawatts of offshore wind energy.
This is the second large-scale contract Vineyard Wind secured in the past two years. The first was to build an 800-megawatt offshore wind farm for Massachusetts in 2018.
According to DEEP, the selection will more than double the amount of new zero-carbon renewable energy procured by DEEP to date. Vineyard Wind's project is slated to provide roughly 14 percent of the state's electricity supply.
"In this process, bidders really had to sharpen their pencils in order to come out in the winner circle," said DEEP Commissioner Katie Dykes. "Park City Wind ranked highest on the whole complement of elements that we were prioritizing in this (request for proposals)."
That included a commitment to economic development for the state. The project is expected to go online in 2025 based on DEEP's announcement and includes an estimated $890 million in direct economic development in Connecticut, including Bridgeport Harbor and the local supply chain.
The company wants to turn 18.3 acres of harborfront land in Bridgeport into an assembly hub for a wind farm that would be built south of Martha's Vineyard and Nantucket. Beyond initial construction and usage of the site, Vineyard Wind plans to use the facility for future projects, including having the Bridgeport site serve as the operations and maintenance hub for its offshore turbines for the next 30 years, company officials said.
Vineyard Wind had stated in its proposal that the project would generate around $1.6 billion in direct economic benefits and create up to 12,000 direct and indirect jobs associated with construction and operation of the site
According to Pederson, roughly 70 percent of jobs created from the project are slated to be in and around Bridgeport with work divided among construction of the facility, manufacturing of the turbines and following operations and maintenance.
The future job creation projections caught the attention of local and state officials before and during the bid review process.
"This is very significant — our most significant — investment to date," said David Lehman, Commissioner of the state Department of Economic and Community Development. "I think there are real benefits as it relates to climate but also the economy. We also feel that a renewable energy and further clean technology will be built out in the State of Connecticut and that's the tech that hopefully those investments will continue to bear fruit overtime."
DECD also participated in the review process.
Vineyard Wind still has to get local, state, and federal permitting to move forward with the project, but construction in Bridgeport is projected to started in 2021 in order to begin building offshore in 2023, according to Pederson.
Vineyard Wind partnered with Seymour-based power cable maker Marmon Utility in October, promising to use the company's Kerite cable brand as its preferred cable supplier for at least 50 percent of the project.
The supply contract was contingent on Vineyard Wind being chosen and is slated to bring $40 million in direct expenditures to the state, along with dozens of new jobs to the Seymour manufacturer.
"This is a great day for us at the Vineyard Wind Team in getting our second project in the U.S.," Pederson said. "For many reasons, this is a very exciting project for us, and we look very much forward to working with all the stakeholders and DEEP on this exciting project."