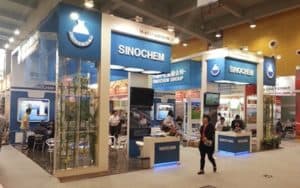 Lithium-ion battery focussed UltraCharge has executed a memorandum of understanding for China-based fluorine chemical manufacturer Sinochem Lantian to develop and produce UltraCharge's recently acquired electrolyte salt intellectual property for inclusion in lithium-ion batteries.
Purchased from Coorstek Specialty Chemicals, UltraCharge's electrolyte salt technology will produced by Sinochem Lantian in China to boost the lifespan and performance in lithium-ion batteries.
The MoU with Sinochem Lantian paves the way for Israel-based UltraCharge to offer a full lithium-ion battery solution to the electric vehicle market in China and abroad.
"We are now in a position to offer battery manufacturers a full or tailored solution to enhance performance of lithium-ion batteries," UltraCharge chief executive officer Kobi Ben-Shabat said.
"For the end user or consumer, this means a longer lifespan, higher voltage, low cost battery solution which is safe," Mr Ben-Shabat said.
According to UltraCharge, China leads the world in electric vehicle sales, powered by its government policies pushing cleaner energy.
The majority of China's electric vehicles are locally made, and manufacturers are continuously seeking solutions to enhancing performance and driving costs down.
UltraCharge is advancing a number of technologies to negate the current challenges in the lithium-ion battery market including cost, slow and limited lifetime recharging, and safety and transportation risks.
In addition to its electric salt intellectual property, UltraCharge has also developed nanotube fibres made from titanium dioxide for replacing graphite which is traditionally used in the battery's anode.
According to UltraCharge, this technology is a "game-changer" solution to the battery industry due to titanium dioxide being more abundant, more easily extracted and a lower cost raw material.
Meanwhile, UltraCharge has also gained the rights to a cathode technology which comprises a high voltage lithium, manganese, nickel and oxygen formula, which UltraCharge states is "half the cost of commercial cathodes", offers a longer life, and more rapid charging.
The company claims its combined technology solutions result in rapid charging, enhanced safety, longer lifetime, cost efficiencies and a simpler and cheaper production line.