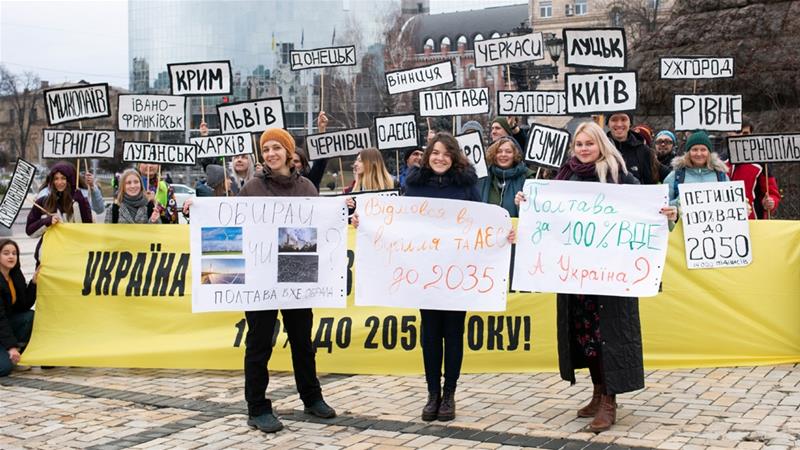 Climate activists in Ukraine with the Energy Transition Coalition have demonstrated at the Ministry of the Environment and Energy in Kyiv, demanding a switch to 100 percent renewable energy sources by 2050.
The protest action on Friday was backed by some 14,000 Ukrainians who had signed a petition to shut down existing coal-fired and nuclear power plants – and halt the construction of new ones – by 2035.
Extinction Rebellion, Fridays for Future, and other international movements are supporting efforts by local groups to speak out against the pace of the Ukrainian government's transition to a low-carbon economy.
Activists say the government's newly proposed climate policy should invest even more in energy efficiency, green public transport and electricity grid improvements.
The Ukraine Green Deal, which was published last month, aims to cut power demand by 50 percent and reduce Ukraine's reliance on imported coal, natural gas and nuclear fuel. Much of the funding would be through an updated carbon tax.
Svitlana Romanko, managing director of 350.org in Eastern Europe, Caucasus and Central Asia, said, "Our priority [is] to mobilise and campaign towards keeping fossil fuels in the ground, cutting finance flows to fossil fuels and support[ing] the demands of national organisations for a more just, prosperous and equitable future."
In addition to her organisation, the other members of the nongovernmental Energy Transition Coalition are Ecodia, Ecoltava, Ecoclub, Khmelnytskyi Energy Cluster and the All-Ukrainian Agency for Investment and Sustainable Development.
'Significantly cheaper'
Romanko told Al Jazeera that a key component of the shift is "the adoption of socioeconomic support programmes for coal regions".
The Ukrainian government is facing public pressure to take care of front-line communities that could suffer in an economic transformation, and to adopt more ambitious energy targets than the 70-percent renewable figure set by the ministry.
"Renewable energy becomes significantly cheaper as a technology every year and could provide 91 percent of the Ukrainian total energy balance" 30 years from now by using existing capabilities, she added, citing academic research that explores a range of energy scenarios.
Experts from the Institute of Economics and Forecasting at the National Academy of Sciences of Ukraine say that Ukraine could generate up to 93 percent of its electricity from clean sources.
As of 2018, just over one-quarter of Ukraine's power mix was from nuclear sources, with about two-fifths from coal. But with the 1986 Chernobyl disaster still fresh in people's minds, nuclear energy is a particularly controversial electricity source.
Romanko said that coal owners and operators – who dominate the energy supply chain – are loath to refuse investments into fossil fuels from abroad.
During the recent public round-table event to address the government climate plan, activists suggested that the government was complicit in shutting dissenters out of the debate.
"Ministry representatives did not approve the registration to this round table to a representative of Merefa," said Julia Pashkovska, a local campaigner for 350.org – a movement dedicated to fighting the climate crisis.
She was referring to the eastern city with the largest Ukrainian natural gas field, "where shale gas will be extracted by hydraulic fracturing, presenting a huge risk of loss of drinking water".
'Strategic impact'
Minister of Energy Oleksiy Orzhel responded by saying at the meeting that recent changes to energy legislation would "let the companies extract fossil fuels with no approval from the local community".
Orzhel did commit, however, to follow up on "land approval and strategic impact assessment before mining".
With Ukraine cut off from Russian gas supplies, shuttering coal plants by 2050 may not be easy.
The current plan has Ukraine reaching net-zero emissions in 2070, two decades after the European Union.
As President Volodymr Zelensky's government continues discussions with clean energy providers, the European Bank for Reconstruction and Development could be key to funding projects along the EU's edges.
Since gas and nuclear represent major national aversions for Kyiv, lessening coal reliance could be the toughest part of Ukraine's energy calculus.