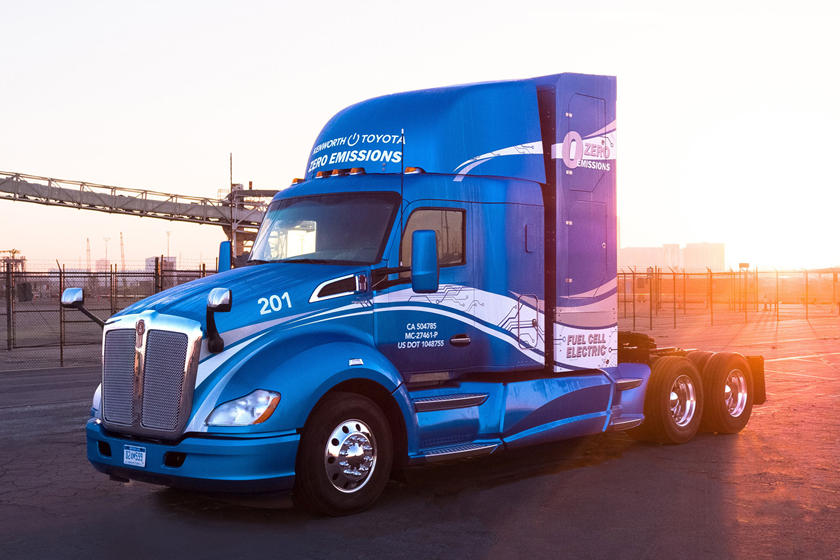 With the Mirai, Toyota has proven itself a leader in hydrogen fuel-cell propulsion. But it's not keeping the tech all to itself.
At CES this week, Toyota announced a new partnership with Kenworth that will see the two jointly developing a fleet of hydrogen-powered, zero-emissions big-rig trucks. The tractors will be based on Kenworth's tried-and-true T680 – a class-8 truck that's about as big as they come. But these prototypes will swap out the usual (and massive) turbodiesel six – which range from 12 to 15 liters and kick out as much as 2,050 lb-ft of torque – for Toyota's hydrogen fuel-cell powertrain.
The initial fleet of ten trucks is being funded in part by a $41-million grant from the California Air Resources Board, and is set to be deployed from the Port of Los Angeles. From there they'll be dispatched to inland cities like San Bernadino and Ontario (not to be confused with the Canadian province of the same name).
"This is an excellent opportunity for Kenworth and Toyota to work together to both explore and drive the development of advanced zero emission technologies that will play a critical role in the commercial transportation of the future," said Kenworth general manager Mike Dozier.
"This is not just a science experiment, the goal is to make a difference in society," added Toyota vice president Bob Carter. "To remove pollution and improve the air quality in and around the Port of Los Angeles."
Kenworth is one of three brands (alongside Peterbilt and DAF) under the PACCAR umbrella, which ranks as one of the world's largest truck manufacturers. Unlike Daimler's Freightliner or Volkswagen's MAN, though, it's not allied to any consumer automaker, leaving it open to partner on this project with Toyota – one of the world's largest manufacturers of passenger cars (but not professional-grade trucks of this kind).