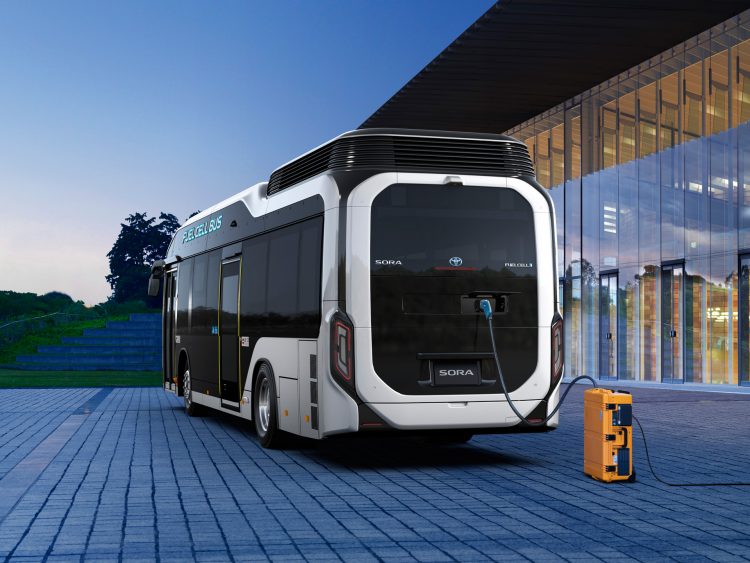 Toyota began in Japan production and sales of hydrogen fuel cell buses called Sora that share technology with the Mirai.
As in case with other FCVs, production volume is very small and Toyota announced that just over 100 units will be delivered in the Tokyo metropolitan area by 2020 for the Olympic Games.
Sora is equipped with two FC stacks – 114 kW each that provide electricity for the two 113 kW AC synchronous electric motors. For the small drive battery, Toyota is still using NiMH.
The 10.525 m bus fits 79 people (22 seated + 56 standing + driver).
Range on the 10 tanks of hydrogen (600 liters working at 70 MPa nominal pressure) is probably comparable to conventional buses.
An interesting emergency feature is the external power supply system – there is a special inverter, connected to the vehicle through the CHAdeMO, that provides up to 9 kW of power (it can deliver up to 235 kWh, which sounds like a day or two of juice, depending on usage).
Press release:
First fuel cell bus in Japan to receive vehicle type certification
Over 100 buses expected to be introduced by 2020 mainly within the Tokyo metropolitan area

Toyota City, Japan, March 28, 2018―Toyota Motor Corporation (Toyota) announces that sales began on March 7 of the "Sora*1," the first fuel cell bus (FC bus) to receive vehicle type certification in Japan.

Toyota expects to introduce over 100 fuel cell buses, mainly within the Tokyo metropolitan area, ahead of the Olympic and Paralympic Games Tokyo 2020. As the number of FC buses in operation within the metropolitan area increases, Toyota anticipates greater awareness of the vehicle among the general public.

Last year, Toyota launched the "Start Your Impossible" global corporate initiative to transform the company from an automobile company to a mobility service company. This was guided by the company's desire to contribute to the improvement and enhancement of customers' lives and society as a whole through support of the creation of a more inclusive and sustainable society in which everyone feels inspired to challenge his or her impossible. In developing the Sora, Toyota has sought to design buses that provide customers with freedom of mobility and become enduring town icons.

Toyota aims to create a bus that works for and supports society, so the Toyota Fuel Cell System (TFCS) has been leveraged in the Sora for its environmental friendliness and ability to serve as a power source in the event of a disaster. The Sora features human-centric universal design and functions, reflecting Toyota's desire that when riding the Sora, mobility no longer presents an impediment to customers challenging the impossible, which helps enable them to achieve their dreams.

The Sora offers the following specific features

High environmental performance and the joy that is derived from FC technology

The Toyota Fuel Cell System (TFCS), which was developed for the Mirai fuel cell electric vehicle (FCEV), has been leveraged to realize high environmental performance with no CO2 emissions or Substances of Concern (SoC) emitted when in operation, as well as quiet comfort with minimal vibration.
The Sora is equipped with a high-capacity external power output device, which can provide high output and a large capacity of electricity supply (9 kW maximum output, and electricity supply of 235 kWh*2) and has potential use as an emergency power source following disasters.

Universal design and function that provides everyone with greater freedom of movement

Horizontal seats with an automatic storage mechanism

(first in Japan*3)The Sora's seats are automatically stored when not in use, improving comfort and convenience for passengers with strollers and wheelchairs as well as other passengers.

Field of vision support camera system 

(bus peripheral monitoring function)

 (first in Japan*3)Eight high-definition cameras fitted inside and outside the vehicle detect pedestrians and bicyclists around the bus providing a field of vision support camera system. When at bus stops, the system warns the driver of surrounding pedestrians and bicyclists through sound notifications and images thereby improving safety.

Acceleration control function delivers improved safety

 (first in Japan*3)The acceleration control function suppresses sudden acceleration and enables smooth acceleration from complete stops in consideration of the safety of standing passengers. Also, as the bus is not motor operated, there is no gear shifting, resulting in minimal lurching.
Design
The design pursues stereoscopic shaping that significantly differs from the hexahedron (box shape) of conventional buses. It also uses LED technology for the front and rear lights. Such design features make the FC bus instantly recognizable.
Vehicle
Name
Sora
Length / width / height
10,525 / 2,490 / 3,350 mm
Capacity 

(seated, standing, and driver)

79 (22+56+1)
FC stack
Name (type)
Toyota FC Stack 

(solid polymer electrolyte)

Maximum output
114 kW × 2 (155PS × 2)
Motor
Type
AC synchronous
Maximum output
113 kW × 2 (154PS × 2)
Maximum torque
335 N・m × 2 (34.2 kgf・m × 2)
High-pressure hydrogen tank
Number of tanks 

(nominal working pressure)

10 (70 MPa)
Tank internal volume
600 liters
Drive battery
Type
Nickel-metal hydride
External power supply system*2
Maximum output / 

power supply amount

9 kW / 235 kWh