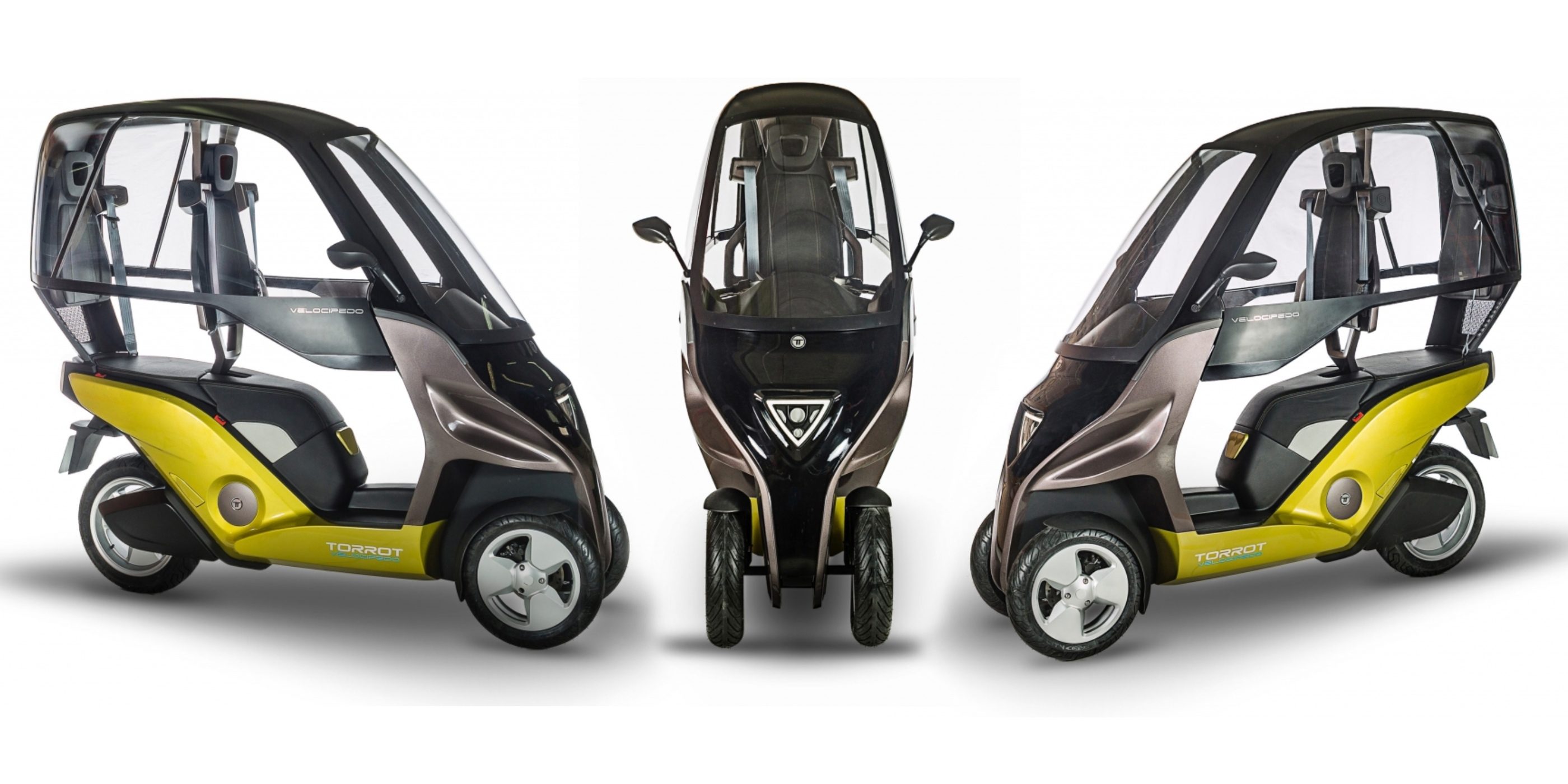 Spanish-based Torrot already has a nice lineup of electric scooters. Now the company is showing off their newest electric vehicle, the Torrot Velocipedo, at the EICMA 2018 Milan Motor Show.
The Velocipedo is designed to offer the same advantages of an electric scooter, but in a safer and more convenient package.
The new Torrot Velocipedo
Torrot's electric scooters are already popular, and have even been imported to the US as a part of the Revel electric scooter sharing program in NYC. But the Velocipedo is an entirely different direction for the company.
The three-wheeled Velocipedo is definitely a striking vehicle, which is what drew us over to Torrot's booth at the EICMA show in the first place.
It is designed as a tadpole tricycle, meaning it has two wheels in the front and one in the back. The Velocipedo is covered by a carbon fiber roof, creating a roll cage that protects its two passengers.
Unlike a traditional scooter, the Torrot Velocipedo has traditional automotive-like seats.
It even has conventional three-point seatbelts, a feature you wouldn't normally find on a standard electric scooter. Generally, you'd want to separate from a scooter or motorcycle fairly quickly in the event of a crash. But when surrounded by a roll cage like in the Velocipedo, you're much safer and more protected by staying buckled inside.
The unique design even means that riders don't need to wear a helmet in the EU. However, once the Velocipedo is exported to other markets, it will be up to those countries to determine if it is exempt from helmet regulations.
Torrot Velocipedo tech specs
The Torrot Velocipedo is powered by an 8 kW (10.7 hp) motor capable of a 95 km/h (59 mph) top speed. The motor belt drives the rear wheel where it creates a maximum of 320 Nm (236 ft-lbs) of torque. That provides a 0-45 km/h (28 mph) time of 5.5 seconds. Not the fastest vehicle on the road, but not too shabby. Considering the vehicle weighs 245 kg (540 lbs), that's a lot of weight to get up to speed.
The Velocipedo comes standard with four removable 1.6 kWh Li-ion batteries. If 6.4 kWh of battery capacity isn't enough for you, the Velocipedo offers an additional battery slot for one more optional pack. That pushes the total capacity to 8 kWh. With five batteries, the Velocipedo has a maximum range of 120 km (75 mi).
The frame and body are carbon fiber and steel. The front suspension uses a patent pending articulated longitudinal parallelogram-type suspension. The rear suspension is a typical aluminum single-sided swingarm with dual hydraulic shocks. Both the front and rear suspension offer 90 mm (3.5 in) of travel.
Each front wheel features triple-piston floating caliper hydraulic disc brakes, while the rear wheel includes a dual-piston version of the same brake.
For parking, the Torrot Velocipedo features both a locking center stand and an anti-tilting feature.
Inside the cockpit, the Velocipedo sports a customizable color-tft display and USB device charging in a sealed compartment. App-controls add more features including GPS-vehicle location, predictive maintenance, driver analytics, stolen vehicle notification, crash notification, shared vehicle services, and fleet management services, similar to KYMCO's Ionex Commercial platform. Cockpit controls also include emergency lights, head lights, tail lights and turn signals.
Storage can be accessed under the seats, and there is a charging cable storage area as well.
The base model comes with a tinted windscreen. The side doors are normally open, but a fully enclosed glass door option is available as well, turning the Velocipedo into an all-weather vehicle.
The Torrot Velocipedo is priced at €6,000 ($6,800). The company is already taking pre-orders, and expects to begin deliveries as soon as February, 2019.