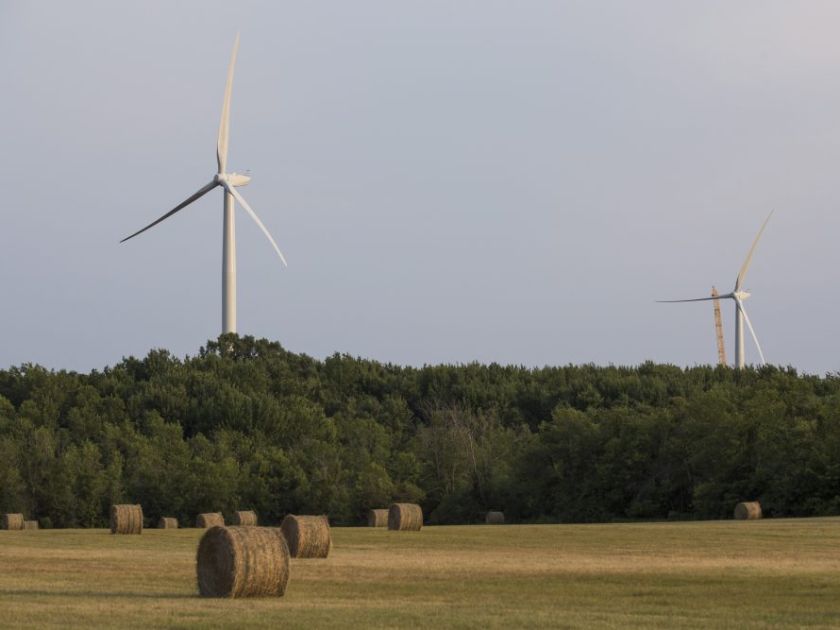 More than 200 Southwestern Ontario projects, including one of the most controversial wind farms in Ontario, are among the death toll of the new Tory government's mass cancellation of contracts with renewable energy producers.
The doomed projects, announced by Doug Ford's government as it underlined its vow to cut electricity bills by 12 per cent, number 758 provincewide including proposed wind farms with highrise-sized turbines and several hydro-electric projects.
I don't believe any of the words spoken by the NDP critic

-Jeff Yurek, Elgin-Middlesex-London MPP
Solar energy contracts, large and small, dominate the list of deals being scuttled.
Contracts to harness electricity from other sources, including by burning gas from London's landfill, also are being unplugged.
Sun-powered contracts being cancelled extend to centres across Southwestern Ontario, including at the Woodstock hospital.
In the wider London region, home to the largest wind farms in the province and the most turbines, and where the backlash against costly wind energy projects has been greatest, the hit list includes a project that's been a lightning rod for rural anger about wind energy.
Chicago-based Invenergy's Strong Breeze wind farm project in Dutton Dunwich was imposed under the former Liberal government, even though the rural community southwest of London voted against such projects in the first referendum of its kind in Ontario.
Invenergy won the contract, in part, with the participation of six Ontario First Nations more than 1,000 kilometres away.
Adding area insult to injury, said Dutton Dunwich Mayor Cameron McWilliam, is that local Indigenous communities weren't approached.
"We found out that the local First Nation groups had not been approached and were not in agreement with the wind farm project," he said.
Invenergy was evaluating the situation and had no comment, spokesperson Beth Conley wrote in an email.
The Strong Breeze contract — along with another in Wallaceburg, in Chatham-Kent, for the 12-turbine Otter Creek wind farm whose backers include the Canadian division of a British energy company — is now slated for "wind-down," according to the government's massive list of contracts being nixed, only 10 of which are with large energy producers.
In the area from Kitchener-Waterloo to Windsor, and up the Bruce Peninsula, the contracts being cancelled total 218.
They don't include the contentious North Kent Wind project in Chatham-Kent, where activists worried about the effect on their water wells have made headlines, including by chaining themselves up to demand a halt to the development.
Energy Minister Greg Rickford couldn't be reached for comment during the weekend, but a London-area cabinet minister said the cancellations are a big step by the Progressive Conservative government to bring down electricity bills.
"There will be a series of measures that will lead to a price reduction for people in Ontario," said Infrastructure Minister Monte McNaughton, whose Lambton-Kent-Middlesex riding takes in many of the cancelled contracts.
"This is one part in that plan to reduce hydro bills (by) 12 per cent."
Under the Liberals, Ontario plunged headlong into wind and solar energy contracts as it shut down its dirty coal-fired power plants, signing giant and small-scale power producers to lucrative longterm contracts driving up the cost of power.
Municipalities also were stripped of their ability to control where projects were built, with dozens joining an "unwilling host" movement against them.
The lucrative contracts were scaled back as more producers were signed on, but critics contend nixing the contracts will cost thousands of green jobs.
"It's going to mean lost jobs, billions of dollars wasted and tangible environmental damage, NDP MPP Peter Tabuns said in a written statement.
Natural Resources and Forestry Minister Jeff Yurek, whose riding takes in the Strong Breeze site, countered that Ontario's plunge into green energy has driven up the costs of power and cost the province tens of thousands of good-paying jobs.
"I don't believe any of the words spoken by the NDP critic," said the Elgin-Middlesex-London MPP, noting Elgin County alone lost 6,000 jobs in the last 10 years.
McWilliam also scoffed at the idea that scuttling green contracts will cost jobs, saying many businesses can't find the skilled labour they need.
"I don't buy that argument," he said.
The Tories say the cancellations — the contracts represent a fraction of Ontario's power, most of which comes from nuclear plants — will save ratepayers nearly $800 million.
The Canadian Wind Energy Association, an industry umbrella group, said wind energy is the "lowest-cost option" for new electricity in Ontario.
But an organization critical of wind farm development is applauding the government's move.
"This was the right decision," said Jane Wilson, president of Wind Concerns Ontario.
"There were significant environmental and health concerns inherent in each of these projects. The communities did not want them, but were being forced to have these industrial power projects, and the costs would be yet more burden on Ontario citizens."
Soaring energy costs have been a huge issue in Ontario, with its auditor general reporting in late 2015 that consumers had paid $37 billion more than market price for electricity during the better part of a decade, partly because of the Liberals' costly push into green energy and because the government ignored the advice of its own energy planners in favour of political decisions.
The cancelled contracts total 443 megawatts of power.
Ontario has about 35,000 megawatts of generating capacity, an official with the Independent Electricity System Operator said.
Officials in the Otter Creek project, the consortium behind which includes the Canadian division of British energy company RES Ltd,, couldn't be reached for comment. Construction of that project had been slated to begin next year.
"The Otter Creek project was not in the best interests of the people of Ontario and specifically, of course, not for this community," said Violet Towell, a spokesperson for the citizens' group Wallaceburg and Area Wind Concerns.
"That's not to mention all the costs that are affecting our electricity bills and worsening energy poverty, so yeah, we're very pleased we're moving in this direction because we've had so many concerns," Towell said.
It's going to mean lost jobs, billions of dollars wasted and tangible environmental damage

-NDP MPP Peter Tabuns
It's going to mean lost jobs, billions of dollars wasted and tangible environmental damageNDP MPP Peter Tabuns
The cancellations don't include the most controversial Chatham-Kent project, the 34-turbine North Kent Wind Project developed by Korean industrial giant Samsung and U.S.-based Pattern Energy Group. Already operating, the project spawned the formation of Water Wells First, a citizens group that remains active over concerns that vibrations from the construction and operation of the wind turbines have damaged private water wells in the area.
OTHER NOTEWORTHY CANCELLATIONS
Included among the contracts being wound down are 14 solar energy projects outside the city involving London Hydro. Chief executive Vinay Sharma was away and unavailable for comment, a London Hydro spokesperson said. Coun. Michael van Holst, who sits on the Hydro board, said he was unaware of the cancellations and couldn't comment.
German Solar Corp. planned to build solar farms on former CN railway corridors. Eleven were proposed in Southwold in Elgin County, 10 in Southwest Middlesex and one in Central Elgin. "It's unfortunate in some respects," Southwold Mayor Grant Jones said of the implications "There was some money for the township each year for various things we could put it toward."