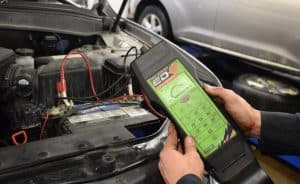 DES MOINES, Iowa — Saturday is National Battery Day and this holiday weekend, plenty of people across Iowa are relying on their car batteries to drive to Des Moines for the state wrestling tournament or some other vacation. It's important they take care of their battery so they don't get stuck along the way.
Josh Reasoner, the General Manager at Batteries Plus in Des Moines, said though most car batteries fail during the winter months, they actually take the brunt of their wear and tear during summer.
He said heat affects the acidity of the car battery causing it to expand on the inside. That leads to it draining quicker. It's important people check their batteries for corrosion during the summer months.
Reasoner said during the winter months, car owners should get their batteries tested. It's also a good idea to turn the car completely off, not just the gas, when idling. People who don't drive often should also take their car out for a spin every once in a while because the battery drains even when a car sits in the garage.
"If you're using it like sparingly, you want to make sure you drive it once or twice a week definitely to make sure that battery is not just draining," he said. "There's something called a parasitic drain on car batteries and what that is, even when your car's not being used, it's connected to lights, all the electronics in your cars so those will start to wear on the batteries even when you're not using them."
Reasoner said car batteries last on average three to five years. In the Midwest, their lifespan tends to be on the lower end of that spectrum since they deal with all four seasons.
He also recommends everyone have jumper cables in their car in case their battery dies.