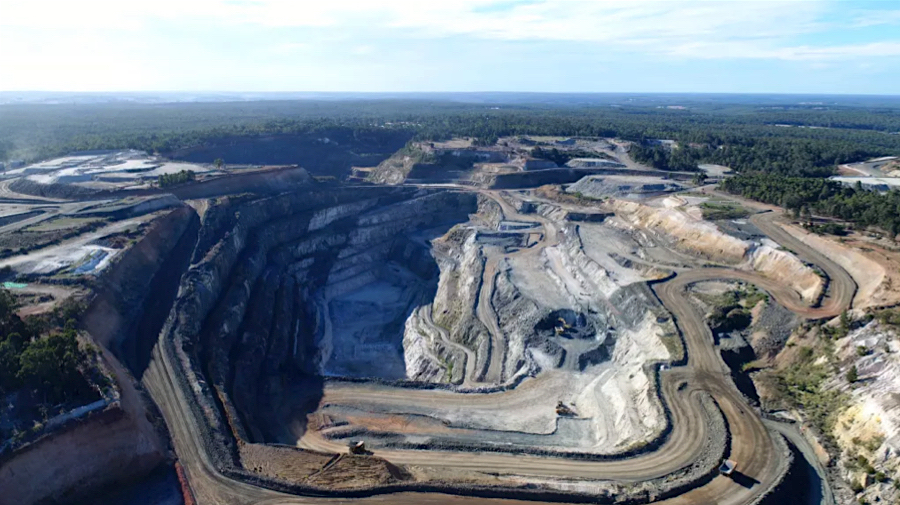 Tianqi Lithium, China's largest producer of the white metal, is investing an extra A$516 million ($382 million) to increase lithium production at its Greenbushes mine in Western Australia, the world's largest hard rock lithium operation, as demand for the key ingredient to build batteries that power electric picks up.
Project operator Talison Lithium, a joint venture between Tianqi and Albemarle Corp, said the works is expected to begin in the first quarter next year.
The investment involves the construction of a new concentrator plant at the mine, which Talison said would be capable of producing 520,000 tonnes a year of chemical-grade lithium concentrate. It also entails a new crushing plant and the necessary infrastructure.
The new plant is expected to be commissioned in the last quarter of 2020, Talison said.
The expansion lifts the total investment in Western Australia's lithium underpinned by Greenbushes, about 250km south of Perth, to nearly A$2 billion ($1.5bn), and will increase the number of new permanent jobs created at the mine to 250, The West Australian reports.
Albemarle, which holds a 49% stake in Talison, is planning a lithium hydroxide manufacturing plant, outside of Bunbury, capable of producing up to 100,000 tonnes per year of lithium hydroxide monohydrate from five 20,000 tonnes per year process trains and up to 1.1-million tonnes a year of tailings.
China's Tianqi, which holds a 51% stake in Talison, is constructing a 24 000 t/y lithium hydroxide plant in Kwinana, just 40 km from Perth.
Lithium carbonate prices have been drifting lower from highs in December but remain around the $20,000 level a tonne from $6,450 per tonne at the beginning of 2015.
Unlike cobalt, another crucial battery ingredient, the so-called "white petroleum" is abundant and existing brine producers in South America have the capacity to quickly increase output. Combined with many hard-rock projects coming on stream in Australia, last year's roughly 220kt of production could more than triple within less than a decade.