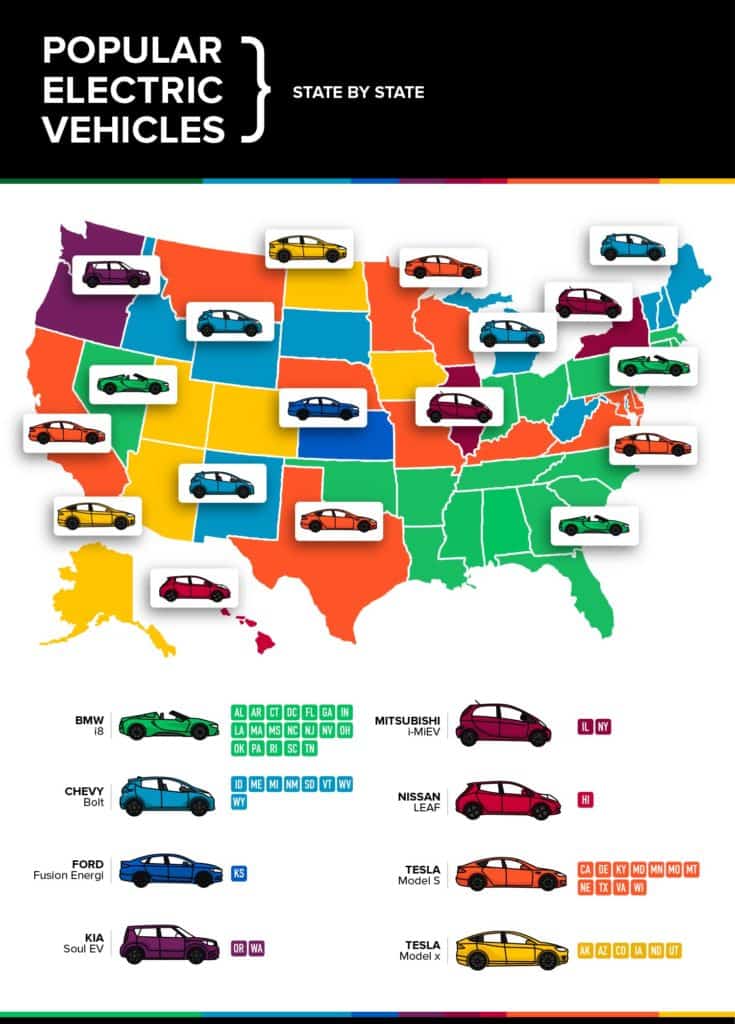 A surprising look at online cruising regarding electric vehicles caught my eye. It's a colorful map revealing the electric car interests of people in different states. The map shows the searches people in different states most frequently conduct for specific electric car models.
As we know, driving an emissions-free EV seems like one way to avoid polluting the world more. Choosing to drive emissions free is a vote that even a corrupt head of state or EPA official cannot take away. Buying something more gentle with less negative environmental impact is one strong way to vote. The interesting thing about the map is that it shows which electric cars (plug-in hybrids included) seem to be attracting people to the idea of zero-emissions driving. There's an interesting surprise in the results, though.
As Amigo Energy shows, the most searched electric car in most states is the BMW i8! This is a low-volume plug-in hybrid, but its sales volume is largely limited by its high price tag — it's the most expensive plug-in car on the market. So, it's not the most likely purchase for most Googlers, but the car is somehow getting on their radar and inspiring them to search nonetheless. The plug-in vehicle that earned the most searches in the next highest number of states was, less surprisingly, the Tesla Model S, followed by the Chevy Bolt and then Tesla Model X.
All of that said, it seems the researchers must have excluded the Tesla Model 3 from the options or used some odd methodology or timeframes, since it seems impossible the Model 3 wouldn't garner the most searches in some states, if not most of them. But we'll come back to that in a minute.
Back to the BMW i8, Amigo Energy writes, "For those who are keen on the BMW i8 (the sweeping preference of the South and most of the East Coast), it could be the sophisticated, sporty design and 3-cylinder Turbo engine that appeals to the plethora of Daytona enthusiasts in the region. Or perhaps it's the four driving modes (Eco Pro, Comfort, Sport, and eDrive), which provide optimum performance through many different climates and types of terrain.
"Drivers traversing rugged, mountainous landscapes in states such as Utah, Arizona, Montana, Minnesota, and Alaska might find the durability, extra seating and storage space, and incredible range (over 300 miles on a full charge) of the Tesla Models S and X more enticing than the fancier-framed BMW i8. Who could say no to a road trip-worthy EV?"
Affordable, practical, and with long range, it's no surprise the Chevy Bolt tops the list in places like Idaho, New Mexico, Wyoming, South Dakota, and Maine. "With a 250 mile range on a full charge, it's easy for locals to explore the beauty in these states while also enjoying the benefits their car has on the environment around them."
It's all a bit of fuel for thought, perhaps an insight into the kind of cars we'll be seeing more and more on the street — or perhaps just fun Googling.
Here's the full list of states and the top searched electric vehicles within their borders:
Alabama — BMW i8
Alaska — Tesla Model X
Arizona — Tesla Model X
Arkansas — BMW i8
California — Tesla Model S
Colorado — Tesla Model X
Connecticut — BMW i8
Delaware — Tesla Model S
District of Columbia — BMW i8
Florida — BMW i8
Georgia — BMW i8
Hawaii — Nissan LEAF
Idaho — Chevy Bolt
Illinois — Mitsubishi i-MiEV
Indiana — BMW i8
Iowa — Tesla Model X
Kansas — Ford Fusion Energi
Kentucky — Tesla Model S
Louisiana — BMW i8
Maine — Chevy Bolt
Maryland — Tesla Model S
Massachusetts — BMW i8
Michigan — Chevy Bolt
Minnesota — Tesla Model S
Mississippi — BMW i8
Missouri — Tesla Model S
Montana — Tesla Model S
Nebraska — Tesla Model S
Nevada — BMW i8
New Hampshire — Chevy Bolt
New Jersey — BMW i8
New Mexico — Chevy Bolt
New York — Mitsubishi i-MiEV
North Carolina — BMW i8
North Dakota — Tesla Model X
Ohio — BMW i8
Oklahoma — BMW i8
Oregon — Kia Soul EV
Pennsylvania — BMW i8
Rhode Island — BMW i8
South Carolina — BMW i8
South Dakota — Chevy Bolt
Tennessee — BMW i8
Texas — Tesla Model S
Utah — Tesla Model X
Vermont — Chevy Bolt
Virginia — Tesla Model S
Washington — Kia Soul EV
West Virginia — Chevy Bolt
Wisconsin — Tesla Model S
Wyoming — Chevy Bolt
Getting back to the topic of actual EV adoption, solid and widely shared myth busting is essential to the earnest EV-interested surfer. There are so many myths out there which lead to flat-out delusion about electric cars. Sometimes, even as an EV driver, people don't believe what you are telling them about the cars and EV life.
One common myth is the myth that pure electric cars feel slow. Recently, my son-in-law and daughter drove my Nissan Leaf. They want a Tesla Model 3 or Model X. They know about the speed of the Tesla, like most folks do, but not much about other electric cars. Yes, they were quite surprised at the humble, smaller Nissan's incredible torque. Simply put: losing those pistons makes for instant starting and speed right off the line, even in old grandma's EV.
For a stroll through the myth busting of other common misconceptions, see Matt Pressman's post on this topic.
Another thing many potential buyers may not know is that there are numerous government incentives to buy EVs. Kyle Field reminds us, "EV purchase incentives still exist in 16 states, with new local incentives coming online to support the cornerstone federal tax credit almost every day. Get involved. No matter what country you live in, whether you're in a Red or Blue region, whether the power comes from coal or solar, or whether you can even afford a car or not, get involved."
But what EVs are actually selling after all the online cruising, myth busting, and test drives? In August 2018, as CleanTechnica Director and Chief Editor Zach Shahan points out in a series of charts, the Tesla Model 3 has become a mass market car — breaking into the USA's top 10 ranking. Also be sure to see "7 Charts — Tesla Model 3 vs The Competition (US Sales)."
There are dozens of reasons to go electric. Choosing to stop spewing out carcinogenic particulates into the breathing space of yourself, your family, and other humans is one reason. Perhaps going car-free and relying on transit is a challenge for many, but driving electric shouldn't be.