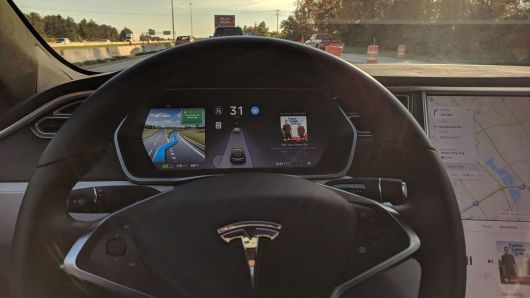 Tesla stock has been on the move this week and is hovering around $352 per share. Elon Musk wants to take the electric-car maker private in a $71 billion deal valuing shares at $420 each. One thing was clear even before the surprise Musk tweet: Tesla is significantly undervalued. But one of the reasons for the valuation gap is often overlooked as investors have been hyperfocused on Model 3 production.
Musk said in a letter to Tesla employees released on Tuesday that he hopes all current shareholders will remain in a new private fund, but they also have the right to sell. If Musk can pull the deal off, which is by no means clear, Tesla shareholders who decide to sell — roughly 12 percent of shares are owned by individuals — should know what they are giving up: a huge advantage that Tesla maintains over competitors in artificial intelligence.
Tesla is the only company truly advancing AI in its vehicles. Musk made the decision to invest in real-world data analytics early. This leap in technological advancement has left competitors like Alphabet's Waymo, Uber, BMW and GM scrambling in vein to keep pace, and there is a long lineup of companies wanting to partner, including Toyota and Mercedes-Benz.
According to electric-vehicle analyst Jonathan Shieber, "a slew of well-funded new entrants backed by massive amounts of capital are chasing Tesla's lead."
Tesla's early investment and resulting tech have put the company firmly ahead of the pack. To understand how Tesla is unique with AI, you need to understand that Tesla has been collecting billions of miles worth of real-world driving data since 2012, through Model S, X and 3 drivers. Both Tesla and Waymo have been attempting to collect and process enough data to create a car that can drive itself. Waymo and Uber by comparison use inferior simulations, not real-world driving data.
"Musk believes it will take about 6 billion real-world miles to gain 'worldwide regulatory approval' of true self-driving technology. Tesla is the only company to have already surpassed that mark."
Nidhi Kalra, senior information scientist for the nonprofit research organization RAND Corporation, has said that any simulation used by Waymo or another Tesla competitor is a simplification of the real world: "Real-world miles still really, really matter. That's where, literally, the rubber meets the road, and there's no substitute for it."
Billions of new sensors translate into yottabytes of real-world road data, all of which is sent directly to the cloud. Crowdsourcing, or "the wisdom of the crowd," provides Tesla with minute details ranging from their driver's hand placement to how instruments are operated.
Musk believes it will take about 6 billion real-world miles to gain "worldwide regulatory approval" of true self-driving technology. Tesla is the only company to already have surpassed that mark. Tesla also has greater ability to detect useful trends from the massive quantities of real-world data it has already collected.
Tesla uses radar (not lidar), which hits a commercial price point that is more practical. Radar can see farther, the sensors are less expensive, the cameras are solid-state and reliable to a million miles. These are not the bulky, expensive and unreliable roof-spinning lidar systems like Waymo and other Tesla competitors use.
Musk knows his cars will be fully autonomous, fully thinking by 2019, while his competitors are still struggling with low-competency software and expensive, unreliable lidar systems. All Tesla vehicles since 2012 (S, X, 3) were built with the potential to one day become self-driving. The brand-new Tesla-designed and -built AI chips are simple drop-in upgrades. According to ARK Invest analyst Tasha Keeney, "If Tesla solves self-driving cars without lidar, everyone else is going to be kicking themselves."
Tesla's A.I. chip is far ahead of competitors
Tesla also diagnoses vehicle components that could require remote repair through a software patch. All of this big data is currently available to help Tesla refine its systems, and nearly all of this data-reliant tech is still far out of reach of its competitors. Tesla is the only autonomous vehicle company to have designed its own proprietary AI chip, bottoms-up, designed from scratch and custom-built for autonomous driving. Musk said on the recent Tesla earnings conference call that the chip is almost ready.
Musk brought director Pete Bannon onto the call. He came to Tesla in 2016 to lead the development of the Autopilot hardware after nearly eight years at Apple. "The chips are up and working, and we have drop-in replacements for S, X and 3; all have been driven in the field," Bannon said.
Cloud-based genetic algorithms can educate the entire Tesla fleet and determine optimal solutions so that individual cars can take immediate action. An even higher level of execution exists when all 700,000 Tesla cars, a fleet size it is expected to reach by the end of this year, are able to form networks to share local information and evaluate millions of options and insights.
Near-term headwinds are just uninformed analyst noise. While Model 3 production was low, Tesla acted quickly to add a third production line this summer. Many industry analysts point to increasing gross margin as the best indicator of financial health, and Tesla has consistently produced gross margins above 20 percent. The company and some analysts project that Tesla will be profitable by the end of 2018, with gross margins of at least 20 percent on the Model 3.
Musk recently confirmed that Tesla will produce 50,000 Model 3's in the third quarter, an increase of 75 percent over Q1, and reach 10,000 per week in 2019. The dramatically increasing Model 3 production rate will take Tesla vehicles on the road to 700,000 by late 2018. In 2016, Tesla sold $1 billion worth of cars in China and reached agreement with the Chinese government to build a factory in Shanghai. Musk said Tesla will use sales income to fund its upcoming $2 billion investment in new factories in China and Europe.
This is not a cult stock. Tesla stock is dramatically undervalued based on its leadership role in self-driving cars, including a superior amount of real-world driving data, the only proprietary AI autonomous driving chip and the fact that it is now self-funding on a go-forward basis.