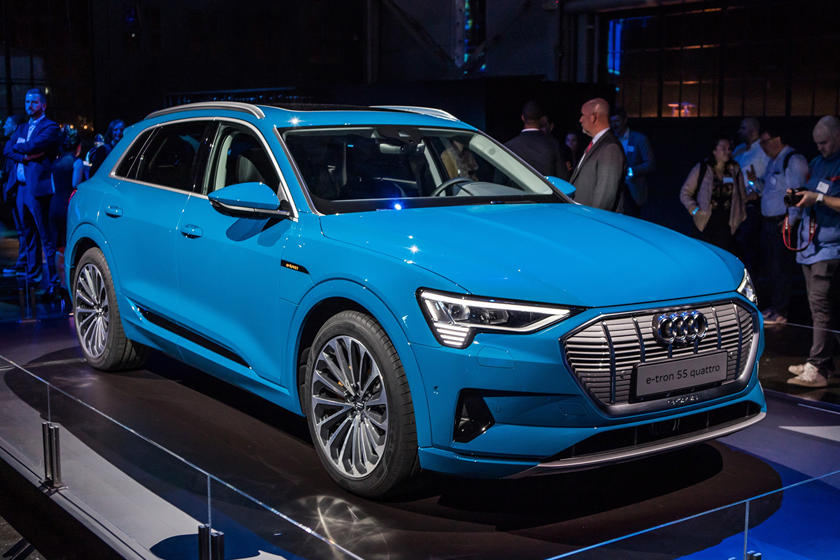 Building electric vehicles ain't so easy after all.
According to various foreign reports, including from The Brussel Times, Audi is experiencing production problems for its new e-tron SUV. The problem has to do with batteries, or lack thereof. Reports claim the German automaker is not receiving enough lithium-ion battery cells from its supplier, LG Chem. Apparently, LG Chem is against Volkswagen's decision to set up battery gigafactories with other suppliers. To turn up the pressure, LG Chem is purposely slowing down production. Instead of running eight hours a day, it's now working six, and will soon reportedly drop from five weekly working days to four.
On top of that, there's a strike currently taking place at Audi's factory in Hungary that's responsible for building the electric motors. Internal documents uncovered by Brussels sources claim Audi initially planned to build 55,830 e-tron SUVs in 2019 but now that production forecast has been reduced by 10,000 units.
What's more, e-tron customers who already placed deposits will now have to wait even longer to receive their vehicles, with some waiting times now extended beyond six months. And because of the e-tron SUV's production delay, the first derivative model is also falling victim. The e-tron Sportback, which will utilize the same platform, batteries, and motors as the e-tron, will not be introduced later this year as initially planned but rather sometime in 2020.
The e-tron Sportback is also set to be built alongside the e-tron SUV in the same Belgium production plant. There's also another major issue Audi's parent company, Volkswagen Group, has to contend with: whether battery supplies will affect the launch of the VW I.D. branded models.
These are aimed at mainstream buyers whereas the Audi e-tron models are luxury vehicles. In other words, battery shortages for EVs can devastate planned product launches. Tesla, for example, knows all about production issues. However, Tesla's problems were not for lack of batteries and electric motors, but rather its inability to simply build enough Model 3s. A few mainstream automakers mocked Tesla for this, and now Audi, or rather the VW Group, has production issues of its own.