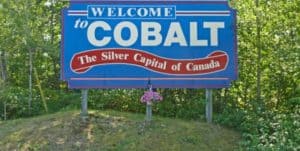 A SMALL TOWN WITH AN IRONIC NAME COULD HELP ENERGIZE TESLA'S FUTURE
When you think Tesla, your typically think Fremont, California or Sparks, Nevada. But Bloomberg recently published a fascinating story, The Canadian Ghost Town That Tesla Is Bringing Back to Life, which reports on some important mines in North America that are addressing the "global demand for cobalt, a component in batteries used to power electric cars for automakers from Tesla Inc. to Volkswagen AG." So where is this so-called Canadian ghost town? Ironically, it's called Cobalt, Ontario and it only has a population 1,100.
Although cobalt is critical to lithium-ion batteries, it's been the subject of some controversy. A report from Amnesty International published concerns over cobalt being a conflict mineral when sourced in the Democratic Republic of the Congo (DRC). The report takes issue with, "several automakers like Mercedes, VW and BYD, as well as several battery manufacturers known to supply automakers, like LG Chem" who supply EV batteries for GM and Nissan.
That said, Tesla was spared: "the company [Tesla] is not named in the report because its main battery cell supplier, Panasonic, sources its cobalt from the Philippines and not Congo."
Now, it appears (via Bloomberg) that Tesla also has access to cobalt in Canada. "Call it a cobalt rush in Cobalt… both the town and the metal, are attracting renewed attention as a buffer to rising political risks in the Democratic Republic of Congo"
Roger Bell, director of mining research at Hannam & Partners in London explains, "Anybody who has cobalt outside the DRC is in a better situation because carmakers are very worried about their supply chains." And Bell believes the amount of cobalt being used in electric cars could easily double in the next eight to 15 years.
Tina Sartoretto is mayor of Cobalt, Ontario. It's reported that she's, "hoping the renewed demand for cobalt will inject some economic life into her impoverished town. With no industrial base to speak of, the town struggles to survive on legacy endowments from past silver and cobalt miners."
But it turns out the future's looking bright for Cobalt, Ontario. Gino Chitaroni, a local prospector, and geologist explains: "This area's seen more airborne surveys in the last year than in the last hundred… Two years ago, if you had a cobalt property you couldn't give it away. All of a sudden, within six months, everything changed."
Chitaroni is quick to showcase Cobalt's advantages over mining locales in the DRC. In addition to steering clear of the DRC controversy, he says mining in Canada's Cobalt boasts easy access to power, hydro, and expertise. "We call it Tim Hortons's exploration," Chitaroni says referring to the convenience of Canada's popular donut-and-coffee chain. "If you've got a breakdown, in half an hour, I've got parts. Try doing that in the Congo."