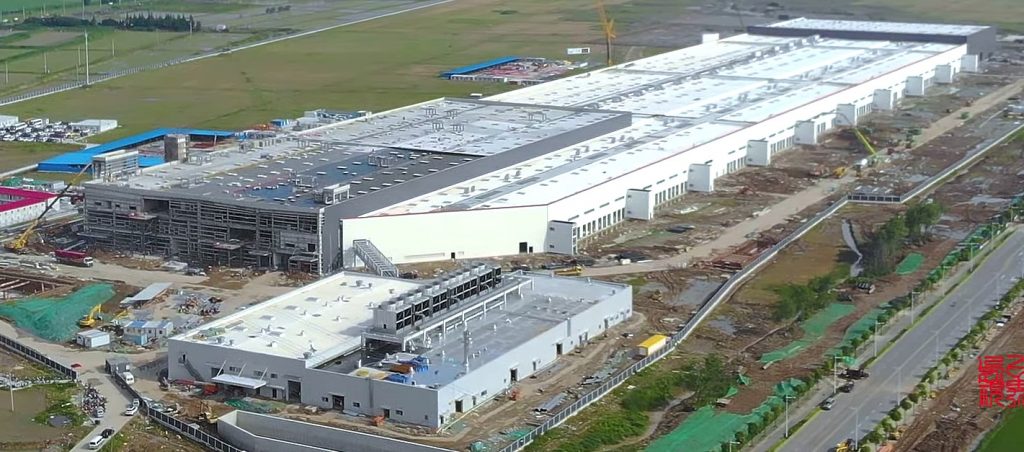 Twitter user "Vincent" is well known for sharing knowledge about the going-ons of the Tesla Shanghai Gigafactory — information that he gets from Chinese media and social media connections in China. Earlier today, he posted a thread of tweets detailing a meeting between Tesla's Global Vice President, Tao Lin (Grace Tao in English), and a journalist with the Chinese media.
The main thing discussed was Tesla's development and operations. The news is pretty good and highlights that Tesla is actually ahead of schedule on construction. At this point, construction of GF3 has gone so fast and so smoothly that it's expected Model 3s made in China will begin to roll off the assembly line by the end of 2019.
The words about this are uplifting, but the real inspiration hits from seeing these gorgeous photos of the Tesla GF3 under a bright blue sky with fluffy clouds.
Model 3s produced in the first phase of the Shanghai plant will use a global supply chain, but will be continuously optimized to improve efficiencies and drive down costs. Tesla is still on the lookout for partners to help in that ongoing evolution.
What Does This Mean For Tesla?
Not only does this show a great relationship between the Chinese government, media, and Tesla, but it's also worth reflecting on the fact that Tesla is ahead of its own schedule. The sooner Model 3s are produced in China, the sooner Chinese consumers can buy them at lower price, and the quicker more zero-emissions vehicles hit the road.
More happy customers will mean more test rides for friends and family, more sharing of referral codes, and more word-of-mouth sales.
It also seems to prove that Tesla has become quite adept at hitting (or beating) its development targets, including overseas, something many fans and skeptics were cautious to assume.
This is great news, unless you're a "bear" or someone rooting for Tesla to not succeed.