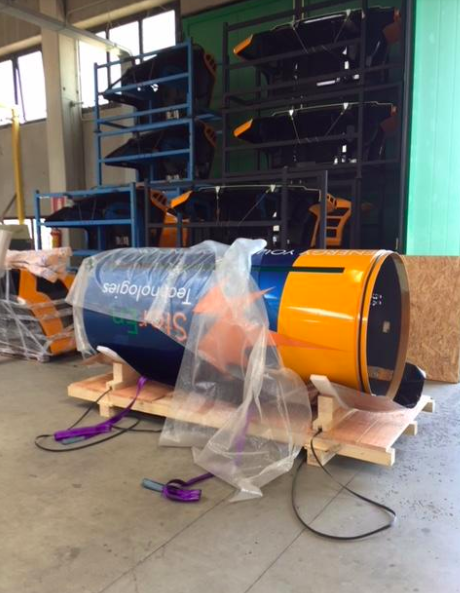 The StorEn Technologies* vanadium flow battery prototype has arrived at Stony Brook University in New York. This battery, featuring StorEn's proprietary technology will undergo extensive independent validation at the Advanced Energy Research & Technology Center (AERTC) at Stony Brook University. This session follows their internal testing performed at the Environment Park.
StorEn has been hosting an equity crowdfunding campaign to raise funds, and wishes to express sincere gratitude to everyone who has invested in our project. They raised just over half a million dollars in investment funds, which will enable StorEn to complete the next step in the company's roadmap towards manufacturing.
To continue to stay tuned to StorEn's progress, you can stay tuned to StorEn's StartEngine campaign page and on social media, to keep our community informed of developments. Stay in touch with us and please consider sharing our campaign with others. Regulations ensure that equity crowdfunding can be open for just 12 months, thus the StorEn campaign will be ending soon.
What is Vanadium Flow Technology?
If you have missed our other articles about StorEn's vanadium technology, learn more below. Although lithium-ion batteries have benchmarked storage solutions, the capacity requirement outlined in the DAYS program opens the door to new technologies.
Flow batteries, which produce an electrical current through an exchange of negatively and positively charged liquid, using non-explosive, non-flammable electrolytes, have emerged as a low-carbon footprint solution. The structure of flow batteries provides reliability — liquids can be stored almost indefinitely and activated quickly. And flow batteries are scalable — they can be produced in several sizes.
Vanadium flow batteries are viewed by some as the frontrunner for energy storage solutions because of their reliability and battery life. But the cost is still one of the challenges facing lithium-ion alternatives like vanadium flow batteries.
StorEn Technologies is in the process of validating its vanadium flow battery prototype with promising results. The company's batteries provide energy storage for residential, industrial, and telecom/data center applications.
StorEn's design delivers a better flow of electrolyte through the stack compared to other VFBs by employing its MULTIGRIDS™ fluid dynamic and RESAFE™ electrolyte control system.
The benefits of StorEn's vanadium flow battery design include the following:
Increased power density of the stack — that is, the amount of power the stack will deliver in relation to its size.
Ability to reduce the size of the stack, since the power density is increased.
And with smaller plates able to have performance parity with larger sizes, fewer materials such as membranes are required, lowering materials' cost by as much as 50%.
Importantly, a better fluid dynamic allows the battery to operate effectively at lower pressure, increasing round-trip efficiency.