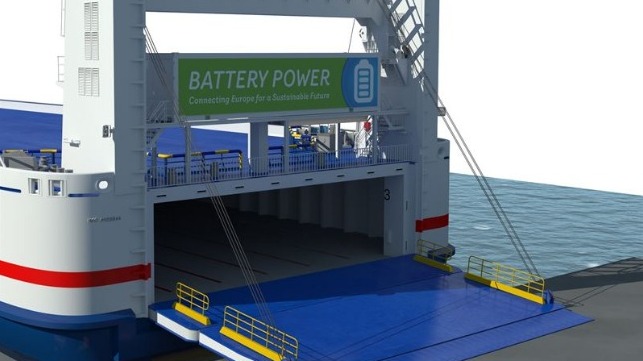 For Ro-Pax vessels particularly, it is crucial to always have sufficient power to run the bow thrusters. A power black-out along a coastal route or narrow waterway could be devastating. This means that often most of the engines are running idle, resulting in low efficiency, low fuel economy and unnecessarily high emissions.
However, with a large energy storage system capable of supplying power instantaneously, some of the engines can be switched off, and this is a solution that Stena Line is embarking on for its Stena Jutlandicawhich operates between Gothenburg, Sweden, and Frederikshavn, Denmark. The company recently signed a contract for the system with Callenberg Technology Group, part of Trident Maritime Systems.
The energy storage project is an important part of Stena Line's sustainability strategy, says Stena Line's CEO Niclas Mårtensson. "As both the size and cost of batteries decrease, battery operation becomes a very exciting alternative to traditional fuels for shipping, as emissions to air can be completely eliminated."
The project will be implemented in three steps. In the first, the system is designed to enable switching on battery power for bow thrusters and maneuvering when berthing in port. In step two, battery power will be able to be used on the main propulsion system, so that Stena Jutlandica can be operated on electricity for around 10 nautical miles. Step three aims at achieving operating distances of about 50 nautical miles, the distance between Gothenburg and Frederikshavn.
The system will be housed modified container that will be placed on the vessel's weather deck. This gives the flexibility to transfer the system to another vessel if desired. Corvus Energy will supply its lithium ion Orca Energy Storage System which will have the capacity to supply up to 3,000 kW instantaneously and has an energy content of approximately 1,000 kWh. A modular design enables components to be replaced when new technology becomes available.
"One consideration when installing an energy storage system on board an existing ship is the integration work needed to fit the new unit to the ships main electric switchboard," says Per-Erik Larsson, Director Sales at Callenberg. "Redesigning, rewiring, software changes and new electrical switchgear upgrades are usually required to obtain the desired functionality. Furthermore, the design must consider failure mode operation and ensure a high level of redundancy. Performance should be monitored and in the case of malfunction in the energy storage system back-up power must be restored."
The 1,000 kWh system being installed on Stena Jutlandica is large but by no means the largest currently installed on board a ship – about 4,000 kWh. There are no theoretical limits, says Larsson, except that due to the energy density of batteries compared to fossil fuels, using batteries as a sole energy source of propulsion for deep sea vessels is not yet feasible. "The batteries would consume to much space and be too costly to be a viable solution for commercial shipping.."
The need to optimize shipboard electrical power plants is not limited to Ro-Pax vessels; it is a well-known challenge for many ship operators. An over-sized power plant consumes more energy, increases maintenance costs and affects the vessel's environmental footprint with excessive emissions of CO2 and harmful particle matter, says Larsson. "Large diesel engines must be run at an operating point around 80-90 percent of their total capacity. If the engines go below this point, the fuel consumption needed to produce a certain amount of energy increases. This is the main challenge with traditional power plants."
The advantage of batteries is that they can be used on any ships with varying load conditions caused by the intermittent use of heavy consumers such as bow thrusters, deck cranes or ramps. So, Larsson sees demand beyond passenger ships to fishing and supply vessels in the short-term.
"Reduced price per kWh for batteries will make any business case more attractive," he says. "Also use of other systems in parallel with batteries, such as fuel cells. However, the big game changer will be when there is new battery chemistry available with substantially higher energy density and improved price per kWh ratio."
Electrification will also be a must for autonomous ships, he says, due to the simplicity of the systems, while a traditional power plant with combustion engines would require surveillance, maintenance and corrective actions by an onboard crew.
Stena will consider adopting battery technology on some of their other 38 vessels. "The project has been received very positively by maritime and Swedish transportation authorities," says Per Wimby, Project Manager at Stena Teknik. "We look forward to gathering knowledge about electric operation and continue to explore the role that battery operation can play as an alternative to traditional fuel."
The project is one of around 300 energy saving projects Stena is involved with as it continues to evaluate new ways to reduce its impact on the environment.