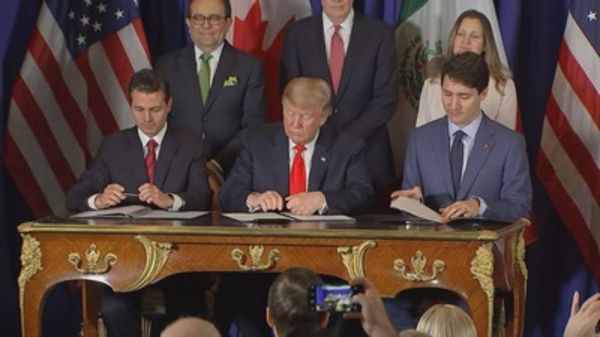 The United States might have a new North American trade deal in place, but the Trump administration's tariffs on steel and aluminum continue to be a headache for businesses, lawmakers and America's neighbors.
Despite expectations to the contrary, the 25 percent tariffs on steel and 10 percent duties on aluminum are staying put for now. They remain such a big point of contention that Canadian Prime Minister Justin Trudeau took aim at the tariffs Friday during a signing ceremony for the United States-Mexico-Canada Agreement.
Trudeau tied the tariffs to the layoff plans at General Motors announced earlier this week to the chagrin of leaders and workers in the U.S. and Canada. "Donald, it's all the more reason why we need to keep working to remove the tariffs on steel and aluminum between our countries," the Canadian prime minister told U.S. President Donald Trump, who was standing directly to his right.
The tariffs were first put into place on March 23 under the Commerce Department's rarely used national security authority, known as Section 232 of the Trade Expansion Act of 1962. Mexico and Canada were initially exempt pending the outcome of the renegotiation of the North American Free Trade Agreement. The exemption was removed June 1, however.
Several lawmakers expressed their dismay that the tariffs on our key allies have not been lifted. Sen. Rob Portman, R-Ohio, and Rep. Jackie Walorski, R-Ind., separately said they were "disappointed" there is still no resolution. Sen. Pat Toomey, R-Pa., said the tariffs are "doing more harm than good." He added that Commerce Secretary Wilbur Ross said over the summer that the tariffs would be lifted as part of the larger trade negotiation.
"Our objective is to have a revitalized NAFTA, a NAFTA that helps America and as part of that the 232s would logically go away both as it relates to Canada and to Mexico," Ross told the Senate Finance Committee in testimony on June 20.
Speaking to reporters in Buenos Aires, Argentina, U.S. Trade Representative Robert Lighthizer said the tariffs are working, but that negotiations were continuing.
"We want an agreement that is fair to Mexico and fair to Canada but maintains the integrity of the president's steel and aluminum programs which have been very successful for the U.S.," he said.
Some policy watchers predict that the tariffs will be lifted soon.
"USTR Lighthizer today carefully acknowledged that the three countries will negotiate on the tariffs. Once they agree that there are demonstrably changed circumstances on metals issues, the metals tariffs on Canada and Mexico likely cease, our instinct is early in the New Year," Terry Haines, an analyst at ISI Evercore, wrote in a note to clients.
But businesses and farmers are growing impatient. An agricultural coalition group formed to oppose tariffs said that U.S. exports targeted with retaliation, including beef, pork and apples have faced more than $1.1 billion in new tariffs, leading to a 21 percent drop in exports.
"While USMCA offers exciting opportunities for market access into America's largest and closest ag export markets, any gains will continue to be offset by the losses farmers are experiencing from retaliatory tariffs as long as they are in place," Brian Kuehl, executive director of Farmers for Free Trade, wrote in a statement.
The influential Business Roundtable also called for a "prompt resolution" of the tariff issue and said it would review the USMCA against the objective of increasing the competitiveness of U.S. companies.