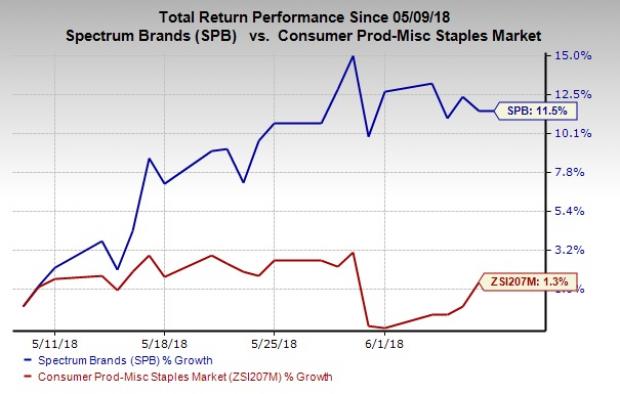 Spectrum Brands Holdings, Inc. SPB along with Energizer Holdings, Inc. ENR announced plans to file a merger review with the European Commission, with respect to the sale of the former's Battery and Portable Lighting Business to the latter. Both the companies are working together to obtain the necessary regulatory approvals to close this transaction. The deal is likely to be completed by the second half of 2018.
In January 2018, Spectrum Brands declared plans to sell its Global Batteries & Appliances (GBA) businesses and related assets in the current year. This divestiture plan is in sync with the company's strategy of allocating capital efficiently through organic investments and acquisitions. Following the announcement, Energizer Holdings inked a deal with Spectrum Brands to acquire its Global Battery and Lighting Business or Battery Business for $2 billion in cash. Energizer plans to fund the transaction through a combination of cash and debt (new-term loans and senior notes).
Spectrum Brands plans to use the proceeds from this divestiture for debt reduction, reinvestment in core businesses both organically and via strategic buyouts as well as share buybacks. As a result, the company intends to redirect the capital invested in the GBA business to develop its remaining four businesses, including Hardware & Home Improvement, Global Auto Care, Global Pet Supplies and Home & Garden.
Spectrum Brands believes that both the Global Batteries & Appliances businesses have significantly contributed to its long-term growth and are likely to grow under the stewardship of new owners. Markedly, the GBA segment recorded net sales of $1,998 million, contributing nearly 40% to the company's total sales of $5,007 million in fiscal 2017. Further, the division's operating income came in at $231 million and adjusted EBITDA at $317 million, while the company's overall operating income and adjusted EBITDA was $561 million and $956 million, respectively.
The company has already classified the GBA segment as held for sale and reported as discontinued operations effective the first quarter of fiscal 2018 ended on Dec 31, 2017.
Notably, the news of filing a merger review did not have much impact on Spectrum Brands' share price performance. However, this Zacks Rank #3 (Hold) company has gained 11.5% in a month, outperforming the industry 's increase of 1.3%.