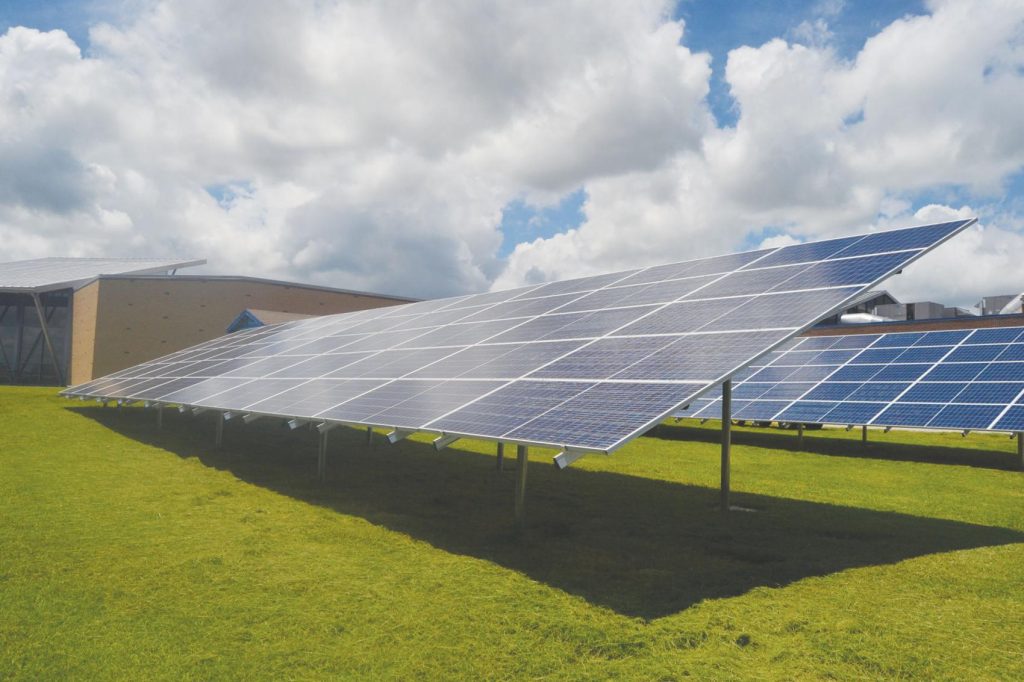 A move to more renewable energy sources will have the Hollister School District seeing and saving green in the long run, according to a district official.
The district recently added a solar panel system to its elementary school building.
Sean Woods, assistant superintendent for Hollister Schools, said solar energy is something the district has been considering for a number of years. Woods said the district partnered with local company, All Tech Energy, to pursue a grant through Liberty Utilities and its subsidiary Empire District Electric Company.
"For the last five or six years, we've been trying to do things that are more green," Woods said.
"Anytime we can take the business side of school and cut costs in the long run, we can keep those dollars in the classroom. So when we looked at solar, it's been so expensive for so long, it wasn't feasible for us to do it. Then, Liberty Utilities, through Empire District, offered a $50,000 grant on a 100 (kilowatt) system."
According to Woods, the system feeds directly into the school's meter, with the district expecting the first energy bill in July.
"Our estimates say it should save us anywhere from $1,500-$2,000 a month in our electric bill at that one building," Woods said. "That one building tends to have the highest electric bill so that's why we chose it."
Looking ahead, Woods said the hope is the system will have paid for itself in around six years.
"Then that's money, that's revenue, generated because they're 20-25 year panels," Woods said. "We should be able to draw revenue off of them for 20 years.
"Over a 20-year period is a lot of money and we're looking at that impact on learning five and 10-years down the road, not just today."
Woods said the additional of solar energy and other green-efforts should help the district from needing to consider a raise in taxes to pay for bigger projects.
"As we do a good job of saving money we don't have to go to the taxpayers and say 'Hey we have this big project, but we have to raise taxes to do it,'" Woods said. "We want to save money and be responsible and use that money to fund projects."
The addition of solar energy also led to education opportunities for some students in the district, according to Woods.
"We had some kids get really interested in it so we were able to take them down and see the different steps of installing solar and plugging it in," Woods said.
Hollister is also one of two school districts in southwest Missouri which is conducting a feasibility study with the Department of Natural Resources to determine when more solar systems could be added to the district.
"When we should install our next solar-powered system and which building it should be at," Woods said. "Should it be at the high school? What would give us the quickest return on our investment."
While Woods said he could eventually see each building in the district moving to solar energy, he cited the speed of technological progression as something which may lead the district in another direction.
"Who's to say in 15 years solar is still the thing," Woods said. "If all the sudden there's some better renewable energy source, you don't want to be tied to just this one."