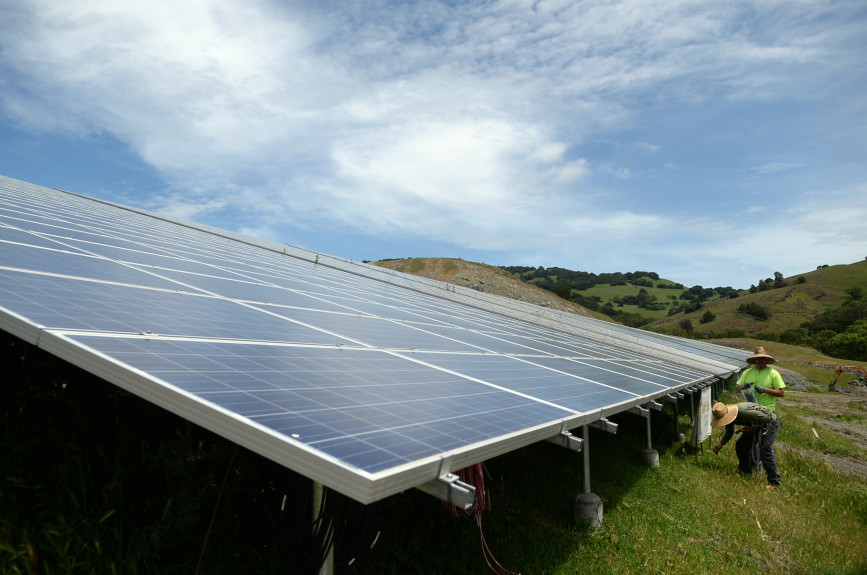 A Novato-area ranch may become home to a small-scale solar energy farm that would generate enough energy to power roughly 1,000 homes, according to the project applicant.
The San Francisco-based Renewable Properties' proposal is in early planning stages, according to company President Aaron Halimi.
Halimi said this will be their first solar project in the county, but said the company has completed several projects throughout the country.
"This is an opportunity for members of the community to get behind local solar," Halimi said. "Climate change is a global problem that requires local solutions and we're proposing this project in Marin County because we believe Marin County is a community that prioritizes the adoption of renewable clean energy. This has been properly sited to take that into account."
Should the project ultimately be approved, the local community choice aggregation Marin Clean Energy would purchase the power through its "feed-in tariff program."
"MCE supports local renewable energy and jobs in our community," said David Potovsky, Marin Clean Power's power supply contracts manager. "Our Feed-In Tariff program provides the opportunity for local developers — once they have secured county and community approvals for their project—to sell their energy to MCE under a long-term contract."
Renewable Properties plans to install about 11,310 solar modules and 66 string inverters — which convert direct current, or DC, energy produced by the solar panels into usable alternating current, or AC, energy — on the Silveira Ranch nestled on the eastern side of U.S. Highway 101 north of Novato near the Marin-Sonoma county border. The property is owned by the trust of Lorraine and the late Anthony Silveira, according to county records. Halimi said Renewable Properties will be leasing the property.
The Silveiras' attorney, Richard Bowles, said the proposed solar array is in no way affiliated with the Silveiras' other ranch property near San Rafael, which is off limits to commercial development under a 10-year agreement with the county made last year.
The array as proposed would produce 3 megawatts of AC power and 4 megawatts DC power, Halimi said. The array would interconnect to an existing onsite Pacific Gas and Electric Co. distribution system, according to the county's summary of the project. Renewable Properties also proposes to build energy storage infrastructure.
In addition to providing more renewable energy to the local and state energy portfolios, the project will also create local construction jobs and be an investment into the community, Halimi said.
Halimi said the proposed construction site has traditionally been used for cattle grazing and that some constraints on the site make it unsuitable for other types of development. There are several wetland areas and streams near the site, according to Halimi and a preliminary layout of the project, but Halimi said their design includes the necessary setbacks that will avoid disturbing this habitat.
Building permit applications have not been submitted to the county yet, with the project in its pre-application phase in which county agencies are providing feedback on the proposal, Halimi said.
Because of this, Halimi said they do not have a set timeline on when construction is expected to start.
Meanwhile, Halimi said they are eyeing Marin County for other local projects, which he said are also in the very early planning stages.