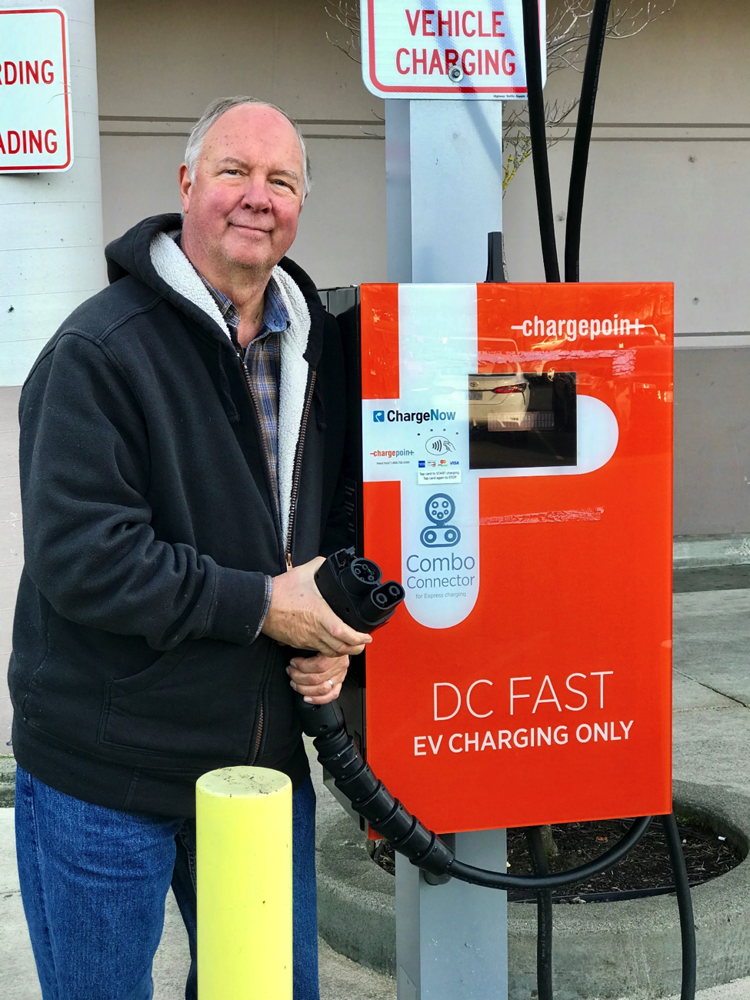 Pacific Power is helping Roseburg charge into the 21st century through a grant to the city to install four charging stations.
The charging posts will be installed at the Roseburg Visitor Center, the newly re-opened Roseburg Public Library, the Umpqua Valley Arts Association and the downtown parking structure. Each charging post can power up to two cars at the same time and are free to use.
Visitors and tourists traveling on Interstate 5 and Diamond Lake Boulevard will have options to charge their electric car battery while they shop, eat and explore around Roseburg. Locals who work or shop downtown are also encouraged to use the soon-to-be installed charging stations when they come online this summer.
The application the City of Roseburg submitted to Pacific Power's electric vehicle charging station grant program had strong local and regional support. It included letters of support from the Roseburg City Manager Lance Colley, Oregon State Rep. Gary Leif, Travel Southern Oregon, United Community Action Network, Umpqua Economic Development Partnership, Umpqua Basin Economic Alliance, Douglas County Smart Energy and Douglas County Global Warming Coalition, which helped this project be selected as an awardee.
Pacific Power is offering additional grants for electric vehicle charging infrastructures which are available to qualifying non-residential customers in Oregon, Washington and California.
Interested businesses, non-profits and cities can learn about applying for these grants by visiting pacificpower.net/evgrants.
Pacific Power's Blue Sky program customers are also funding solar projects in several locations around Douglas County.
Interested persons can see, touch and learn about electric cars and charging at the upcoming Earth Day and Energy Fair at the Douglas County Fairgrounds on from 10 a.m. to 4 p.m. on Apr. 20.
To learn more about electric cars and charging, solar energy, heat pumps and other energy saving ideas for your home or business, the Douglas County Smart Energy organization meets on the fourth Monday of each month from 5:30 p.m. to 7 p.m. at the Douglas Electric Co-Op office, 1981 NE Stephens St., Roseburg.