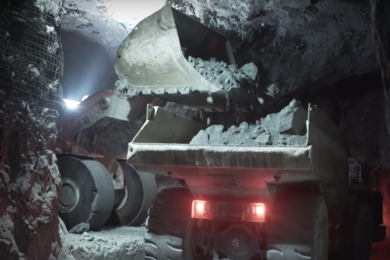 The North American Palladium (NAP) Lac des Iles (LDI) palladium mine is located 90 km northwest of Thunder Bay in Ontario. One of only two primary palladium producers in the world, LDI began operation in 1993 as an open pit. Underground mining started in 2006. In 2013, the mine transitioned from ramp access to shaft access. With more than 600 employees, the mine has 40.9 Mt of reserves at an average palladium grade of 2.31 g/t. In a recent customer focus article in its Solid Ground series, Sandvik outlined in detail the mine's revival with new mining methods and the start of its autonomous mining journey.
After years of capital challenges and engineering issues threatened the palladium mine's future, LDI returned to profitability in 2017, thanks in large part to a transition from longhole stoping to a sublevel shrinkage mining method. The former method left ore in remnant pillars and created challenging oversized muck and ground control issues. Sublevel shrinkage, a modified version of sublevel caving, has enabled better fragmentation, 100 percent ore extraction and a significantly more consistent production rate in the mine's lowest levels. The new method helped LDI double daily underground production from 3,000 t in 2015 to 6,000 t in 2017 while steadily reducing cost per tonne. NAP is also implementing technology to improve processes, increase efficiency and extend mine life.
"We believe that we'll be very close to being in the 29-dollar-a-tonne-range," said Jim Gallagher, NAP President and CEO in the Sandvik interview. "That's our target and that's what we're pursuing, and we believe technology is going to be key to getting there. The technology is there now to accomplish what the visions used to be, to drive major productivity improvements."
LDI originally installed a fiberoptic backbone for seismic monitoring, but the mine soon saw far greater potential and began installing wireless hotspots and sensors to enable equipment and personnel tracking. "We're a relatively low-grade mine, but now we're a big bulk mine," Gallagher says. "The key has been getting the production rate up and getting operating costs down, and technology has been a big part of that."
LDI introduced real-time mine management, which is enabling faster, smarter decisions and optimised planning that meets the mine's long-term targets. "We pulled a lot of big levers to make this operation successful, but the technology and the real-time control have probably added a 20% premium to our production rate," Gallagher says.
"We measure every part of the mining cycle and we can now track and improve equipment and personnel performance. We get a much better understanding of our business, what the bottlenecks truly are in the production process."With underground production finally at predictable and consistent levels, NAP is now eyeing large, lower-grade near-surface targets to double the flagship mine's production yet again to 12,000 t/d. "We're looking at mining that resource under the existing mined-out pit from underground and applying automation technology to make some of those lower-grade reserves profitable for us," Gallagher says.
LDI General Manager Bryan Wilson says automation was a logical next step. "We lose up to two-and-a-half hours per shift for people transporting, equipment movement and blasting times," Wilson says. LDI trialed a Sandvik LH514 loader equipped with AutoMine in April 2018. It didn't take long for Jason Baggs, who supervises the mine's automation and technology department, to see the potential. "We had already ramped up to about three quarters of our production target by the end of the two-week trial period, sustainable and consistent," Baggs says. "I saw the value in buying it before we even hit the end of the two-week period. I thought we'd be three to six months before we started seeing consistent numbers, so I was a little surprised by how fast it made the targets."
Eager to unlock even more value mucking between shifts and during other nonproductive time, LDI purchased the Sandvik LH514 and put it to work on the longest tram for any loader in the mine – a 500 m route rife with corners.
"We wanted to really test its capabilities," Wilson says. "We knew that an operator on a 12-hour shift, when he travelled underground, could achieve 30 buckets. We've seen 50 buckets out of that same stope. To allow that operator to sit on surface, that's a fantastic improvement. To be able to muck in between shifts and keep those machines going, it doesn't take very many trucks and buckets before this thing pays for itself very easily. If I can get three truckloads in between those shifts, this thing will pay for itself within months."
LDI has mucked 1,600 t of material with the automated Sandvik LH514 in a 24-hour period. "We were confident that we would hit 1,000," Baggs says. "The forecast was 500 at the time. We were hitting targets that we'd never seen before out of that level." Deploying the automated Sandvik LH514 in a non-bottleneck process is allowing LDI to "master it before it becomes an even more critical piece of the puzzle," according to David Galea, the mine's Manager of Operational Excellence.
"Automation is the way the industry's going, so this lets us test it in an environment where we can prove that it's successful and plan for the expansion as we plan our life of mine around automation and improving the safety of the workforce and improving the productivity of our equipment as well," Galea says. Commissioning and infrastructure installation for the automated loader took less than 60 days from the purchase order. "The implementation of automation with Sandvik has been very quick and easy," Galea says. "The support was great up front and we've worked closely with Sandvik on other improvements." The partners also optimised design of the mine's loader buckets and truck boxes to accommodate the sublevel shrinkage mining method and smaller, lighter ore.
"It's allowed us to move as much in our 14 t loaders as we were previously moving in our 18 t machines," Galea says. "Sandvik also designed the maximum size box to haul this light ore. Before we were getting 37 t in a 45 t truck. Working with Sandvik, we can get up to 42 t." Adds Wilson: "There are so many interconnected pieces in LDI's transformation," Wilson says. "The size of the Sandvik truck box has really contributed to the overall success of this mine and I can't understate that."NAP recently extended LDI's mine life to 2027 and the mine is on track to produce up to 240,000 palladium ounces in 2018. "To turn a mine around from a 3,000-tonne-a-day mine to 6,000, 6,500 tonnes a day, you have to knock down a whole bunch of hurdles," Wilson says. "Every improvement you make makes another small improvement in tonnage. Figuring out this automation right now and getting good at it, that's going to be contributing to two years down the road and three years down the road. We're trying to pave our path going forward, and figuring out how to apply automation on a broader scale will be key."