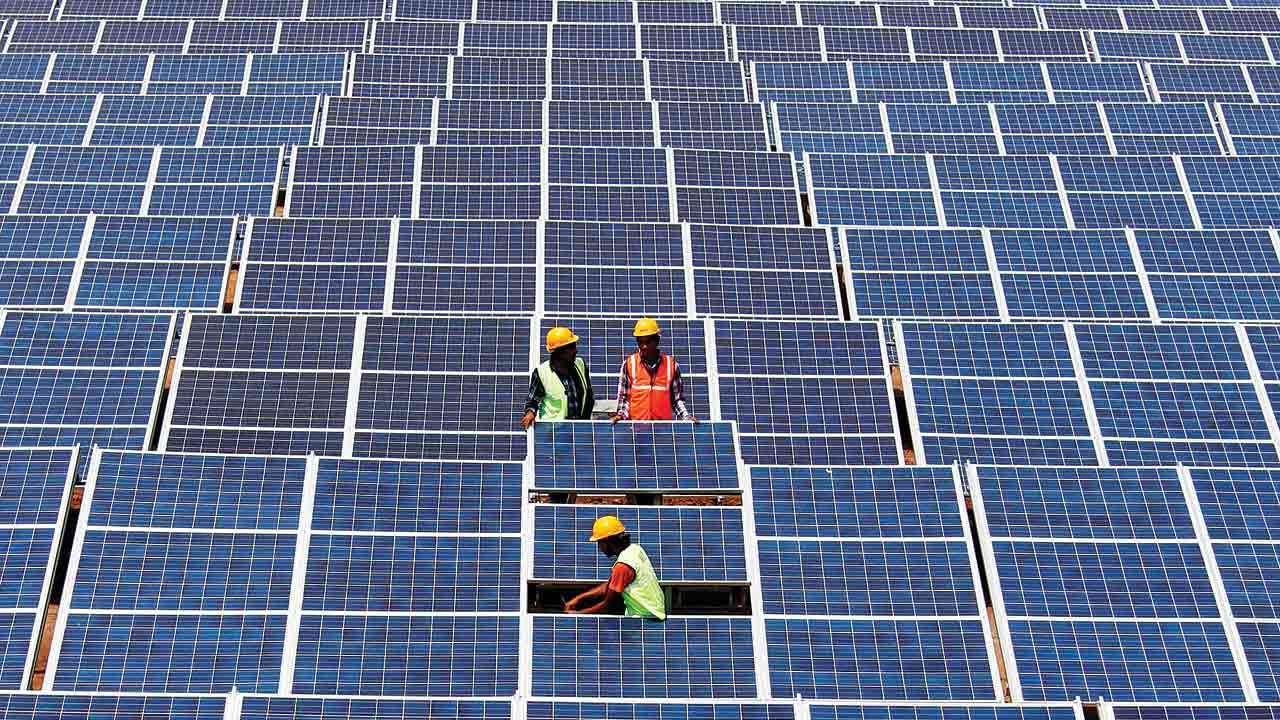 Uncertainties over safeguard duty on Chinese and Malaysian solar panels and modules and other issues, in general, have led to a drop in import orders and installations even as the average selling price (ASP) of modules softened in the last quarter.
Gaurav Mathur, CEO of Trina Solar India, a subsidiary of Chinese solar component manufacturer, said after the announcement of safeguard duty on modules and cells customers were delaying orders despite the interim relief provided by the Orissa High Court.
"We had initially booked a lot of orders from Indian customers. They are now delaying those orders after the announcement of safeguard duty and due to other uncertainties in the market. People are not taking the entire volume of the order. Say, if the order is for 100 megawatt (mw), they are lifting just 60 mw," he said.
Mathur said Trina's import orders had come down 15-20% over the last few months.
Shekhar Dutt, director general, Solar Power Developers Association (SPDA), alluded to suspensions and cancellations of orders due to uncertainties triggered largely by safeguard duty.
"The uncertainties from safeguard led to severe disturbance in the supply chain. Significant number of orders for modules imports were either suspended or cancelled. Hundreds of containers were also stuck at ports until Madras High Court ordered for provisional clearance of shipments without charging any duty while hearing the petition filed by an importer (Shapoorji Palonji)," he told DNA Money.
Dutt believes all projects awarded before the notification of the safeguard duty should not attract the levy. "Decision on imposing safeguard is now sub-judice in Orissa High Court. In any case, every project allocated prior to the date of notification on safeguard must be completely exempted from any such duty," he said.
Solar installations data for the March-to-June period, released by the clean energy research firm Mercom Communications, shows it had sequentially fallen 52% to 1,599 mw while year on year it had declined 21%. This was the lowest since the first quarter of calendar year 2017. In the first quarter of this calendar solar installations were 3,344 mw.
"The drop in solar installations in Q2 2018 after four consecutive quarters of growth was expected and can be attributed to uncertainties around trade cases, module price fluctuations, and PPA (power purchase agreement) renegotiations after record low bids, which contributed to a slowdown in tenders and auctions in 2017. All of this resulted in a weaker project pipeline for 2018," said Raj Prabhu, CEO and co-founder of Mercom Capital Group.
Mercom's data revealed that the ASPs of Chinese modules sequentially fell by 5% to Rs 22.58 per watt in the second quarter from Rs 23.68 per watt while it fell 9% for Indian modules during the same period.
In order to protect the domestic solar manufacturing industry, the Directorate General of Trade Remedies (DGTR) has notified imposition of safeguard duty of 25% on solar panels and modules imported from China and Malaysia for a year, followed by 20% duty for the next six months and 15% duty for another six last month.
Currently, 90% of the solar panels and modules are imported from China and Malaysia as they are cheaper than domestically produced solar components.
The new levy is being opposed by solar power project developers, who have won bids based on prices of Chinese and Malaysian modules and panels. The safeguard duty will hike their pricing, which could create project financing troubles. Acme Solar, project developer, has moved the Orissa High Court against the government's decision and got a stay on the safeguard duty notification until the matter is disposed.
Speaking as SPDA representative, Dutt said the safeguard duty will push up the project cost by 20%.
"Cost of solar projects will be additionally burdened by 20% after imposition of 25% duty on the import of solar modules (contributes 60% of the total cost). It has created a huge risk on the viability of on-going projects unless these existing projects (allocated before the date of safeguard duty notification) are exempted from the imposition of safeguard duty. Developers had not envisaged such a heavy duty on while these projects were bid out and allocated," he said.
Mathur said a lot of these projects had completed the exercise of mobilising debts and now with the new duty they could face cash flow issues as project cost escalates.
"Most projects have already completed their process of raising debts. Now, 25% safeguard duty on modules will increase the cost by at least 10-15%. If they fund this increase through money raised for the project, it will create a cash flow issue for them. No bank is ready to refinance the safeguard duty," he told DNA Money.
Representatives of Indian Solar Manufacturers Association (Isma) were not available for comment.
Meanwhile, Mercom Indian Research predicts solar installations in the next calendar year to be flat "largely due to lack of auctions and the new guidelines by MNRE (Ministry of New and Renewable Energy) which allows for 24 months to commission a project of 250 mw and above and 21 months to commission a project of 250 mw or below. Over 1 gigawatt (gw) of large-scale projects will have their commissioning dates moved from 2019 to 2020".
Mercom's Prabhu warned uncertainties in the solar power sector will shrink the large scale project pipeline for next year.
"Due to uncertainty around the safeguard duty, auction activity in the first half of 2018 was weak, which will result in a smaller large-scale project pipeline for 2019. We expect the market to freeze for 3-6 months following the safeguard duty announcement," he said.
And if solar installations slow down then it will put the government's Solar Mission of achieving a target of 100 gw solar energy by 2022 in jeopardy.