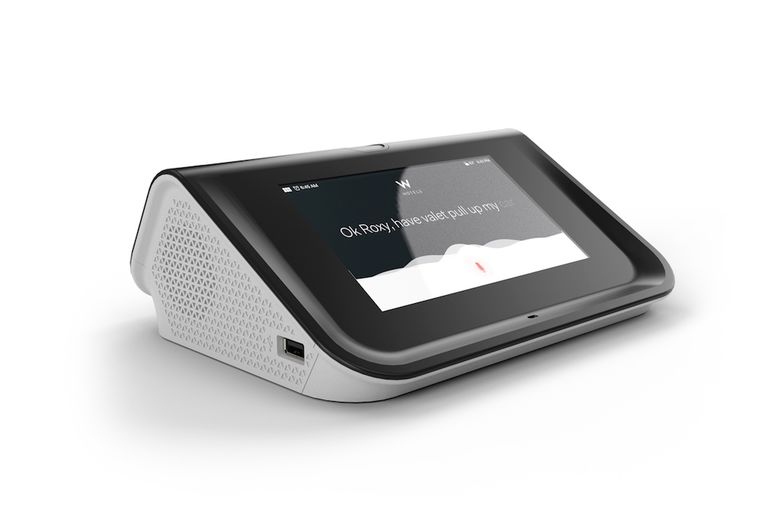 Roxy, the creator of the speech-enabled device built for hotels has announced an integration partnership with leading provider of smart home solutions Control4. The integration will enable guests to use their voice to adjust room controls including lights, blinds and the thermostat.
This announcement comes shortly after Roxy's release of full phone functionality, which allows the device to replace the phone in hotel rooms in addition to the speaker, alarm clock, charging ports and the guest booklet. Now with Control4 integration Roxy will also enable guests to easily adjust the controls in the room to maximize their comfort.
"Guests are always exploring what they can ask Roxy to do," writes Cam Urban, CEO of Roxy. "Room automation requests are very common, and integrations with partners like Control4 will enable Roxy to fulfill these requests."
"Automation enhances the guestroom by creating a more comfortable and convenient experience with lighting, entertainment, or other device control," writes Noel Gouff, VP of Business Development at Control4. "Integrating the Control4 Hospitality Solution with Roxy will allow hotels to enhance their offering and guest experience by providing guests with an intuitive interface for interacting with their room."
Utilizing smart controls for lights, blinds and thermostats can save hotels money too. When guests check out with a Roxy device the room controls can be configured to shut the blinds, turn off the AC or heat and turn off the lights. This ensures that the hotel isn't wasting energy in an unoccupied room which benefits both the environment and the hotel's bottom line.
According to the Connected Home study by McKinsey, 22% of US homes have some smart home functionality in them today. This number is projected to grow to over 80% in the next 5 years. For hotels this means that guests will soon come to expect smart functionality in their hotel rooms. Hotels that capitalize on this and get the functionality deployed will see increased guest satisfaction in the coming years.
Roxy is a speech enabled device that provides fully customizable in-room concierge services. The device is built from the ground-up for the hotel industry. Guests use the device by asking a question or making a request. Roxy intuitively understands the request or question and responds immediately. In addition to improving the guest experience Roxy helps hotels eliminate in-room devices, increase efficiencies in guest services delivery and generate Revenue. For more information visit ​roxydevice.com​.
Control4 is a leading global provider of automation and networking systems for homes and businesses, offering personalized control of lighting, music, video, comfort, security, communications, and more into a unified smart home system that enhances the daily lives of its consumers. Control4 unlocks the potential of connected devices, making networks more robust, entertainment systems easier to use, homes more comfortable and energy efficient, and provides families more peace of mind. Today, every home and business needs automation horsepower and a high-performance network to manage the increasing number of connected devices. The Control4 platform interoperates with more than 12,000 third-party consumer electronics products, ensuring an ever-expanding ecosystem of devices will work together. Control4 is now available in 100 countries. Leveraging a professional distribution channel that includes over 5,700 custom integrators, retailers, and distributors authorized to sell the full-line of Control4 products, Pakedge branded networking solutions and Triad Speakers, Control4 is delivering intelligent solutions for consumers, major consumer electronics companies, hotels, and businesses around the world.