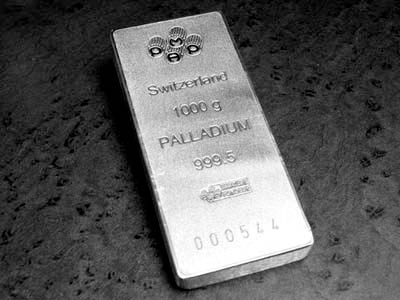 Palladium has become the most precious of the precious metals, with prices topping gold Wednesday for the first time in 16 years as supplies remain tight amid strong automotive demand, traders and analysts said.
Spot palladium traded to a record high of $1,249.30 an ounce in overseas trading. Around 8:18 a.m. EST, the metal was up $20.50 to $1,246.55 an ounce. Gold was down $1.15 to $1,237.25.
"Gold has been toppled as the most valuable precious metal, as [the] demand-fueled rally over the past four months has driven palladium prices to record highs," said a research note from commodities brokerage SP Angel.
Afshin Nabavi, head of trading at trading house MKS (Switzerland) SA, told Kitco News that there has been limited availability of metal, with the market as in backwardation. This is when nearby contracts are more expensive than deferred in any commodity. This is the opposite of the norm and is generally seen as a sign of supply tightness since users are willing to pay a premium to get metal right away. In fact, Nabavi described the backwardation spreads as "ridiculously wide" at times.
"The demand is rather high," Nabavi said. "The Chinese have been good buyers of palladium."
The biggest use for palladium is catalytic converters, with the metal historically used in gasoline-powered vehicles since – until a little more than a year ago – palladium was cheaper than sister metal platinum, which is required for diesel-powered cars. SP Angel reported that there has been a consumer shift from diesel- toward gasoline-powered cars, thus boosting palladium demand. While there has been conjecture that automakers may eventually substitute now-cheaper platinum for palladium in auto catalysts, so far they have not taken on this retooling, most observers say.
"Automakers aren't likely to catch a break on palladium prices anytime soon as the metal used to reduce exhaust emissions is poised to extend its record-breaking rally," SP Angel said.
The consultancy Metals Focus put out a report Tuesday saying that 2018 palladium supply is headed for the second-highest level this decade, but auto-catalyst demand is also strong, expected to hit a record 8.5 million ounces. The consultancy looks for a supply/demand deficit of 1.2 million palladium ounces.
While palladium posted a premium to gold for the first time since October 2002, platinum has weakened over the last four weeks, falling below $800 per ounce, analysts with Commerzbank pointed out.
"As a result, not only has the price gap to palladium widened significantly – the gap to gold has, too," Commerzbank said. "The discount as compared to gold has now reached a record-high $440 per troy ounce."
Palladium traded higher than gold just one day after Metals Focus issued a report saying it was likely to do so. However, Metals Focus also said gold is likely to eventually regain the upper hand.
Analysts said palladium will eventually encounter "some headwinds." For starters, investors have been heavy buyers and eventually will have to sell in order to book profits.
"In addition, as we move through 2019 and U.S. growth slows, this will weigh on investor risk appetite, which in turn will affect palladium," Metals Focus continued.
Meanwhile, the consultancy looks for gold to eventually strengthen, suggesting Federal Reserve policymakers at some point will adopt a more cautionary tone on interest-rate rises. Further, investors are net short in gold, meaning potential for buying in the form of short covering. Whenever U.S. economic growth slows, gold will become in favor again, Metals Focus says.
"Given how small the gold market is, this renewed investment will be sufficient to drive the price higher, during late 2019 and further ahead, in the process re-establishing a premium over palladium," Metals Focus concluded.