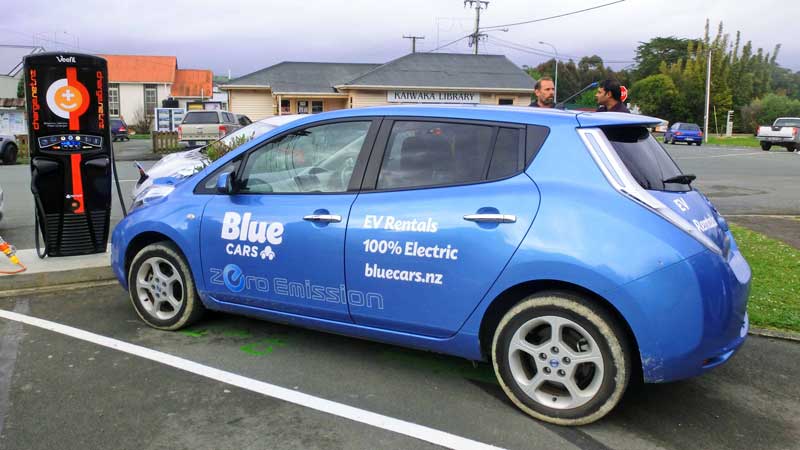 A New Zealand-based electric vehicle dealer and rental company has developed a new battery module for the Nissan Leaf that it says can extend the range of the popular electric car by up to 45 per cent.
Blue Cars, which has offices in Auckland and Waiheke Island, developed the battery module with funding from New Zealand's "Low Emission Vehicles Contestable Fund," which was set up to encourage innovation in low and zero emissions vehicle technology.
The latest 2019 Leaf has a 40kWh battery with an EPA-rated range of 240km, more than twice as much as early model Leafs, but still considerably less than other modern EVs.
But in New Zealand, second-hand Nissan Leafs make up a very significant proportion of the country's electric vehicle fleet, as shown in this graph from the NZ Department of Transport website.
The Nissan Leaf has been around now for nearly a decade, with the first 2011/2012 Leafs sporting a modest 117km driving range (based on the relatively accurate US EPA rating) and 24kWh battery.
Subsequent Leafs received boosted range with technical improvements and from 2016 onwards, an increased 30kWh battery increased the EPA-rated range to 172km.
As Blue Cars describe on the NZ government's Energy and Efficiency Conservation Authority (EECA) website, "EV battery packs are made up of modules, each containing cells. The 30kWh Nissan Leaf battery pack, for example, has 24 modules, each with eight cells. Sometimes it's possible to extend EV battery life by replacing the dead cells."
With $NZ23,100 ($A21,769) in co-funding, Blue Cars developed and then tested new battery modules that could replace dead or dying modules in a Nissan Leaf over a two month period.
Proving the new battery modules are compatible with the Nissan Leaf, Blue Cars determined that they have the potential to not only extend the life of an aging Leaf, but also significantly increase the range.
"Two months of testing demonstrated that the Leaf was compatible with the newly developed battery module. This project holds the potential to extend the life of New Zealand's existing EV fleet beyond their first battery packs," the company says.
"In addition, it takes a first step towards offering a battery upgrade solution for EV owners in New Zealand. They found that their battery modules, if deployed throughout the rest of the battery, could have a 45% greater capacity than the original Leaf battery."
Applied to a 2016 Nissan Leaf (for example) with 30kWh battery and 172km range, the new modules developed by Blue Cars could increase the range to 250km, bringing the range of older Leafs in line with the new 2019 Nissan Leaf.