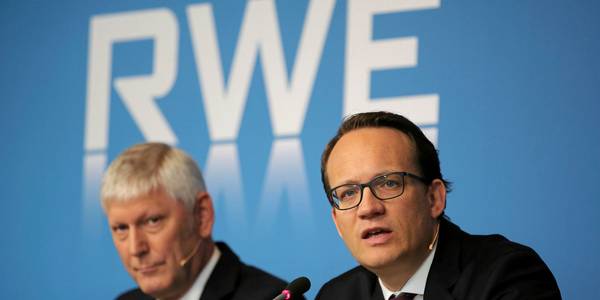 German utility RWE has pledged to become carbon neutral after taking over the renewable generation assets from rival E.ON and its former Innogy unit, but only by 2040, a date considered far too late by climate scientists.
"The new RWE will generate the electricity necessary to enable sustainable life – clean, secure and affordable. We will be a carbon neutral company by 2040," RWE chief executive Rolf Martin Schmitz said.
"What drives us at RWE is our energy for a sustainable life."
RWE after the wide-ranging asset and share swap deal with E.ON and Innogy will be completed early next year will rise to become one of Europe's largest producers of renewable energy with more than 9GW in generation capacity, and another 2.6GW of green power under construction.
The company will also be the world's second-largest offshore wind operator, after Denmark's Orsted.
But it will still stay a major fossil power producer, initially keeping 17.5GW of lignite and hard coal-fired capacity in Europe – a fact casting its green credentials into doubt.
The utility based in the Ruhr area – Germany's traditional heart of heavy industries – counters its transformation is reflected in a plan to have only 20% of its adjusted earnings before interest, taxes, depreciation and amortisation from the conventional fossil business, but 60% from renewable energies.
In Germany, where most of RWE's coal-fired plants and lignite mining are located, RWE wants to gradually take coal power plants offline, according to the recommendations of the so-called "coal commission," which earlier this year had recommended Germany to exit coal and lignite by 2038.
Both the coal-commission's and RWE's slow exit plans have met fierce opposition by the Friday's for Future teen climate movement, radical climate activists, scientists, the rising Green Party opposition and public opinion.
On Sept. 20, some 1.4m people took to the streets in Germany to demand faster action against the climate crisis, often portraying RWE as a fossil dinosaur.