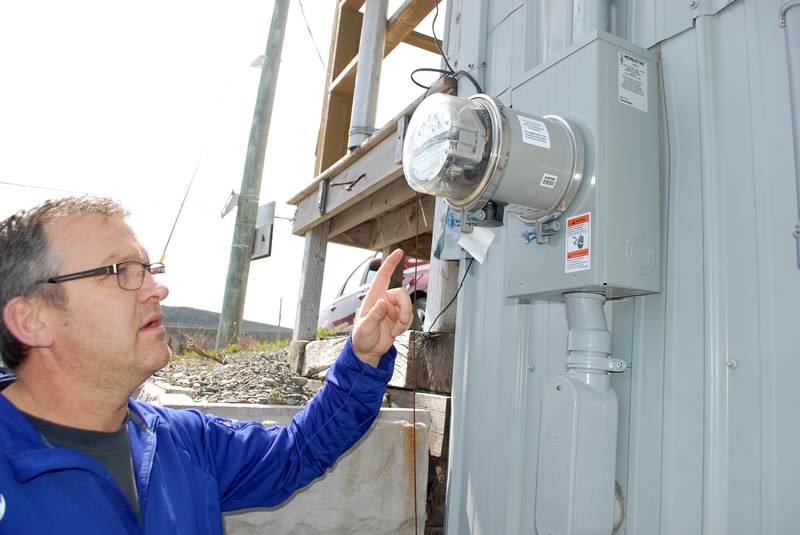 While power metres on the outsides of buildings in Newfoundland and Labrador are steadily spinning as electricity is used, for one Clarenville business, their metre is actually spinning in the opposite direction.
Solar Winds Energy Inc. (SW Energy) is the first commercial office space in the province to officially avail of the grid tie system with Newfoundland Power.
This means, through using renewable energy methods — like solar and wind, for which they are a wholesaler — they generate their own power which is fed back into the grid. Through the new net-metreing initiative, they are now compensated for the times they exceed the power they use and the balance comes off the NL Power light bill.
SW Energy is a wholesaler of renewable resource technologies in Clarenville. They've been in business for 20 years.
SW Energy officially became grid-tied earlier this spring. They also recently assisted in a solar set-up for the non-profit Autism NL building in St. John's.
Positive factors
In an interview with The Packet, Dan Moody of SW Energy talked about educating contractors and the public about what they do and how new technologies work.
He explains that the main two positive factors of this type of grid-tie technology is to both save money on monthly light bills and to increase property value, whether that be residential, or commercial property like their building.
Moody says, after one month, their utility bill was basically net-zero.
SW Energy has 10-kilowatts of solar photovoltaic system (PV) and three-kilowatts of wind energy system via an on-site turbine.
While most of the company's installations have been off-grid, the new option to grid-tie presents new opportunities.
However, the purpose of the system is not to farm as much energy as possible, selling back to NL Power at a profit. Each system actually needs to be approved to offset their costs with renewable energy.
And Moody also notes that these types of set-ups are not necessarily realistic for every home or business owner — it's an investment.
He says it has to be high quality, well-installed equipment, as well. Especially with Newfoundland and Labrador weather to deal with, he laughs.
"The way it kind of works is — with Newfoundland Power — everyone has a power bill. And, of course, you need to size the system that can match that much energy on your building that's realistically going to give you that much power generation that it offsets your energy bill," said Moody.
He adds that their set-up, with the panels and turbine, can be seen as an example for contractors, businesses, government of any end user who see the benefit for proper situations.
"There are a lot of opportunities to avail of this technology but it has to be designed properly, and it has to be installed by qualified people," Moody noted.
As for what this means for places like SW Energy and their monthly bill, now fully grid-tied, Moody says they can make more energy than they use in their building, but the goal is to reach a flat situation with NL Power on a year-long basis.
"I'm confident it will be net zero by November or December," said Moody.