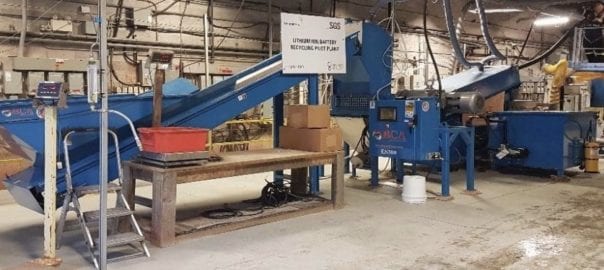 Neometals has commissioned the first stage of its lithium-ion battery recycling pilot project with SGS in Canada.
The Perth-based company plans to shred the disused batteries — which still have some charge left — to remove the plastic and steel casings, while upgrading the lithium, cobalt, nickel powders (and shredded copper and aluminium foil) into a black powder for use as feed material for stage two hydrometallurgical processing.
The Canadian branch of Swiss technical services firm SGS will build and operate the pilot at a special facility in Lakefield, Ontario, where it will commence front-end feed works for battery shredding and dismantlement.
SGS will then proceed to stage two operations involving hydrometallurgical processing and refining of battery materials.
The company will create powder from two tonnes of spent lithium-ion batteries for the pilot. This feed will then be leached and recovered and the water recycled before finally moving on to construction of the recovery and refining stage.
Once the pilot is complete, a front-end engineering and design (FEED) study and feasibility study (FS) are planned to test the system's commercial viability.
"The commissioning of the pilot represents a significant milestone and marks the culmination of extensive research and development into a flowsheet to process multiple battery chemistries, from consumer electronics to electric vehicle applications," said Neometals managing director Chris Reed.
"With ever increasing volumes of commercial [lithium-ion batteries] reaching their end of life, we are focussed on proving at scale, then qualifying our scaleable and modular recycling solution with industry as soon as possible."
Domestically, Neometals plans to finalise the engineering design of a lithium hydroxide plant in Kalgoorlie, Western Australia, which has a proposed capacity of 10000 tonnes a year, sometime in 2019.
The company also sold its 13.8 per cent share in the Mt Marion lithium mine in December 2018 to Mineral Resources and Ganfeng Lithium for $104 million.