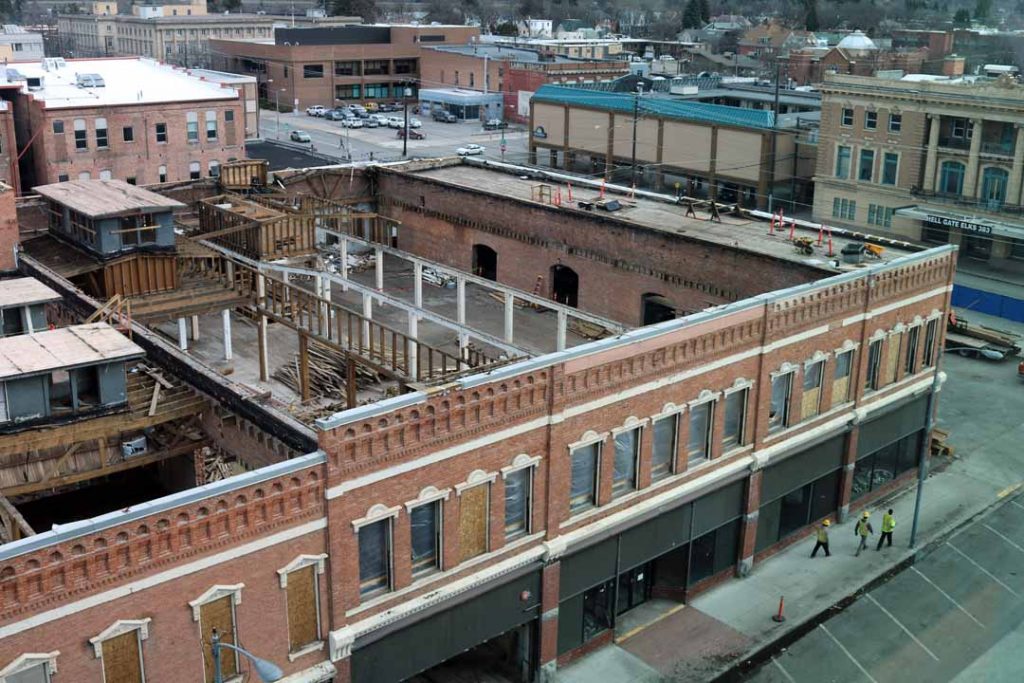 When the city of Missoula hit its first baseline goal in reducing greenhouse gas emissions in 2015, the 11 percent reduction served as celebration.
But Chase Jones, the city's climate action and energy conservation coordinator, said it was short lived. If Missoula hopes to go carbon free in the coming decades while producing zero waste at the landfill, there's work to be done.
"We did hit our first (emissions) goal but that was the easiest," said Jones. "That was great, but it requires additional work."
Missoula alone can't resolve climate change, but it can address the challenge on the local level, Jones said. He took that mantra to the Missoula Redevelopment Agency last week, saying the agency "touches nearly all those bubbles around this."
For the city to find success, its various departments must play a role, Jones said.
"I think MRA does have a role in this process," said board member Nancy Moe. "When we look at projects, we do consider things some people may not think are relevant to the project. It's certainly something we can incorporate into our review of projects. I think it's part education and encouragement to do that."
Missoula's Community Climate Smart Action Plan includes a number of goals for the greater metro area, including carbon neutrality, clean electricity, climate resiliency and zero waste.
The latter goal resulted from nearly 18 months of public outreach. Dubbed Zero by 50, it looks to reduce what Missoula sends to the landfill by 90 percent by 2050.
"It's kind of like taking a hammer to all these systems that have been place for a long time," said Jones. "We need to rethink wasted materials as resources, and that waste is not just inevitable. We need to start from the very first level on how we design and ship products, and how we consume and what we do with those products afterwards to create a circular economy."
While MRA has little to do with the city's landfill or what the average Missoula resident chooses to throw away, it does play a role in local construction efforts, and it's the construction industry that often serves as one of leading producers of wasted materials.
Over the past few years, and with sustainability in mind, MRA has given preference to certain building materials. It also encourages deconstruction over demolition when possible, even if doing so costs a little more.
"We're constrained by state law on how we can spend our funds, but if you take the facade improvement program, one of the underpinnings of that is sustainability," said MRA director Ellen Buchanan. "Our deconstruction policy is also huge. The city can't require deconstruction, but we can."
While MRA can require deconstruction where public funds are invested, it cannot push for renewable energy, including the use of solar panels. The agency is limited by state law and what it can and cannot encourage in new projects – limitations that often serve as frustrations.
"One of the things I would love to see happen in the next session of Legislature is to amend the law to specifically allow alternative energy sources as part of a project," Buchanan said.
The city's efforts to address climate change also include goals to achieve 100 percent clean, renewable electricity by 2030. Both the city and the county signed off on the resolution earlier this year.
Getting there won't be easy, Jones said, though a number of best practices are taking shape, along with needed partners, including NorthWestern Energy.
"We're about 60 percent carbon free, so this efforts is really based on that remaining 40 percent," said Jones. "You can look at this and say we're doing great because we're already at 60 percent. You could also look at it as the low-hanging fruit has already been plucked and we have a little harder trail to follow."