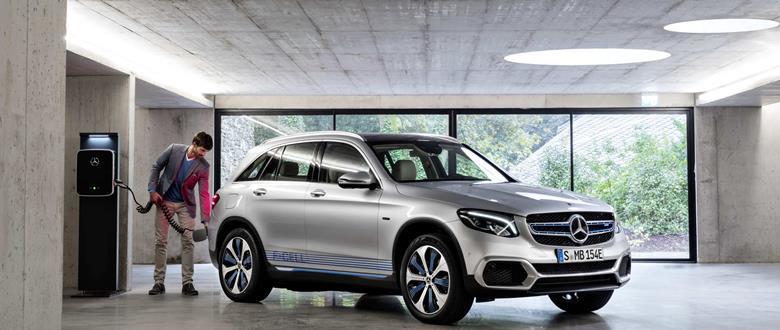 At this year's IAA International Motor Show in Frankfurt, Mercedes-Benz presented preproduction models of the new GLC F-CELL as the next milestone on the road to emission-free driving.
The latest electric model from Mercedes it is set to combine innovative fuel-cell and battery technology in the form of a plug-in hybrid – In addition to hydrogen (H2), the all-electric variant of the popular SUV will also run on electricity. With 4.4 kg of H2 on board, the model produces enough energy for a range of up to 437 kilometres.
Ola Källenius, Member of the Board of Management of Daimler AG, responsible for Group Research & Mercedes-Benz Cars Development, emphasises, "Our many years of experience with fuel-cell technology pay dividends in the new GLC F-CELL: its long electric range, short refuelling times and everyday practicality of an SUV will make it the perfect vehicle. This is made possible by the compact construction of our fuel-cell system. Another genuine world first is the combination with a large additional lithium-ion battery, which can be conveniently charged using plug-in technology."
The vehicles unveiled at the IAA represent a world first in which a fuel-cell-operated electric car uses a lithium-ion battery as an additional energy source that can be externally charged by means of plug-in technology. Through intelligent interplay, the two energy sources drive the electric motor while offering locally zero emissions driving pleasure.
The lithium-ion battery in the preproduction vehicles on show has a gross capacity of 13.8 kWh and additionally serves as an energy source for the electric motor. For the first time, it can also be charged externally using plug-in technology. An intelligent operating strategy in combination with the fuel-cell/battery system offers maximum efficiency and comfort.
Two carbon-fibre-encased tanks built into the vehicle floor hold around 4.4 kg of H2. Thanks to globally standardised 700 bar tank technology, the supply of H2 can be replenished within just three minutes, which is about the same amount of time it takes to refuel a car with an internal combustion engine.