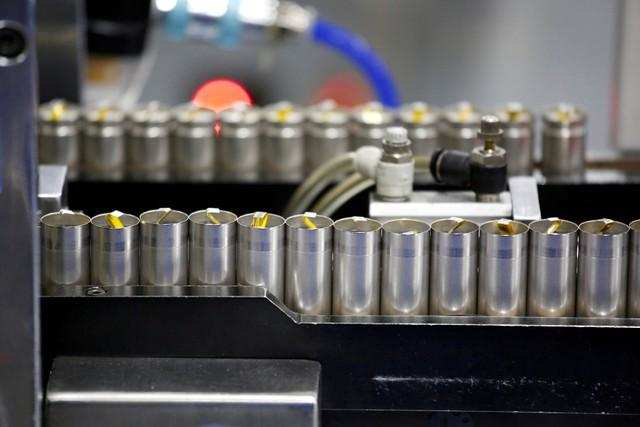 The London Metal Exchange has abandoned plans for a cobalt sulphate contract for the electric vehicle battery supply chain because pricing for the chemical has historically been based on the metal it is derived from, cobalt industry sources said.
The exchange is instead looking at offering a cash-settled cobalt metal contract, which will trade alongside its physically deliverable metal contract launched in 2010.
Interest in battery metals such as cobalt, nickel and lithium has soared over the past year on the automotive industry's ambitious plans to produce electric cars and cut noxious fumes from vehicles powered by fossil fuels.
However, prices of cobalt sulphate, which alongside nickel sulphate and lithium are used to make the rechargeable batteries used to power electric vehicles, are typically based on the metal plus or minus a dollar amount.
"The amount depends on whether the sulphate market is in surplus or deficit; there is no fixed formula," one cobalt industry source said.
"The LME's existing cobalt contract isn't very liquid. A cash-settled contract could have more success, but there's no reason why we can't two have contracts."
LME Chief Executive Matt Chamberlain told Reuters last year that the exchange's new cobalt contract was likely to be for cobalt sulphate.
"We are investigating the possibility of a cash-settled cobalt contract to expand our offering in battery metals," an LME spokesperson said in response to a request for comment.
"If we were to launch a new cash-settled cobalt contract it would not be until the end of 2018 or early 2019."
The LME recently asked companies that assess traded cobalt metal prices — Metal Bulletin, Argus Media and CRU Group — to submit proposals to supply prices that can be used as a reference for a cash-settled contract, sources said.
"Metal is a smaller part of the cobalt market than chemicals, but this is how the industry has developed over the years," one cobalt producer said.
Consultants CRU Group estimate that cobalt metal accounted for 36.8 percent of nearly 104,000 tonnes of consumption last year, with the remainder going to chemicals for batteries used in mobile devices and electric vehicles.
CRU expects the metal component to fall to 32 percent, or about 46,000 tonnes, in 2021 in a market it estimates will total more than 144,000 tonnes.
Growing dominance of chemicals is mainly due to electric vehicles.
Volkswagen, for example, last November approved a five-year spending plan to further the German group's goal of transforming itself into a leading force in electric cars.
Volkswagen is planning spend more than 34 billion euros ($41.80 billion) on electric cars, autonomous driving and new mobility services by the end of 2022.
Such ambitious moves by the car sector are why the LME has been consulting with companies in the supply chain — metal producers as well as chemicals, battery and car companies — about what the industry needs and what is feasible.
One source said the LME was still looking at lithium, in which the choice is between carbonate and hydroxide, but that the idea of a nickel sulphate contract had been shelved because, as with cobalt sulphate, pricing is based on the metal rather than the compound.