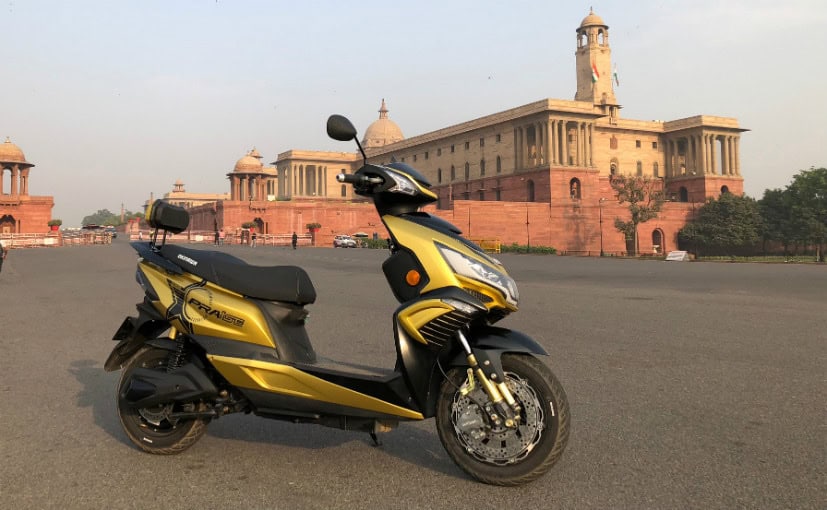 Okinawa Scooters will finally launch the Lithium-ion powered Praise electric scooter in September this year. Sources close to the company have told us that while a date hasn't been finalised yet, the electric scooter will go on sale in India from September 2018. These new Lithium-ion units are detachable batteries are can be easily swapped. The company first showcased the battery during the launch of the Praise e-Scooter last year and once launched, it will be the first electric scooter in India to come with swappable batteries.
Interestingly, the Okinawa Praise e-Scooters that were recently used by the company for its expedition to Leh were powered by these new Lithium-ion batteries, which helped the company to test its performance in real-world conditions. Apparently, Okinawa is pretty pleased with the battery and the e-scooter's performance and that is possibly why it's now gearing up for a market launch.
Okinawa Praise used for the trip to Leh were equipped with swappable a Lithium-ion battery
Similar to the existing lead-acid battery, the Lithium-ion is also 72V/45 Ah unit and offers the same power output of 2500 watt or 3.34 bhp and a peak torque of 40 Nm. The difference is that the li-on battery comes with a much faster charging time offering 80 per cent charge within 45 minutes. Additionally, the battery is much lighter at 9 kg and compact in size, offering ease and portability. Furthermore, the battery comes with a life of 2000 charge cycles. The battery powers a 1000 watt electric motor offering a range of 170-200 km on a single charge and the scooter also come in three modes Economy, Sporty, and Turbo with a top-speed of 35 kmph, 60 kmph, and 75 kmph respectively.
The Okinawa Praise is right now the flagship model in the company's line-up and comes with a host of smart features like – LED headlamps, LED daytime running lamps, fully-digital instrument cluster, side-stand sensor, keyless entry, anti-theft sensor, USB charging socket as well as a 'Find My Scooter' location tracker. The scooter also comes with EABS (Electronic Assist Brake System) for more effective stopping power. That said, the system should not be confused with standard Anti-Lock Brakes (ABS).