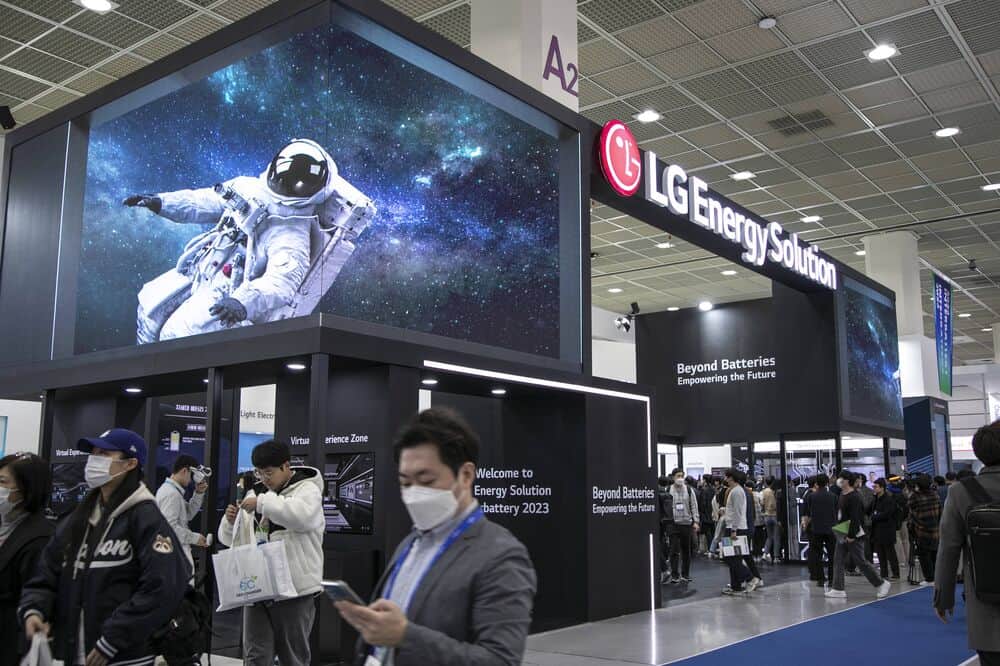 South Korea's battery giants have to date mainly focused on nickel cells and largely neglected research into iron-based cells, which China favors, citing their poorer performance at low temperatures. Recent technology developments at Chinese rivals, however, is changing that perception.
Korea's three key battery makers — LG Energy Solution Ltd., Samsung SDI Co. and SK On Co. — are leaning into so-called lithium-iron-phosphate (LFP) battery technology as fast as they can, according to Byoungwoo Kang, a professor at Pohang University of Science and Technology who conducts research with Korean cell firms. The most "passionate" player appears to be SK On, Kang said, as it tries to boost its market share.
SK On showcased its pilot product for LFP batteries at the InterBattery conference in Seoul in March, the first Korean company to do so. The product can enhance energy density at a low temperature, according to the company.
"SK On has succeeded in applying the technologies around making high-nickel battery electrodes and materials to LFP batteries," Hwang Jae-youn, a vice president at SK On who's in charge of technology competitiveness, said in an emailed response to Hyperdrive. "SK On is trying to respond to various demands from customers and boost global competitiveness through diversifying portfolios."
LG Energy Solution and Samsung SDI also both said in their latest earnings calls that they're developing LFP cells for EVs. LG plans to build an LFP plant in Arizona for energy storage systems while Samsung joined a Korean government-led project to make LFP batteries by 2026.
While LFP batteries are cheaper and considered safer than nickel batteries (they don't contain nickel, cobalt and magnesium, resulting in lower manufacturing costs), they've got a lower energy density in cold climates, hampering the driving range for electric cars during winter. Korean battery companies have historically shunned the technology for that reason.
But that attitude has changed in recent months as Chinese battery makers make various efforts to overcome those inherent weaknesses. One innovative method employed by Contemporary Amperex Technology Co. Ltd., the world's largest battery maker, is a so-called "blending technology," mixing nickel-cobalt-manganese batteries (NCM) and lithium-manganese-iron-phosphate (LMFP) to boost energy density, according to an April 27 report from the Korea Institute for International Economic Policy. The technology is expected to be applied to a new battery called M3P, the report said.
"CATL's blending technology surprised Korean rivals," Kang said. "The technology seems to increase driving range to around 400 kilometers (248 miles) on a single charge."
At a seminar on next-generation electric-car battery technology that Hyperdrive attended in Seoul last month, the most popular topic of conversation was LFP. An official from LG Energy said the company was in talks with various carmakers to supply LFP cells. Cathode maker Ecopro BM Co., a supplier to Samsung SDI and Ford Motor Co., unveiled plans for a LFP pilot line by the end of 2023.
Carmakers for their part are embracing LFP cells in order to offer electric cars at a cheaper price. Ford in February announced a 35-gigawatt-hour LFP battery plant in Michigan in partnership with CATL, the first plant in the US for LFPs. Tesla Inc. meanwhile produces vehicles powered by LFP batteries at its plant in Shanghai, while Mercedes-Benz Group AG, Volkswagen AG and Rivian Automotive Inc. have pledged to use LFPs for some of their vehicles.
Chinese battery makers could use loopholes in President Joe Biden's Inflation Reduction Act to win tax credits and enter the US market, said Park Chul-Wan, a professor at Seojeong College who's an advisor to the Korean presidential office on its net-zero policy. Some conditions — including the fact iron is not classified as a critical mineral by the IRA — may give Chinese companies the wriggle room to find a way through the US law, he said.
"Korean battery makers have no next-generation battery technology that near commercialization, while CATL and BYD are both writing a new history for LFP battery technology," Park said, with reference to the Chinese automaker that only makes pure electric and hybrid cars and has its own Blade battery technology.
The global combined market share of LG Energy, Samsung SDI and SK On dropped to just under 25% as of the end of March, from almost 30% in 2021, according to SNE Research. The shares of CATL and BYD jumped to 51.2% from 35.2% during the same period.
According to James Oh, vice president at SNE Research, Korean battery makers will have to build separate plants for LFP cells due to their different production process. Iron batteries can't be produced at the same facilities as nickel batteries, which even use magnet sweepers to remove any trace of iron in the manufacturing process, he said.
Still, despite the challenges, Korean battery makers aren't out of the game yet.
"Korean companies will be able to make LFP batteries in the end," said Yongwook Lee, an analyst at Hanwha Investment & Securities Co. "The question is whether they'll have the cost competitiveness of Chinese rivals."