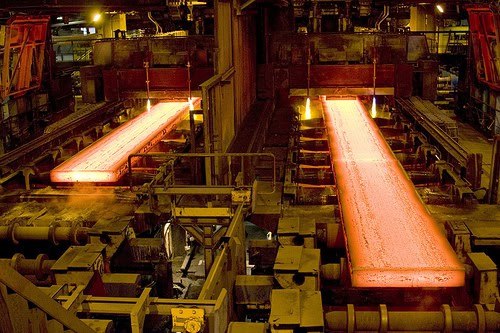 STRONG global demand has helped cushion the impact on Nippon Steel & Sumitomo Metal Corp of new US import duties, but Japan's top steelmaker remains worried Washington's trade barriers could lead to a glut in Asia, a much-bigger market for the company.
Japan is among the top 10 steel exporters to the United States which in March began imposing a 25 per cent tariff on steel imports, aimed at curbing purchases from China. "There has been no major impact from the US tariffs thanks to solid global demand," Nippon Steel executive vice president Katsuhiro Miyamoto told Reuters in an interview late last week.
Nippon Steel, whose US-bound steel cargoes account for 4 per cent of its total exports, saw more than 90 per cent of its customers continuing to buy its products even after the tariffs were imposed because they are specialised products such as rails and seamless pipes, Mr Miyamoto said.
Japan's steel exports to the US rose 13 per cent in April from a year ago, after plunging by 40 per cent in March, Japan's preliminary trade data showed on Monday.
Nippon Steel's US subsidiaries, which have a combined production capacity of 7.1 million tonnes, are benefiting from stronger local prices, he added.
"But we are closely watching where the products that were shut out from the United States are going as they could hurt the Asian market if they come to this area," he said. About 70 per cent of Nippon Steel's exports go to Asia.
The hefty US steel tariffs could make South-east Asia the new hunting ground for global exporters seeking buyers, industry officials and traders say, creating a glut that could depress prices and prompt some producers to close.
For now, Mr Miyamoto is upbeat about Asian steel demand.
"Japan's demand in construction and automobiles is solid. In China, consumer spending is also strong and there are lots of infrastructure projects such as subways and apartments near the stations," he noted.
Given a healthy demand outlook and its increased spending to upgrade ageing facilities, Nippon Steel plans to boost its crude steel output, on a parent basis, to more than 42.6 million tonnes in the current year to March 2019, from 40.67 million tonnes a year ago.
The company also aims to improve margins by hiking product prices to help absorb rising costs of auxiliary materials such as manganese and zinc and distribution expenses, Mr Miyamoto said.
The steelmaker did not provide an earnings forecast. A Thomson Reuters survey of 13 analysts has forecast a mean recurring profit of 351 billion yen (S$4.2 billion) for the current year, against 297.5 billion yen last year.
Among acquisition plans announced earlier this year by Nippon Steel, the world's No 4 steelmaker, include Sweden's Ovako, India's bankrupt Essar Steel and its subsidiaries Nisshin Steel and Sanyo Special Steel.
And Mr Miyamoto said the company is optimistic about winning the bidding race for Essar as Nippon Steel's team-up with ArcelorMittal could help with a quick restructuring of the Indian firm, the upgrading of factories and also with giving financial support.