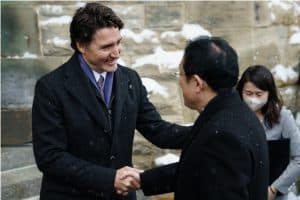 Japan will send a delegation to meet with Canadian battery and mining companies early this year, while Canada is planning a trade mission to Japan later in October, the leaders of both countries announced on Thursday after meeting in Ottawa.
As this year's host of the Group of Seven (G7), Japanese Prime Minister Fumio Kishida came to Canada to meet Canadian Prime Minister Justin Trudeau before continuing onto Washington, where he will sit down with US President Joe Biden on Friday.
"This spring, we're… looking forward to hosting an important business delegation from Japan," Trudeau said. "They're planning to be meeting with Canadian battery and mining companies and potential partners."
The two leaders hosted a lunch meeting with Canadian business leaders where "they highlighted the growing and exciting business potential between the two countries," according to a statement from Trudeau's office.
Canada has been seeking to woo foreign investment the electric vehicle (EV) supply chain, in particular in mining and processing its abundant critical minerals used in EV batteries, especially for countries who want to reduce their dependence on China for those materials.
Earlier in the day, Kishida said that Japan is looking to Canada to "play a major role, as a resource-rich country" on energy.
Japan's Mitsubishi Corp, through a subsidiary, owns a 15% stake in the LNG Canada joint venture led by Shell, which Trudeau said was the "largest private investment in Canada." The liquefied natural gas terminal is being built in British Columbia to supply Canadian natural gas to Asia.
The two leaders agreed that "China is a central challenge," Kishida said during the news conference, and both reiterated their support for the dismantling of North Korea's nuclear weapons program.
To counter China's influence in the region and increase its own strategic sway, Canada launched an Indo-Pacific strategy in November.
Kishida welcomed Canada's diplomatic pivot toward Asia and its efforts to deepen ties with a fast-growing Indo-Pacific region of 40 countries accounting for almost C$47 trillion ($35.2 trillion) in economic activity.
"The two leaders discussed their concerns about China's actions in the region and agreed on the importance of a coordinated approach to security in the Indo-Pacific," Trudeau's office said in a statement.