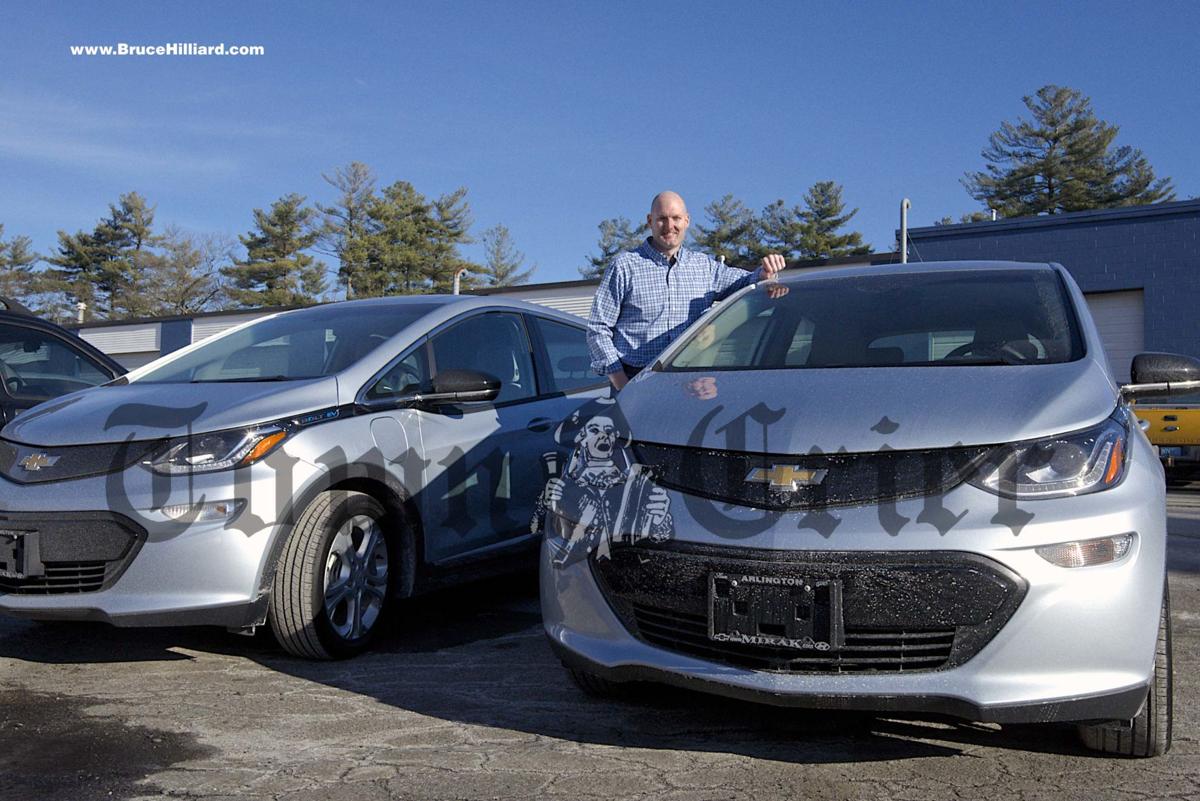 The Town of Tewksbury took de­livery of two Chevrolet BOLT vehicles last week, part of the town's ongoing commitment to cleaner and greener operations. Thanks to a 2017 Green Communi­ties grant, the vehicles and associated charging station are being incorporated into the Department of Public Works operations. The ve­hic­les will be used by staff to drive within the community.
The community received a Department of Energy Re­sources grant of $68,449 for electric vehicle purchase. There was an additional incentive from the Depart­ment of Environmental Pro­tection for up to $22,500 to­ward the purchase of the two electric vehicles and a dual-port electric vehicle charging station. The cars are 2018 BOLT EV models in Arctic Blue Metallic from Mirak Chevrolet in Arlington.
The dual-port electric vehicle charging station, which is attached to the main DPW building on Whipple Road is from Guardian Energy. These cars are fully electric and not to be confused with the hybrid Chevy VOLT. Tewksbury already has additional electric vehicle (EV) charging stations at Auto Fair Nissan, the 99 Restau­rant on Main Street, Tewks­bury State Hospital, at Na­tional Grid and at Ames Pond Drive installed by other entities.
The Green Communities Competitive Grant program was opened in January of 2017 and Tewksbury offered its response prior to the March deadline. Tewksbury was selected by the DOER to receive the grant based on its application. Tewksbury is already a designated Green Community in the state and was eligible to apply.
Additionally, the town is in the process of meeting its 20 percent Energy Reduction Plan target after five or more years of their Energy Reduction Plan implementation and as such was eligible to apply for additional qualified projects. The Competi­tive Grant listed a variety of energy saving programs which communities could apply for.
In addition to the electric car program, measures such as Variable Frequency Drives (VFDs) installed on the hot water heaters at the Senior Center, LED lighting im­prove­ments on North Street and the Senior Center, a new energy efficient boiler at the police station, and other mu­nicipal renewable energy projects are part of the range of energy conservation measures covered by the grant.
These retrofits/upgrades will yield real dollar savings for the town, per the project application.
Beyond the obvious conservation benefits, the program is also an educational gateway for students to learn about electric cars and the impact of fuel efficiency and savings in a municipal environment. Additionally, the process of evaluating town systems for these grant applications has created an awareness of the need to bring the entire infrastructure into synergy, according to Town Planner Kyle Boyd.
Town Facilities Manager Vinnie Bomal will be working alongside the companies installing the new energy saving measures, and will be able to use the information to inform future projects and make recommendations with respect to construction considerations and how they relate to energy efficiency.