FMC Corporation (NYSE:FMC) is one of the largest producers of lithium in the world. The stock trades in lockstep with its lithium-producing peers and the segment's performance continues to put up double-digit growth quarter after quarter. Given that, it's easy to forget that lithium accounts for just 8% of total revenue.
That's because FMC Corporation wields the fifth-largest crop protection portfolio on the planet, with a heavy focus on best-selling insecticides many farmers rely on to maximize output. The fact that agricultural solutions products dominate the overall business was on full display in first-quarter 2018 earnings, although that was aided by it being the first full period including new assets acquired last year from DuPont.
With revenue and earnings up by triple digits compared to the prior year, investors may need to reorient themselves and get their bearings. Given all the moving parts — and plans to spin-off its wildly profitable lithium business — is FMC Corporation a buy?
By the numbers
Last year FMC Corporation and DuPont struck a deal to swap cash and certain parts of their businesses. Both companies made out pretty well.
DuPont offloaded most of its agricultural solutions portfolio in insecticides to appease regulators and ultimately earn approval for its megamerger with Dow Chemical to form DowDuPont. It "acquired" the health and nutrition business of FMC Corporation, in addition to collecting a cool $1.2 billion payment.
But FMC Corporation certainly isn't complaining. The move narrowed the company's focus from three business segments to two (and soon to be one after the upcoming spin-off of FMC Lithium) and injected immediate growth into an already robust global sales channel for agricultural products. First-quarter 2018 earnings make the benefits clear: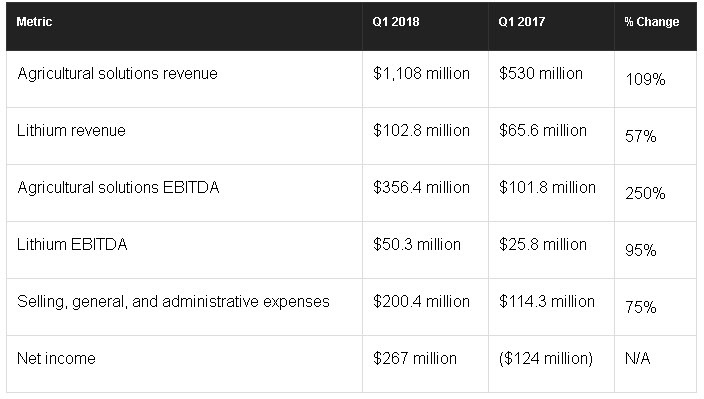 Adding several new blockbuster insecticides drove total quarterly revenue 103% higher compared to the year-ago period. Total EBITDA soared even higher, besting last year's performance by 256%. And the company only needed a 75% increase in selling, general, and administrative expenses to accomplish the business growth.
The lithium segment pulled its weight for sure, but that was largely expected. Investors should be more surprised (and elated) about the strong performance in agricultural solutions. That's especially true given the sluggish global environment in agriculture that has lingered for years. It might only be one quarter, but it really does appear that FMC Corporation was correct when it promised to optimize growth for its newly acquired assets by doubling down on its global sales channels.
As good as first-quarter 2018 results were, management thinks operations will continue to improve — and decided to raise full-year guidance from its already-lofty expectations.
Outlook for 2018
FMC Corporation raised its full-year 2018 guidance for both operating segments and companywide adjusted EPS. Here's how the new guidance compares to the prior guidance.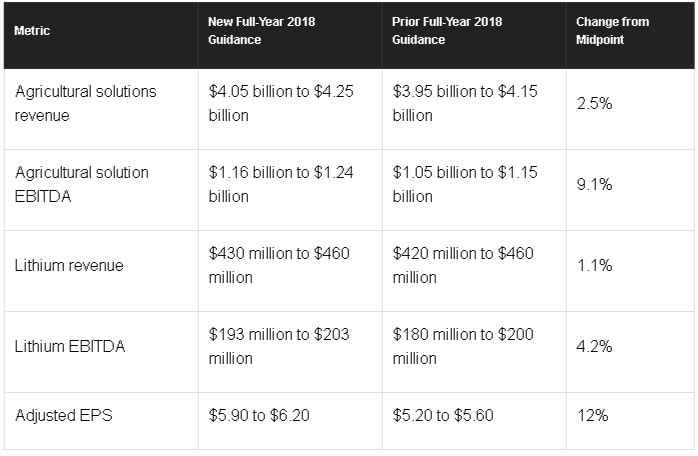 Once again, the strength of the agricultural business is on full display. From the time FMC Corporation acquired DuPont's agricultural assets in early 2017 it expected to generate "just shy of $4 billion" in annual sales from the segment. While even the prior guidance left the door open for that possibility, the new guidance slammed it shut: now expectations are comfortably over the $4 billion mark.
Meanwhile, a bottled-up lithium market is continuing to pay dividends for FMC Lithium. The company's expansion projects in China and Argentina are doing their part to bring relief to the market, but demand continues to outpace processing capacity. That has kept selling prices high despite increased supply, which has led to easy incremental earnings for the company.
This stock is a buy
All-around strength bodes well for the upcoming spin-off of FMC Lithium in October 2018, which will allow FMC Corporation to focus solely on a rebounding agricultural market. Shareholders should do pretty well, too.
According to analyst expectations compiled by Yahoo! Finance, FMC Corporation stock trades at just 13.5 times future earnings. That's relatively cheap, and that will come down even further once analysts factor in the higher earnings guidance into their future earnings expectations.
Simply put, FMC Corporation is the healthiest and strongest it's ever been. That makes the stock a buy for long-term investors.