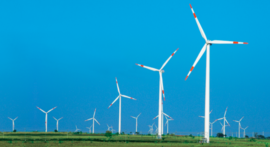 India's Ministry of New & Renewable Energy has announced partial commissioning of the country's first wind energy project to be auctioned.
Ostro Energy commissioned 126 megawatts of the 250 megawatt capacity allocated to it in the first-ever wind energy tender in India's history. The auction was organized by the Solar Energy Corporation of India (SECI) in February 2017.
The auction was the first effort in India to move away from a feed-in tariff regime, and towards a competitive auction-based system. Apart from the central government, through SECI, several states have also auctioned wind energy capacity. Recently, NTPC Limited, India's largest power generation company, also auctioned wind energy projects.
The idea behind the SECI auctions is to ensure supply wind power to states that are highly deficient in wind energy sources. The 126 megawatt capacity now operational will supply electricity to the states of Bihar, Odisha, Jharkhand, and Uttar Pradesh.
Ostro Energy secured this project at a tariff of Rs 3.46/kWh (¢4.94/kWh). The project is located in Kutch region of Gujarat, home to several wind energy projects. The project was formally awarded to Ostro Energy in early April 2017, and the company was acquired by ReNew Power Ventures Limited — one of India's largest renewable energy independent power producers — by late March 2018.
The balance capacity allocated to Ostro Energy, and other projects allocated to Mytrah Energy, Inox Wind, Green Infra, and Adani Green Energy, are expected to be commissioned by October 2018. SECI has been very successful with its wind energy tenders until the fifth round. Across four auctions, SECI has allocated 6,050 megawatt capacity. The fifth tender, of 2 gigawatt capacity, attracted bids for just 1.2 gigawatts due to transmission capacity constraints.
Over 8.65 gigawatts wind energy capacity has so far been auctioned India, including 2.55 gigawatts auctioned by states and NTPC.