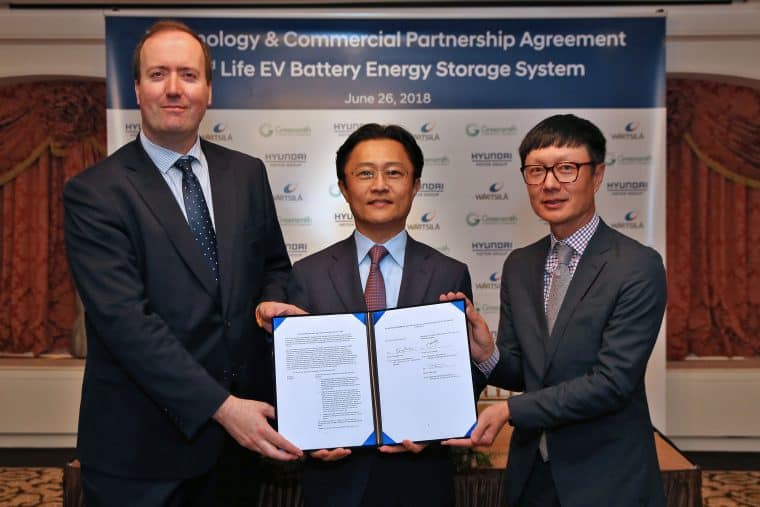 Electric vehicles have a bit of a problem as they reach the ends of their lives—just what to do with the leftover battery. Although the battery may have reduced power storage to when it is new, it still can hold a significant amount of energy, and could potentially be harmful if simply allowed to rot.
Thus, Hyundai Motor Group has entered into a partnership with energy-storage company Wärtsilä, who will make use of the company's used batteries for "second-life" applications.
"Energy storage is the logical next step in the after-market use of EV batteries," said Dr. Youngcho Chi, Executive Vice President of Strategy & Technology Division and Chief Innovation Officer of Hyundai Motor Group. "By repurposing resource-intensive products like EV batteries, we eliminate disposal costs and extend the value of the R&D investment that goes into manufacturing the technology. HMG is strengthening its leadership in clean technology and sustainability by participating in the new energy business."
The partnership also in aimed at preparing for a futures of far more electric vehicles, with Hyundai estimating that by 2025, there will be 29 GWh of "second-life" electric vehicle batteries available. Hyunndai and Wärtsilä both are hoping to get an early leg up in experience for this vast future market.
Wärtsilä currently operates 67 GW of installed power plants and energy storage technologies, also using software gained by acquiring Greensmith Energy. Greensmith has developed a platform called GEMS for energy grid control.