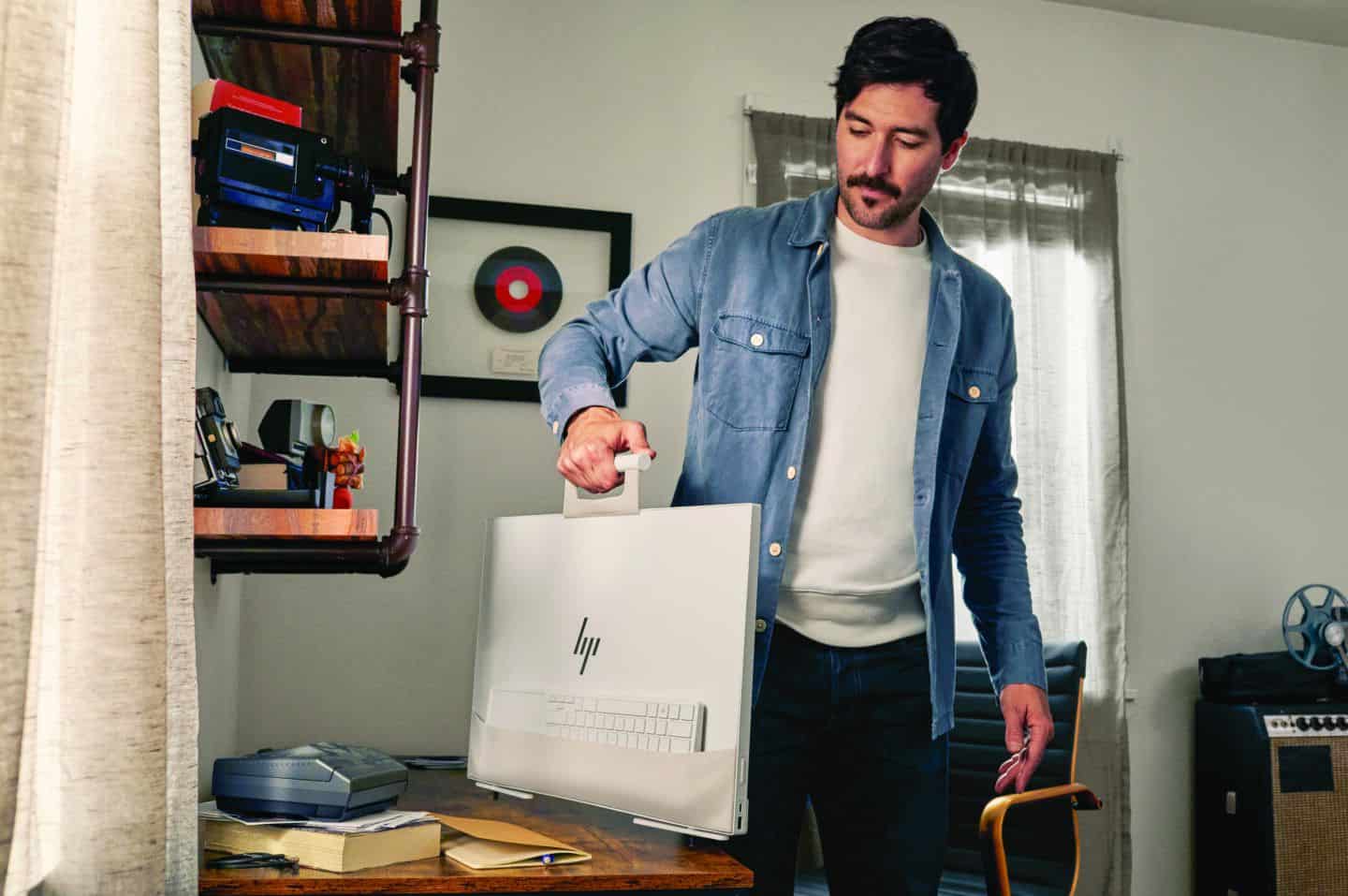 In a tech world with powerful desktops and ultralight laptops, all-in-one PCs have become a niche category. Yet, with the right twist, they can become more interesting. HP's Envy Move all-in-one PC, released today, has a handle and an integrated, rechargeable 83 Wh battery. Combined with a handle on its backside and a built-in pocket for its wireless keyboard, this AIO is ready to go wherever you want.
The Envy Move is only 9.04 pounds and measures 21.74×5.85×14.43 inches. In a blog post on Thursday, Jo Tan, senior vice president and division president of Personal Systems Consumer Solutions at HP Inc., said the computer was the "world's only" all-in-one with an integrated battery.
The PC also has a built-in stand that Tan said uses two HP patents and can work on "any flat surface." In videos shared with the press, the device's two feet look like they align horizontally with the device's bottom edge until they're pressed down onto a surface. Then, the legs flip out perpendicular to the machine's bottom edge and provide stability.
Battery life claims and specs
The battery is supposed to last up to four hours, by HP's measures. It arrived at that figure across three types of battery tests. One is MobileMark25's test (conditions not provided), the second test streams Netflix using Wi-Fi and Edge with the screen set to 200 nits. The third test plays 1080p local video full-screen with max audio and Wi-Fi "on but not connected."
As with any OEM battery-life results, we have to remain skeptical. But even four hours isn't sufficient for a full workday. It's also less than what you can get from a good thin-and-light laptop these days. But you also don't get a 23.8-inch display with one of those. Of course, you can always plug in HP's all-in-one for power.
To help battery life, the device uses a U-series processor. It comes with up to an Intel Core i5-1335U, which has two Performance-cores (P-cores) at up to 4.6 GHz, eight Efficient-cores (E-cores) at up to 3.4 GHz, and 12 threads. Because it's marketed as a versatile, family-friendly device, it doesn't have the most powerful specs. For comparison, Lenovo's ThinkCentre M90a Pro Gen 3 announced in January goes up to an i7-12700 vPro (eight P-cores at up to 4.8 GHz, four E-cores at up to 3.6 GHz, and 20 threads) and an integrated Nvidia GeForce MX550 (2GB GDDR6).
Other specs for HP's new all-in-one include up to 16GB of LPDDR5-4800 memory and 1TB of PCIe 4.0 storage.
The screen is 2560×1440 IPS. It also supports touch, which can be familiar for kids (who tend to poke at every screen within reach nowadays) and means you can ditch the keyboard. HP is claiming up to 300 nits of brightness and just 99 percent sRGB coverage, whereas many monitors and portable laptops are talking about DCI-P3 color gamuts these days.
Port selection is also minimal on the Envy Move. You get one USB-A (up to 10Gbps), one USB-C (with DisplayPort 1.4a. and up to 10Gbps speeds), and HDMI 1.4b.
Movable PC
As mentioned, all-in-one computers aren't for everyone, but the Envy Move brings a handy new angle to the category, and, with its versatility, it could potentially be a decent solution for a central, mobile home-computing device with a large screen.
OEMs seem interested in mobilizing larger screens lately, with LG also trying a unique approach via the 27-inch StanbyME Go.
The $1,000 StandbyME tablet is bound to a suitcase and mostly focused on streaming TV, relying on LG's webOS software. At 28 pounds, the StanByME Go is much heavier than the Envy Move but also more protected, thanks to its distinctive encasing.
But if you're after mobile big-screen computing, the Envy Move has some advantages, assuming you can frequently move a 24-inch-class touchscreen computer from room to room without damage (not all households can manage this). HP's all-in-one offers a fresh take on portable big-screen computers, making them potentially more appealing, thanks to their (better-than-a-tablet) processing potential and Windows support.
HP launched its all-in-one today at a $900 starting price.